It is speculated that Samsung will showcase a new smartphone under the Galaxy hood which has been dubbed as the Galaxy Q at the Mobile World Congress, 2013 that is going to be held at the end of this month in Barcelona, Spain.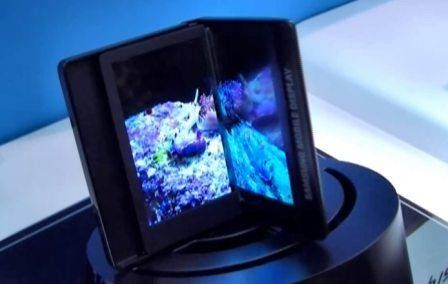 The Samsung Galaxy Q is anticipated to make its debut flaunting a dual folding displays. The Galaxy Q is expected to sport two OLED display screens with a size measuring 5.3-inches along with a resolution of 1080 pixels. The CPU specification is being speculated to be a dual-core Exynos processor clocked at 1.7GHZ accompanied by 2GB of RAM.
The much awaited folding display screen that is expected to accompany the Galaxy Q when it makes its debut at the MWC 2013 has been showcased by Samsung at the Consumer Electronics Show, 2013 held last month in Las Vegas. The bendable display that has been named Youm, and the company has used thin plastic material instead of glass, making the screen nearly unbreakable while allowing it to be bent.
The South Korean Tech Giant is expected to complement its forthcoming device with twin Cameras which will include an 8MP Rear Camera and a 2MP Front-facing Camera. The onboard storage capacity of the Galaxy Q smart gadget is expected to be around 2GB. We may expect the much anticipated Galaxy Q from Samsung to get the model number GT-B9150.
If the rumors come true regarding the arrival of the Galaxy Q from Samsung at the MWC 2013 with the company's very own bendable screen technology that has been named as Youm, it would set a new benchmark for the tech rivals of the manufacturer.