The Tech giant Apple is back in news blogs with its latest rumored report about its low costing iPhone. According to the latest report, Apple will power the low costing iPhone with Qualcomm's Snapdragon Silicon.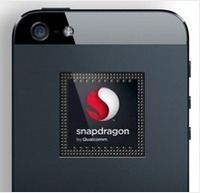 Going with the reports, we can assume that low pricing iPhone will be powered by Qualcomm's Snapdragon SoC, and Apple will start its production in the second quarter of 2013.
Earlier, we had many reports which suggested that Apple is working on a cheaper iPhone for markets like China and India. Then we had a report where Apple officially announced not working on any such project.
Now, the latest report claims that Apple will opt for Qualcomm's 28 nanometer Snapdragon for its low pricing iPhone. It also says that Renesas Electronics would come together with Apple for manufacturing Budget iPhone's LCD driver.
For NAND Flash memory, Apple may go to SanDisk, Micron Technology or Toshiba.
This low budget iPhone will support 3G, Wi-Fi and Bluetooth connectivity. But it will lack 4G LTE, may be for cost cutting reasons. It is known that Qualcomm manufacturers two variants of chips, one with 3G connectivity and the other with 4G LTE option.
Some other reports published on the internet says that budget Apple iPhone will also be featuring wireless charging option. This feature is already present on Nokia's latest flagship Lumia 920, which runs on latest Windows 8 Phone Operating System.
We are eagerly waiting to see what next report says about the low costing Apple iPhone. However, Apple iPhone is already facing a tough competition from Samsung and Nokia.