The very popular independent game developer, Rovio which is already much known for its Angry Birds mobile game has now launched a new animation game which has got its name dubbed as The Croods.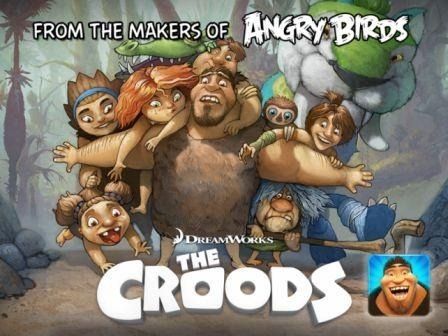 The newly launched game from Rovio, "The Croods" is based on the newly released movie carrying the same name by DreamWorks. The Croods is a comedy adventure game based on the pre-historic times that is based on the first family of the world as they start a lifetime journey when the shield protecting them since early times has been ruined.
The Croods lets the player travel in an impressive environment and discover an unimaginable new world filled with incredible creatures that will change their outlook. The adventure game has a pre-historic storyline. The player is required to work his/her way out crossing various hurdles on the way and completing various missions and objectives alongside. As the player moves further, he/she has to unlock new challenges and objectives.
The Croods features ten lunatic creatures including the Girelephant and Molarbear that the player will be required to trap and domesticate in order to move further ahead in the game to explore more fun.
The Croods is free to play and is available for smartphone and tablet device users on the Google Play Store as well as on the App Store. There is also a paid version available for faster betterment and special items. But the purchase is optional and the gaming freaks can still enjoy it without purchasing any special items.