With a lot of rumors and speculations RIM announced the OS update for BlackBerry PlayBook. The PlayBook users are asking for an update ever since the last update rolled few months back. They hope the new update brings quite a few interesting changes. Apparently, RIM delights us with some interesting stuff.
This supports languages like Spanish, French, Italian, German, Dutch, and UK English
In app payments: AIR and webworks SDKs updated to support in app payments for subscriptions.
Automatic notification reminders of available updates every 24 hours
The BlackBerry Playbook may now be charged while powered off
Video chat connection and user experience enhancements
Background downloading of OS upgrades and applications
WiFi hotspot notification messages when available
Facebook now comes pre-loaded on the OS
Improved process for future OS upgrades
Headset Audio Boost
Facebook for BlackBerry PlayBook Tablet Update and Preload
BlackBerry Tablet OS v1.0.5 brings the Facebook application by default. This could be the first
tablet-optimized
Facebook application which allows the user to experience the exciting features like video uploading, Message deletion, Facebook Search enhancements and more.
In-App Payments Support
BlackBerry PlayBook users can now buy another level in a game, or a new edition of a magazine from BlackBerry App World storefront directly. The in-app payment support means dynamic possibilities for
BlackBerry PlayBook
applications and better apps. Now, developers can use BlackBerry Payment Service and BlackBerry Payment Service SDK, to learn more about updating and submitting their apps to include in-app payment support.
BlackBerry PlayBook Charging and Battery Pop-up
The BlackBerry PlayBook can now be charged even when fully powered down.
BlackBerry Tablet OS v1.0.5 now alerts you if you are using an incorrect charger with your BlackBerry PlayBook tablet. For example, if you accidentally plug a BlackBerry smartphone charger into the BlackBerry PlayBook tablet you will now receive an alert on the screen to let you know that this charger will not charge your tablet.
After touching the battery indicator on the top right corner of the home screen, a pop-up will appear and you can now choose to restart the BlackBerry PlayBook tablet, turn it off, or put it into standby mode. You can also adjust the screen brightness from this same pop-up.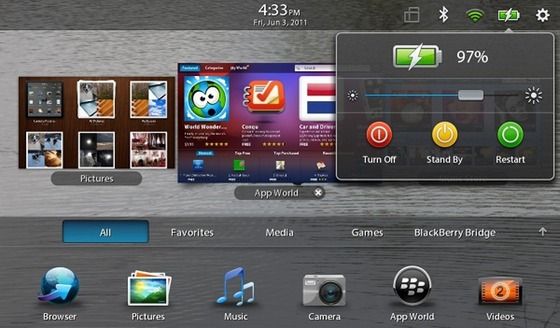 Video Chat Connectivity:
BlackBerry OS now support the TURN (Traversal Using Relay NAT) protocol, which enhances Video Chat connections between users when their call is crossing between a public network and an enterprise network behind a firewall. BlackBerry OS v1.0.5 makes your work easier to connect to a Wi-Fi hotspot during the set up process. It detects the Wi-Fi hotspot automatically. Finally, the Headset Audio Boost will allow the user to to add an extra level of volume to help maintain an enjoyable audio experience with the headset in noisy places.