iPhone 5
is almost here. Amongst all other unique features, the new iPhone will be using a different version of Sim cards, the Nano SIM. Not to forget, it was Apple who started the using the Micro SIM in the past with the launch of iPhone 4. The main reason behind using smaller SIM cards, as per Apple, is to save space in order to give more space to other internal components. The reason seems logical in this race of Slim,slimmer and slimmest mobile phones. While the changing size of SIM cards are absolutely in line with the changing world of mobile phones, it leaves many users confused. Especially in our country where many users have not yet seen (or even heard of) Micro SIMs, introduction of Nano SIMs sound a bit alien. But not to worry, your all time favorite 91mobiles is here to take care of your confusion. Just read through.
Various formats of Subscriber Identity Module (SIM)
The first ever SIM card was of a Credit card size known as 1FF (1st Form Factor). There was no chamfered corner (cut corner) in it leaving a chance to be inserted wrongly by the users. Later on, the 1FF SIM was replaced by smaller sim cards called Mini SIM or 2FF. This was the regular SIM card which we are using till date. For the backward compatibility, the mini SIM card always come inbuilt in a larger card. This is why you still need to break out your sim card from a larger card, whenever you purchase a new SIM. With the introduction of iPhone 4, Apple started using the newer version of SIM cards, called Micro SIM or 3FF. There was no change in the thickness of SIM card till now, so it was an easy job to convert regular sim into a Micro SIM. You just need to cut your sim in a right dimension and you are good to go. The latest version of SIM card till date is Nano SIM or 4FF. This time, along with the height and width, the thickness and chip area have also been reduced. Refer to the image below to get an idea of the size of different formats.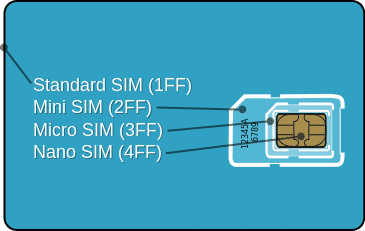 Image courtesy : Justin Ormont
Converting a regular or Micro SIM card into Nano SIM
is not an easy task at all but not impossible as well. Since the main objective of this story was to make you aware of the different formats of SIM card, we will soon write on the different ways of
converting Regular sim into Micro SIM or Nano SIM
. Stay tuned.