Here arrives a real good news for the Gaming freaks with the official announcement from Electronics Arts that the company is going to release the Real Racing 3 game on the 28th of February this year.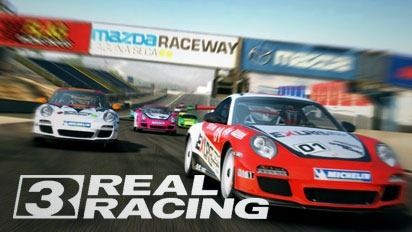 The arcade racing game, Real Racing 3 will arrive on the Google Play Store for the Android users on February 28. This game from EA is already available for the users of the iOS devices at the App Store but in a paid form. But, now Electronics Arts will be rolling out the game free for the Android users.
The Real Racing 3 game from Electronics Arts has been developed by Firemonkeys and is claimed to be one of the best games for racing considering the graphics that have been incorporated, in comparison to the other games. The game brings the Time Shift Multiplayer aspect of gaming apart from the fun racing and car bits. The Time Shift Multiplayer gaming enables a player to compete with fellow players over the network.
EA Real Racing 3 records the best performance delivered by the opposing players and allows the AI control the racing cars and counterfeit their skills of driving and track timings, so that the player is not required to stay online at the same time. Apart from the unique Multiplayer mode, the game has also been complemented with superb race tracks, realistic physics and a number of cars to select from.
So, if you are eager to play the game then just wait until 28th of Feb and download the Real racing 2 game for $5 from the Google Play Store to experience the thrill.