Reliance Communications has partnered with Lenovo for the introduction of new models of GSM-CDMA smartphones in the market. The smartphones will be priced below Rs. 8,000 and plans have been made to introduce five new smartphones in the coming month.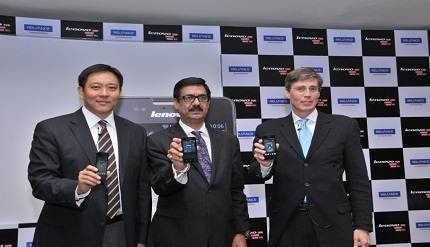 A company spokesperson from Reliance Communication informed recently that the smartphones will be launched from March, 2013 onwards in India. The handsets will be built on the Android platform and will be available in the market accompanied by attractive tariff plans.
The upcoming devices are expected to arrive with a Dual-core 1GHz Processor and will be available across 2500 Reliance Stores in India and 1000 Lenovo Company Stores.
The launch of the five new android smartphones from Lenovo by RComm seems to be a vital step towards redefining the CDMA device ecosystem in India.
Reliance has also planned to launch 4 or 5 more attractively priced Android smartphones and tablets in the Indian CDMA device Industry in the coming six months that are expected to further diversify the bouquet of CDMA devices in India
Lenovo has already witnessed a hyper-growth with its smartphones and tablet segment. On the other hand, Reliance Communication seems to be all set to expand its sales towards the west and northern parts of the Country.
With these new launches, Reliance Comm might be trying to revive its market which has been sagging under the growing competition in this industry. If the company succeeds in this new venture, it is likely to change the face of the Indian telecom industry.