Razer has launched a Tablet – the Razer Edge, which has been claimed by the Company as the World's most Powerful Tablet.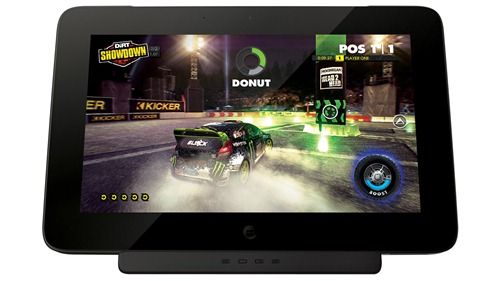 Razer Edge has been already popular as a Windows 8 Tablet that has been designed specially for Powerful Gaming. But with the official unveiling from the Company at the Consumer Electronics Show 2013 ongoing at Las Vegas the Gaming Gadget has been fully fleshed out.
The Razer Edge was initially known as Razer's Project Fiona but the company that has just unveiled the Gaming Device is looking forward to send the Concept of the Project Fiona to a Production Stage in order to step out towards the Retail Distribution of the Powerful Tablet.
Razer Edge features a crisp 10-inch Touchscreen Display which bears a resolution of 1280×800 pixels. The Edge has been powered with a third Generation 1.7 GHz Intel Core i5 Processor, NVIDIA GT640M LE GPU along with 4GB DDR3 RAM. The Gaming Tablet will be provided with a storage space of 64GB. It can be owned by paying a price of $999
Whereas the other version of the Gaming tablet, Razer Edge Pro with some of its specifications in common with the former Tablet comes along with an upgraded Intel Core i7 Processor, NVIDIA GT640M LE GPU and 8GB DDR3 RAM. It provides its users a Storage space of 128GB or 256GB. It will be offered with a bundle gift of Gamepad Controller. It has been priced at $1,299.
Razer has designed the Gaming Tablet specially for the Gamers and the device is capable of running all PC Games and Applications. Razer Edge can be considered as an easily recommendable Device for the Gamers looking forward to a non-crazily priced new Windows Device.