"Rapoo's A300 portable speaker sports a robust design and good sound quality"
Gone are the days when people had big, bulky pairs of wired speakers connected to their televisions or computers. With the rise of portable devices like laptops, mobiles and tablets, users are finding it more convenient to use smaller speakers that they can connect to in a jiffy. If the speakers are portable (as in battery-powered), it's an added bonus, since they can be carried anywhere. Accessory makers are taking note of this trend and hence we are seeing an increase in the number of portable Bluetooth speakers being launched these days.
Rapoo's A300 speaker seems to fit the above description, but does it have what it takes to be your ideal portable sound solution? Read on to find out.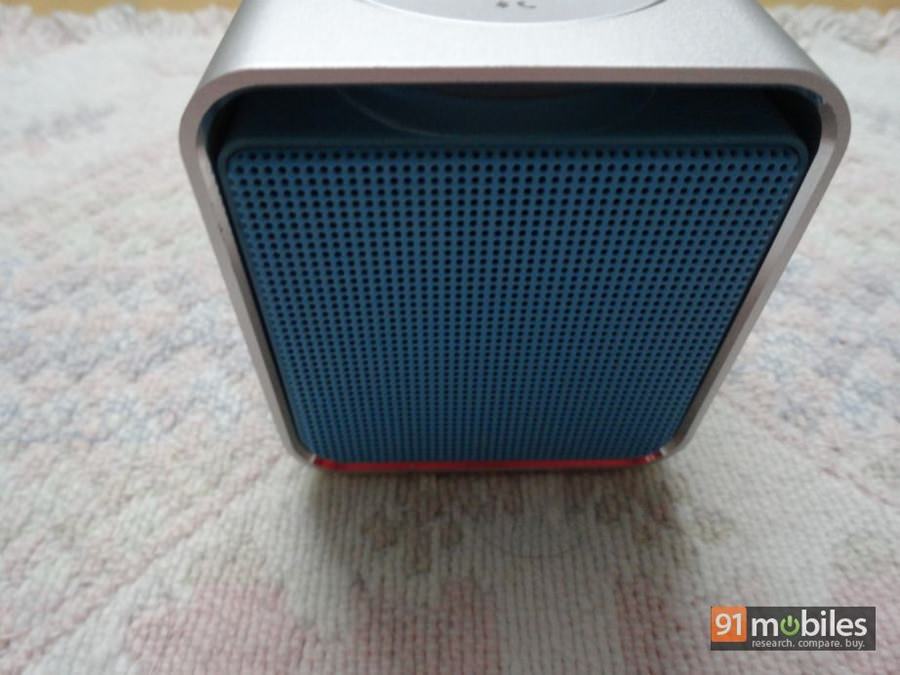 The first thing that draws your attention towards the Rapoo A300 is that despite its typical squarish design, the speaker manages to look distinct. Part of this can be attributed to its use of premium materials for construction. The other aspect is the choice of bright colours. While our review unit was blue, there are many more options such as white, red and bright orange. The speakers are encapsulated in an aluminium alloy frame that also provides strength. But even with such bulk, it's still fairly light. This would normally be a positive feature, but the poor sound-to-weight ratio makes the speaker prance around at high volumes.
Like the speaker, its glass-based retail packaging is also square shaped. Along with the speaker, the box contains a carry pouch, a 3.5mm audio cable and a micro-USB cable. A quick start guide is also included.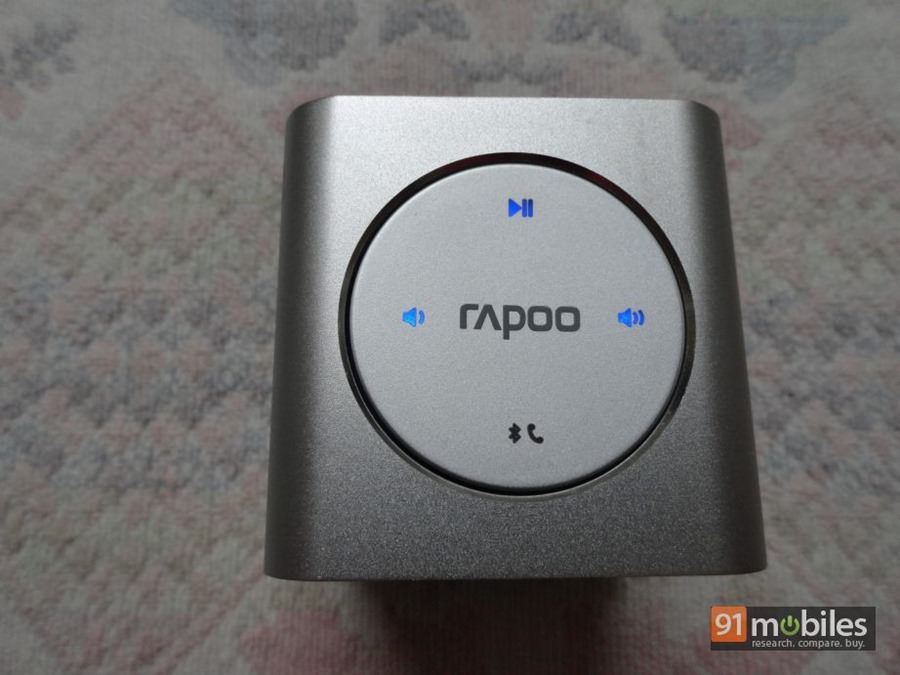 At the top, the Rapoo A300 gets touch-sensitive controls as a circular dial. The controls allow you to increase or decrease the volume, pause a track, initiate pairing. The controls are backlit in blue. The Bluetooth pairing control also doubles up as notification LED for indicating the charging status. When the speaker is low on battery, the LED turns red, and when you're charging it, it glows orange. At the bottom, the portable gadget features rubber feet for stability.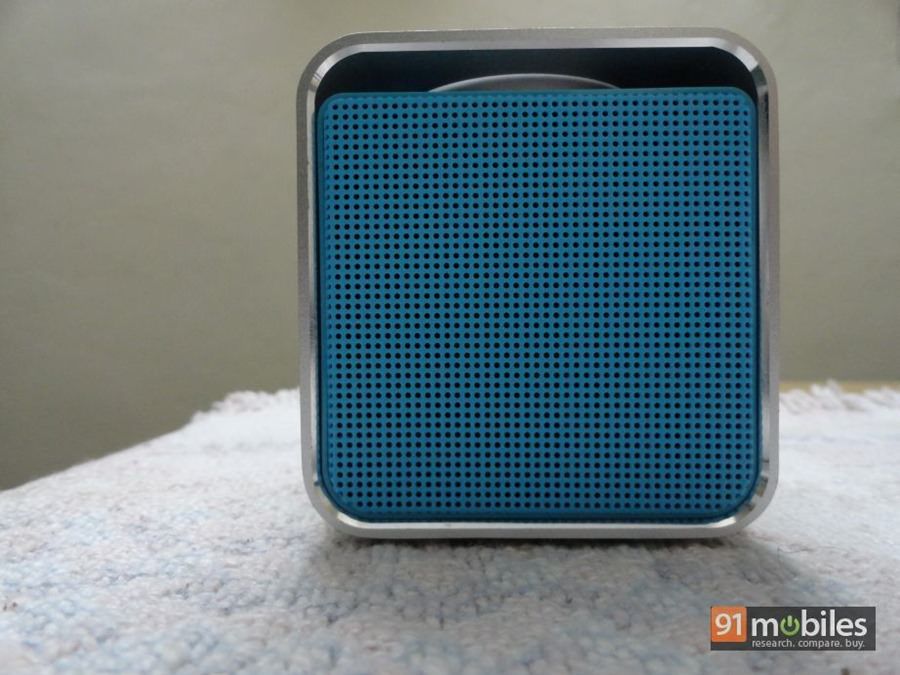 The speaker sports a grille at the front, and at the back there are a few ports and an on/off switch. A micro-USB port is available for charging, while a 3.5mm audio socket allows you to connect the speaker to the device using a cable, thus saving on the battery.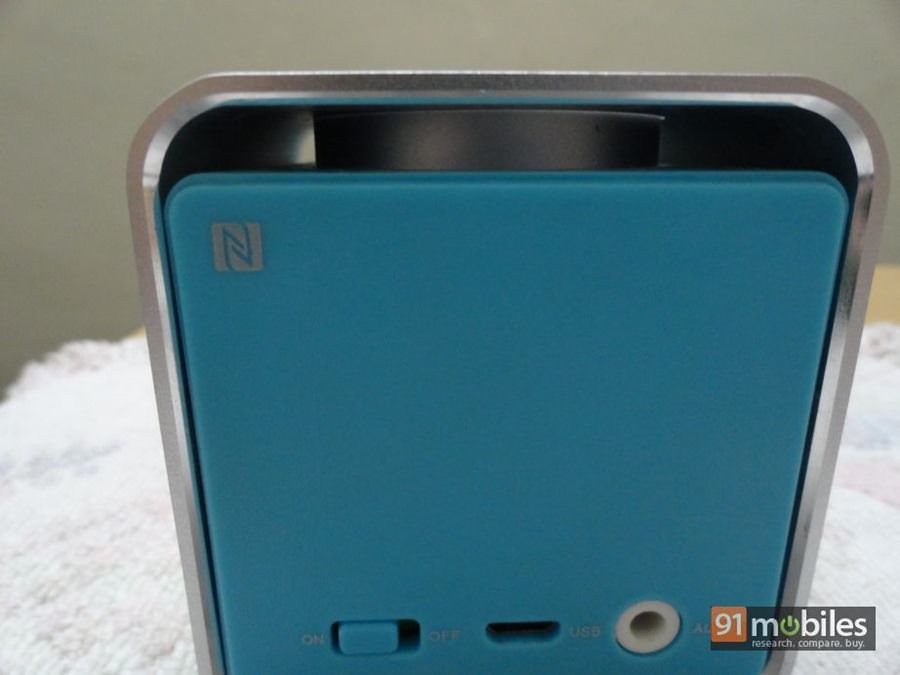 Being a wireless speaker, the Rapoo A300 boasts Bluetooth 4.0 connectivity. However, Rapoo has gone a step ahead, and has also implemented NFC. Pairing is instant and in case the device you're pairing with supports NFC… it's very convenient as you simply have to tap the device on the speaker to pair it. What's even more interesting is that the speaker can pair with two devices simultaneously, though of course, it will relay audio only from one at a time. However, when we tried to connect two devices with the speaker, we noticed that the second connection tends to interfere with the audio.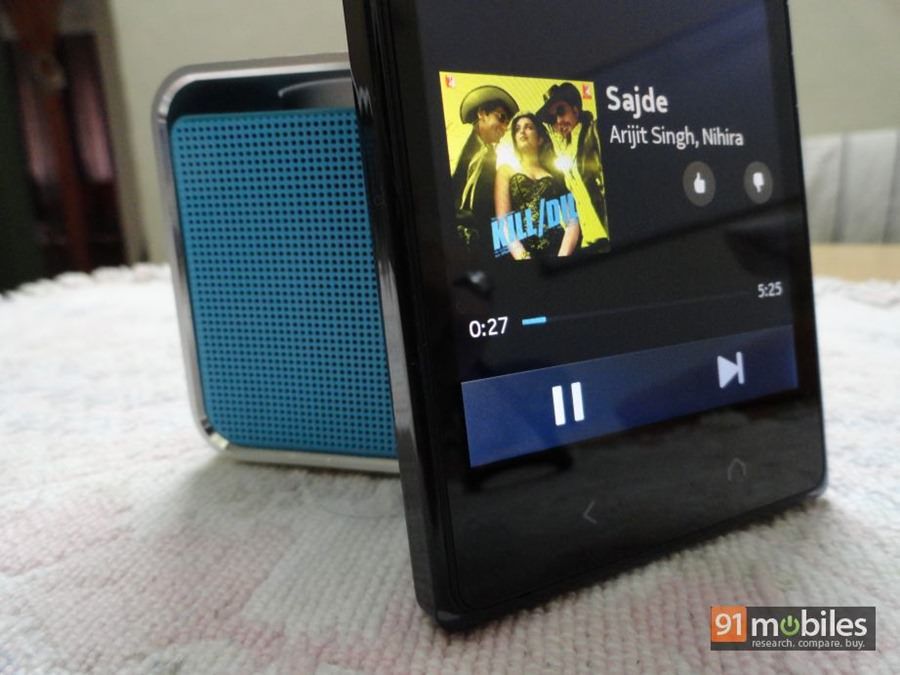 What matters most in a speaker is the sound quality, and just like the Rapoo A3160 (review), the A300 doesn't disappoint. The speaker offers loud sound output, and worked both for listening to music in a room or carrying it in a car. Of course, you can't expect it to rock your party, but it is good enough to add fun to a small gathering. The speaker provides good sound quality as well, and we had no complaints about the bass or reproduction of vocals. However, at full volumes, we noticed that the bass started clipping for some tracks.
The Rapoo A300 also has a microphone, and thus can double up as a speakerphone for attending phone calls.
Rapoo is also offering a music app for both Android and iOS platforms to make it easier for users to use their mobile devices with the speaker. As such, we didn't find them really useful as compared to the default music players, but the app does makes it easier to pair the speaker. It also has some interesting features such as shake to change the track or rotate the device to mute the sound.
In terms of battery life, the device can easily last for more than a day of non-continuous usage with its 900mAh unit. In our battery test that involved playing a song on loop at 70 percent volumes, the A300 was able to run for almost 10 hours before giving up, a good result for a speaker of its size.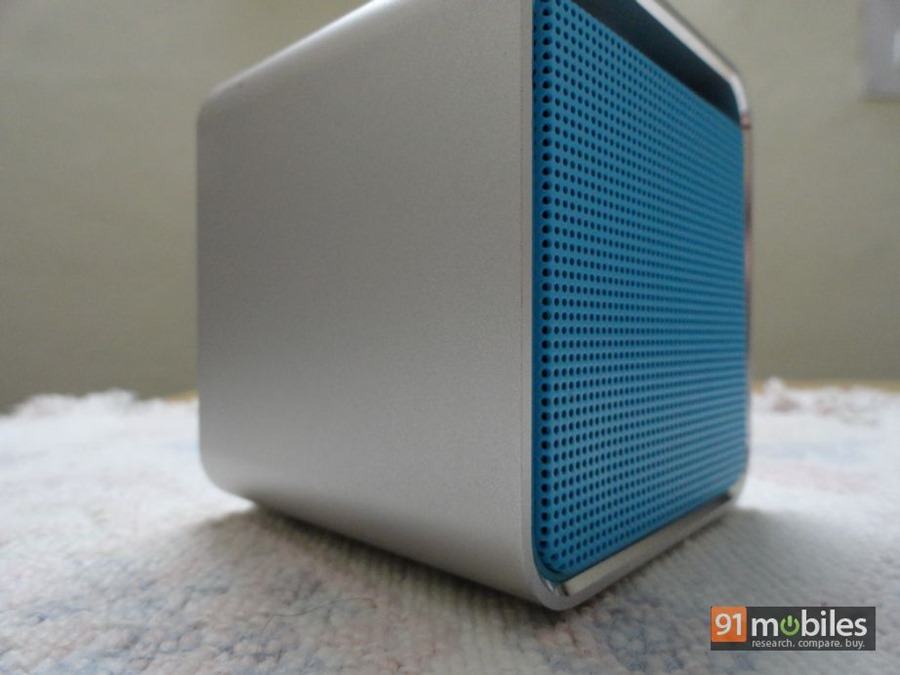 All in all, the Rapoo A300 is a great speaker that's not only sturdy, but looks quite good as well. However, when we bring its pricing of Rs 4,999 into the equation, it feels a tad overpriced. If you're looking for just a portable Bluetooth speaker, the Rapoo A3160 comes across as a better option, as does the Logitech X100. However, what gives the A300 an edge is its seamless NFC connectivity.
Price: Rs 4,999


Editor's rating: 7 / 10


Pros
Good looks
Solid build quality
NFC pairing
Good battery

Cons
A tad expensive
Connects to two devices at the same time, but they interfere with each other during the playback