Gone are the days when everything needed to be offline or downloaded for use. In this cloud era, there are plenty of ways for doing and accessing things online. Yes, even for listening to music! Data services are already on rise and even one can find Wi-Fi networks at most of the places. One way to listen to music is using music streaming services (or apps) like Dhingana, Saavn, etc. Such services lets you listen to the music of your choice by playing movie albums or songs or even searching for specific songs. But, what if you need to work or study or don't have enough time to manage a playlist by searching for songs, or you just want to find a new music based on your listening preferences? While one can listen to FM stations, but most of the Smartphones lack that. That's why, we bring to you radio streaming apps which allows you to listen to songs browsing through stations and genres without the need of curating a playlist.
One of the most popular apps for streaming live radio stations from anywhere in the world. Not only music, it can also stream podcasts, concerts and shows to the listeners. It has an intuitive interface offering more than 70000 live radio stations and 2 million podcasts. Upon launch, TuneIn lets you browse Local Radio (radio station near by your location), Recommended Stations, Stations for different language and location, podcasts, etc. It also gives you huge list of music genres to choose from, each with long list of stations from around the world. Once you select a radio station, it gives you the song's album art with ability to share that song to social networks. TuneIn gives option to change streaming speed (if the station has) depending on one's network connections, set that radio station as alarm or set sleep timer to close the app after some time. The app also gives you list of related Radio Stations to the one you're listening. If you like a radio station or a song being played, then you can favorite them for easier access in the future. For Indian listeners , the app not only has Hindi radio stations, but even regional languages like Punjabi, Tamil, etc. Though, some of the radio stations doesn't play, because maybe they are taken off-air.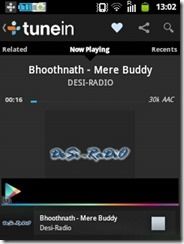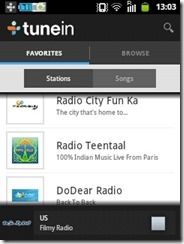 The app also has a pro version which provides DVR like recording and pause-n-play features to the streaming. Overall, TuneIn is a solid radio-streaming app. It's easy to use, performs well and available for all mobile platforms and even web.




Radiowalla.in is an Indian app with multiple audio channels of music or sports and celebrity talk shows across all genres. It's easy, intuitive and offers various free channels along with commercial-free subscription channels. The best part about the app is that the stations are created and curated by Radiowalla.in professionals, which means the stations have original content.Once logged in, the app gives you the list of various radio channels of different languages, genres, etc. While most of the radio channels are free, app also lets you subscribe to some channels for as little as Rs. 100/month, these channels don't bring any ads in between the songs. Radiowalla.in also features some talk-based shows where users can call and give their opinions. The app also gives sharing options for the song being played. While the app may not have long list of radio channels, but the fact that all of them are unique from each other and are totally original make up for it. Although, there is one glitch that one has to sign in again whenever they open the app.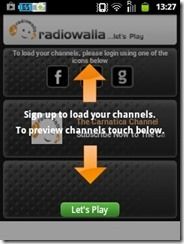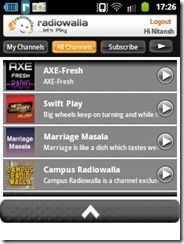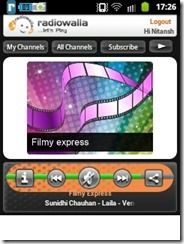 The developers also plan to bring On-Demand option in future giving users the ability to access documentaries, news, archives, etc. Overall, Radiowalla app is really a nice way of listening to fresh content and is available for major mobile platforms and web.



Saregama Worldspace Radio
If you loved the WorldSpace satellite radio service available in India few year ago, then you will like this app. The service is brought to the mobile platform by Saregama. The app has 24 hours uninterrupted streaming of music across various languages and genres. After logging in, one can listen to songs from radio stations of about 9 languages. The song being played can added to the library or shared to social networks. One good thing about this service is that the radio stations doesn't involve any Ad commercial and break. Thus you can listen to songs without getting distracted and disturbed. But the app has very limited number of radio stations and there is not even a single radio station for latest Bollywood releases.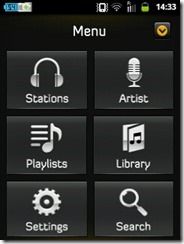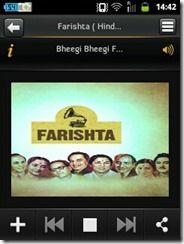 Hopefully, the developers will add popular WorldSpace radio stations like Jhankaar and Falak. Till then, the app might find few takers as it doesn't offer any differentiating feature from other apps which have more radio stations and those apps also work better.


Jango Radio lets you tune in to hundreds of expertly programmed genre stations like Top 100, Hot in Hip-Hop, Indie Dance Hits & more. And, it can also act as a personalized radio that plays the best music by artists you like. For listening to genre stations, simply click on the one you like or simply enter the name of one of your favorite artists, and app will automatically create a custom station that plays similar music. The artists radio will detect more artists singing in the similar manner and can also be fine-tuned by adding or deleting the name of artists. The personalized stations created can be shared with friends on Facebook and Twitter. Depending on network connection, the songs can be listened in low, medium or high quality.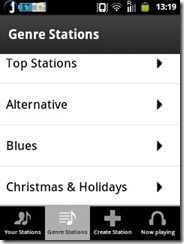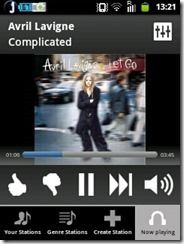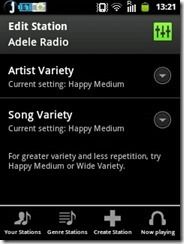 Overall, the app is extremely user-friendly and robust, with availability on all major mobile platforms and on web. Discovering new music on Jango is a lot of fun.


Conclusion
The best thing about these apps is that you don't need to waste time in maintaining a list of songs for listening, which also becomes a bit boring if listened for few times. These apps stream music of your choice with lots of variety, which doesn't becomes boring and you might find some new songs as well. If you want multitude of options and simple interface, then TuneIn Radio is the best choice. Radiowalla is good as it offers you original content, while if you are interested in listening to songs of a particular artist then Jango is wonderful option. If you are interested in listening to independent music from artists and bands, then
Radio Flote
seems really interesting app, but for some reason it din't work on my mobile. I have tried all the apps on a Wi-Fi network and a MTNL 3G connection, and all of the apps streamed music seamlessly barring minor hiccups for one or two times.