Smart watch seems to be the next big thing for tech at the moment. From the startups to established manufacturers, all are jumping in to give the best experience to the users. While Samsung unveiled it's widely rumored Galaxy Gear, there was another company Qualcomm announcing it's take on the smart watches with Toq (as you can guess, pronounced as Talk). If you aren't familiar with Qualcomm, it's the company which powers most of the smartphones with its Snapdragon processors.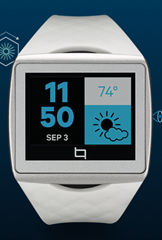 Talking about the design, it's very basic yet gives the watch a nice look. Toq doesn't have any buttons on the screen or even on the strap. Also, to keep the watch thin, the battery is underneath the straps, which is also having touch sensitive sensors to enable various modes of the watch.
Interestingly, the device can not be turned on or off, as the device is having an awesome battery life making it run for almost 5 days. The display of the watch is actually a MIRASOL display developed by Qualcomm which is very bright. This display drains very little power from the device. Since it harnesses the light from surroundings, the result is crisp and clear images and viewable display even under direct sunlight. The watch will be charged wirelessly via Qualcomm's WiPower LE technology, which means that it can be simply kept on it's case cum charger and thus be free of hassle of managing wires.
The watch has two modes: Watch mode which simply shows off time, calendar and weather details and the touch sensitive part is only at the bottom of the screen. Tapping on the watch strap twice will run the device in full touchscreen mode enabling to use the watch in full glory. One can see call logs, read messages, give a quick reply to calls/ messages via pre-written templates, or see their calendar appointments.
Watch this video to see the capabilities of the Qualcomm Toq-
The watch is connected wirelessly via Bluetooth or Wi-Fi to the smartphone running Android v 4.0.4 or above with the help of a companion app. The company will be bringing the iOS app later.
There will also be a 'Premium Audio' edition of the watch with an Bluetooth headset. What makes the headset special is that its truly wireless, even the headsets are not connected. These headsets will enable users to make or receive calls from the Toq itself or listen to music as well.
The Toq is a limited edition device as the company wants to showcase the endless possibilities with the smart watches. It will go on for sale in Q4 2013 and although the price is not official, it's expected to be in the bracket of $300-$350.