In a market where most of the big players are yet to launch an Android Froyo powered phone, Huawei, the chinese mobile maker has unveiled one in the IFA trade show in Berlin. Named as Huawei IDEOS (Industrial Design Evolution Operating System), the phone features a 2.8-inch (240×320) touch display, 528MHz processor, a 3.2-megapixel camera, a 3.5mm headphone jack, and a microSD slot.
Huawei has recommended a retail price of $100 to $200 (unlocked), and will be launched in Hong Kong with network operator SmarTone-Vodafone on Sept 8th. Soon the company will launch it in Europe, Asia, and both North and Latin America. The phone was developed in direct partnership with Google, which is a strong sign of product delivering what it promises. Another benefit could be quick availability for further Android updates.
"The popularity of the smartphone is one of the key tools to bringing people into the 'Golden Age of Mobile Broadband,' which is linked to Google's mobile Internet strategy. we are proud to have already achieved our goal from early 2010 of developing a US$150 smartphone with an excellent user experience. The IDEOS is an affordable option, designed to lower barriers to entry to allow easy mobile Internet access." Kevin Tao, CEO of Huawei Device said.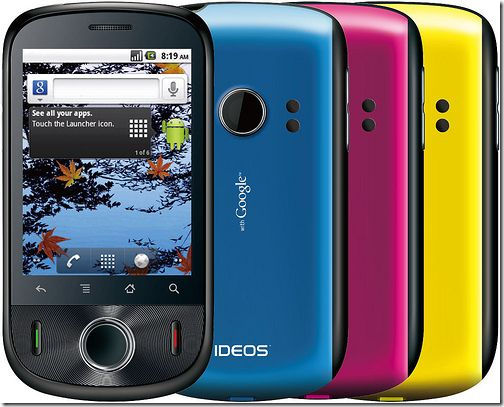 Though the phone is not an high end dude like Droid or Galaxy but still you can't ignore some of its stunning features. Like many of today's Android phones, the IDEOS packs support for HSDPA, Wi-Fi (802.11n), GPS, and Bluetooth. One standout feature of the IDEOS is its ability to act as a 3G Mobile Hotspot with support for up to eight devices. Huawei's press release calls the Ideos "the world's first affordable smartphone" which seems like a bit of an overstatement.
The phone is expected to arrive in various colors and will be an eye candy with its killer looks. Folks at Engadget have created a gallery with 12 pics to give a closer look of the product.
And don't forget to have a look at the video below:
Hope to see this phone in India soon.