Portronics has rolled out a portable Bluetooth enabled Music System, Pebble as a touch-based device recently. The music device has been priced at Rs. 3,499 by the Company.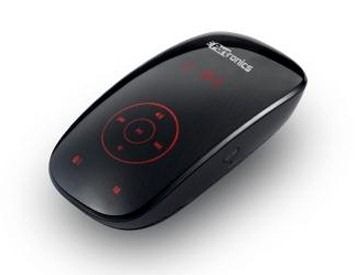 Portronics Pebble enables its user to use it wirelessly through its bluetooth features to play music tracks within a range of 10 metres. The Pebble offers support to any bluetooth enabled device which includes laptops, mobile phones, portable media player and many more via a 3.5 mm Audio cable. The music device also has a built-in Microphone that lets the user make and receive calls using it.
The Pebble from Portronics has been designed by the company providing ita mouse like shape that lets it fit in the hands of a user easily. The music device even has a touch panel for controlling it along with a Red glowing LED digital display that has been fitted on its body.
Portronics Pebble offers a wireless communication facility that allows any user to sit back and control the system. The Music player from Portronics has also got an Indian Voice Command Service to let the operator know the mode of operation of the device.
The Portronics Pebble also has a Micro SD card slot that offers support MP3/WMA formats of Audio tracks and is compatible with Cards up to 32GB of Storage Space. The music can be transferred to the Pebble Music System directly through the Micro SD Card. The Pebble can also be doubled up as an external speaker.
Thus, taking in sight the bunch of features that the Pebble flaunts, we may expect the Music Device to get a good response from the market.