Polaroid S9 Tablet was showcased at the Consumer Electronics Show 2013 at Las Vegas.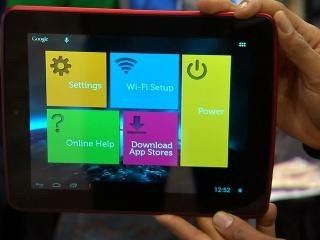 Polaroid S9 Tablet sports a 9.7 inch IPS screen display . The screen offers enhanced HD level experience. Its 1024 x 768 pixel resolution provides high quality videos and images.
The Tablet has a 5.0MP camera for shutterbugs.The internal memory of the Tablet is expandable via micro SD card.
The device is expected to be launched towards the later part of 2013.
Polaroid had also launched Polaroid M7 and Polaroid M10 Tablets at the CES 2013 event. M7 sports a 7.0 inch and M 10 has a 10.0 inch screen. The Tablets run on Android 4.1 Jelly Bean. Polaroid Tablets are made by the company called Southern Telecom. Polaroid Tablets are famous for their low price and user friendly features.
The Polaroid Tablets are also known to provide much stronger battery support and power back up compared to other Tablets in this category.