A Table as thin as a Paper Sheet has been showed off by Plastic Logic at the Consumer Electronics Show 2013 ongoing at Las Vegas.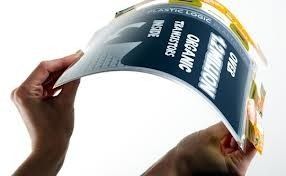 Plastic Logic's Papertab features a 10.7-inch Black and White Plastic Interactive Touchscreen Display. The Plastic Display has been developed specially by Plastic Logic which has worked with the Intel Labs and Queens University for the development of the technology.
The Papertab has been powered with a Second Generation Intel Core i5 Processor and has been designed specially to alter the general requirement of Paper Sheets. It can be used as a Tablet as well as an eBook. One has to just bend the Screen slightly to Turn Pages or Fast Forward the Video being played.
Plastic Logic Papertab enables Natural Human interaction with the Electronic Paper through its Plastic Display as it is lighter, thinner and sturdy than the Glass-based Display Screens available nowadays.
Interestingly, the Papertab is not only a flexible device but it is also hefty against Water droplets.
The Papertab users have been made capable of having ten or more Interactive Displays, each for every application being used at a time instead of having several Applications on a Single Display.
The Papertab can be used to file and display a bunch of Paper Documents altering the requirement of a Computer System or Paper for printouts.
Paper Logic confirmed that the Company is still working on some applications together with its partners in order to provide some more peculiar features to the flexible Gadget before its arrival in the Stores in the coming months.