"The Voyager Edge from Plantronics is a stylish, feature-loaded Bluetooth headset that delivers on most counts"
Let's face it, a Bluetooth headset is a fairly intrusive bit of technology, especially if you're not used to wearing one. That means that you need to consciously make an effort to ensure it blends into your lifestyle – by wearing it when you need it, carrying it around with you, and charging it regularly. That said, it also has quite a few advantages to offer, mainly centering around convenience and making sure you can handle calls whilst your hands are occupied otherwise, say while driving, working on your computer at work or walking through a busy street, bag in hand.
Another thing regarding a Bluetooth headset is that it's a wearable gadget after all – so it needs to be comfortable to wear over long periods, and shouldn't make you look like a complete nerd at the very least, even if it's not stylish. The other most crucial aspect about such a device is audio quality, quite obviously. And most of them promise this.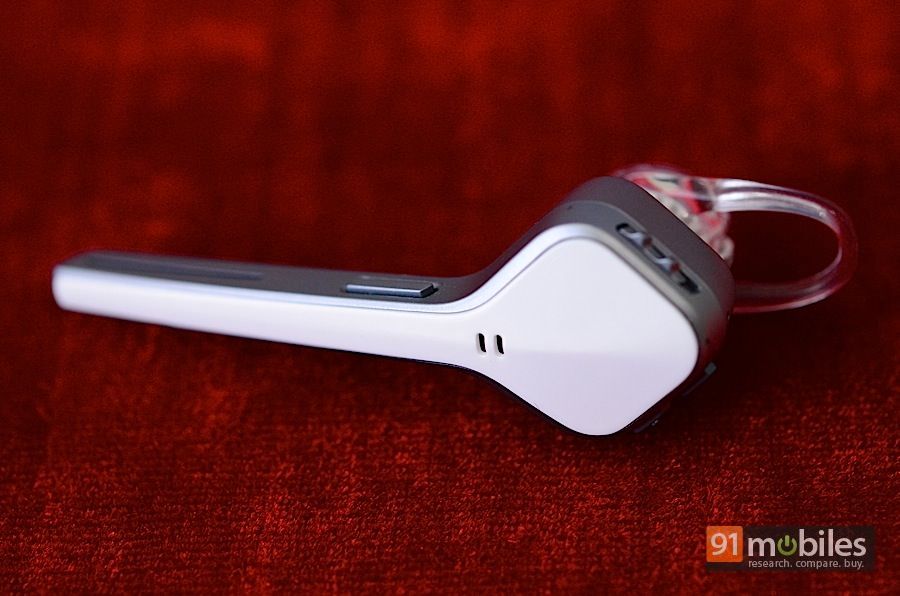 A branded Bluetooth headset can be had for less than Rs 1,000 these days, so what can one priced almost as much as a capable budget smartphone offer? We'll try and answer all of that as we take the premium Plantronics Voyager Edge for a spin. To put things into perspective, it carries a sticker price of Rs 7,490.
Stylish, futuristic design
Right from the packaging to the device itself, the Voyager Edge oozes style. Our review unit came in white, but you can also get one in black. The diamond-shaped headset is quite tiny, and features a slim boom mic. The in-ear earpiece is covered with a rubber tip featuring a fin for stability, and you also get a pair of differently-sized tips in the box so you can get the most optimum fit for your ear size. An optional ear hook is also included, and you can use that in case you feel you don't get a stable fit. A small micro-USB cable and a car charger are also included in the pack.
Another gizmo you'll find in the box is the teardrop-shaped case, which also doubles up as a charging dock. This features an open design, unlike the leather carrying case included along with the Plantronics Discovery headset, but looks far more stylish. The dock sports a rubberised finish on the outside.
The downside of the open design is that it leaves the headset slightly prone to collection of dust and lint inside your bag or pocket, but the Edge's dock does include LED indicators displaying the status of both its own battery, as well as the headset's. These LEDs are activated when you slide your finger down on the icons – very nifty. Both the headset and the dock include micro-USB ports for charging, so they can be juiced up separately, or together when the headset is docked.
The headset itself weighs a mere 9 grams, and it's amazing what all Plantronics has been able to cram in into something so light and so compact. We'll get to the features in a bit, but design-wise, it's a pretty cool-looking thing. The face of the diamond body is one large button, while it also sports a sliding power key on one side, and a volume rocker on the other. A tiny LED is placed at the tip of the diamond body, while a voice command key is located on the top of the boom mic.
Tiny gun, big bang
For a device so tiny, the Voyager Edge sure has a lot packed inside. The headset communicates with your smartphone over Bluetooth 4.0, but also features NFC for one-tap pairing in case your device supports it. A2DP is supported too, and allows you to stream music to the headset over Bluetooth.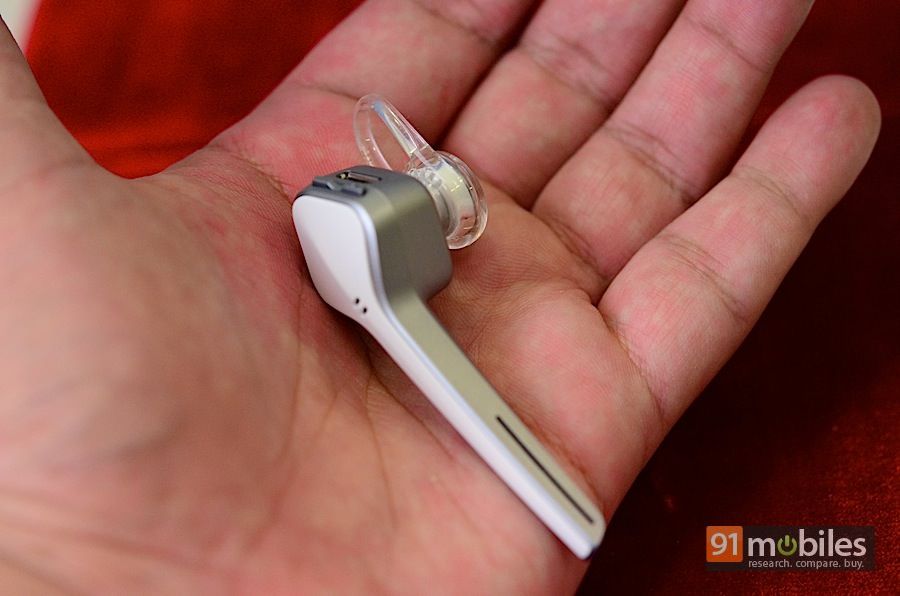 Any premium Bluetooth headset worth its salt has to have noise cancellation. Three discrete microphones have been integrated to tackle that. As far as voice-based functions go, it throws up audio alerts in your ear. When it's powered on, pressing the large button on the face indicates remaining talk time and pairing status via audio alerts. It also announces caller names for incoming calls, and you can just say 'answer' or 'ignore' to accept or reject the call, respectively… without even lifting your finger. The voice command key on top of the boom mic provides even more functionality, and using it, you can redial the last call made or received, check battery or connection status and even put the headset into pairing mode, using just your voice.
That's not all. There's smart sensor tech that detects whether you're wearing the headset or not, and routes call audio to the smartphone or the headset accordingly. Thanks to these sensors, it can also answer a call automatically when you lift the headset and place it in your ear.
A nano-coating ensures that the headset stays alive and kicking even when exposed to moisture. So while it's not complete waterproof, you can still use it without worry if get stuck in a light drizzle.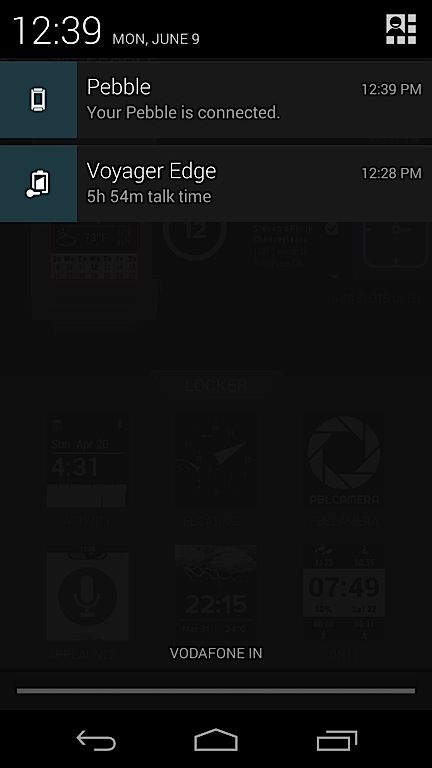 You'd think that's already quite a lot in terms of features, but the story doesn't end here. While the headset does provide a persistent battery status in the notification bar of a paired Android device or iOS device, you can squeeze more functionality out of it by using companion apps. These are available only on Android as of now, and include the free Plantronics Hub and the Find MyHeadset apps.
Plantronics Hub, apart from providing battery status, lets you modify various settings such as toggling notifications, enabling or disabling the voice-based answer/ignore feature, choose language for voice commands, and toggle other features such as auto answer and smart call transfer. The app also provides a handy reference to the various features of the headset, thanks to its comprehensive guide. It even provides a visual guide by displaying a diagram indicating all controls and physical features. Needless to say, if you've got your Voyager Edge paired with an Android device, this app is a must have.
Another handy Plantronics app that's compatible with the Voyager Edge is the Find MyHeadset app. The guys at Plantronics have figured out that it's quite easy to misplace this tiny device, so what this app does is give you a way to find your headset. In case your headset slips into the corner of a couch, under your car seat or you can't find it amongst the clutter on your desk, simply fire up this app and use it to make the headset beep. You can even choose from between three tones, and control volume. It doesn't get extremely loud, but should be enough to locate your headset if it's close by. In case your headset is switched off or you've managed to drop it somewhere so it's out of range, the app even offers a BackTrack feature that tries to pinpoint the location of your headset on a map. This feature isn't extremely accurate, but is enough to give you an idea of where your lost Voyage Edge could be. The app does this by logging the location of various 'events', such as the last call you placed using the headset, where you paired it last, and the point where it lost connection.
Delivers, and how
When it comes to fit and wearing comfort, we found the Voyager Edge extremely comfortable to wear over long periods of time. Its light weight helps quite a bit, and while the in-ear rubber tip didn't provide an extremely snug fit, the stability fin ensured it stayed put even when we shook our head vigorously.
Call quality was excellent at both ends, and callers couldn't make out we were using a Bluetooth headset. The noise cancellations works well in noisy surroundings, but can't really drown out wind noise if it's extremely windy.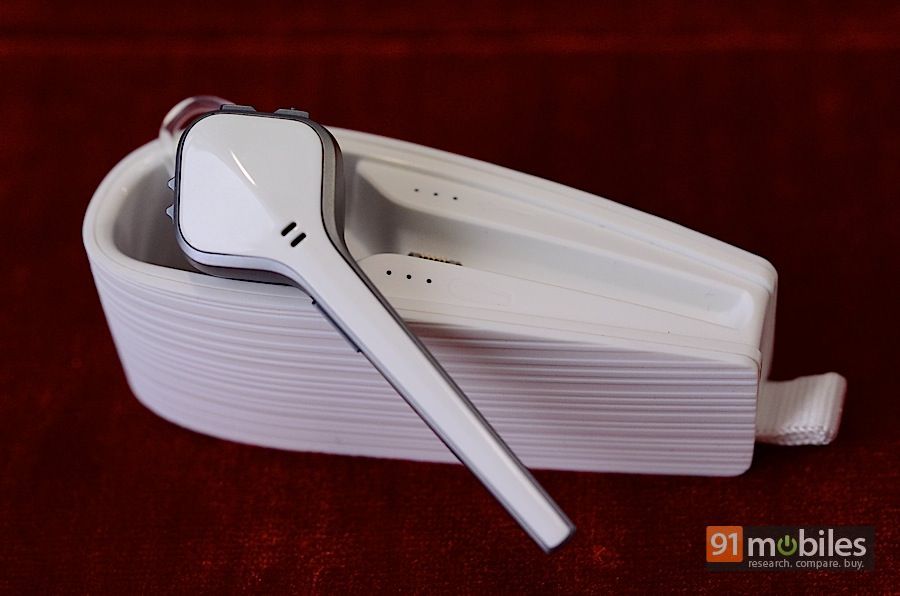 All the other features work as advertised, and we found the voice-based answer feature extremely convenient. The smart call transfer works very well too, transferring audio between the smartphone and the headset seamlessly. However, we found that it can be counterproductive at times too. While using the phone for handling calls and moving about with the paired headset in our pocket, the sensors routed the audio to the latter sometimes. In other scenarios, the feature worked beautifully, but in case it does turn out to be an issue, the feature can be turned off via the app or even directly from the headset.
The Voyage Edge claims a battery life of six hours, and in our usage, it was quite close. There were a couple of instances where the battery died on us soon after indicating about two hours' worth remaining. Thankfully, the included charging dock neatly sidesteps any battery-related issues, since it can juice up the headset almost twice over, adding another 10 hours of talk time.
Verdict
The Voyager Edge is priced at Rs 7,490, and that amount can net you a very decent budget smartphone these days. However, if you're considering a premium headset like this one, we'd assume you'll be pairing it up with a higher-end smartphone. The Voyager Edge certainly doesn't come cheap, but it manages to justify its cost by bringing tons of features to the table, or in this case… to your ear.
A comfy fit and great voice quality apart, the smorgasbord of features it packs in, along with the additional functionality offered by the bundled charging case and the companion apps make it an extremely compelling accessory. Highly recommended if you're a busy executive with your hands full, both literally as well as figuratively.
Price: Rs 7,490


Editor's rating: 9 / 10


Pros
Stylish design and comfortable fit
Great voice quality
Loaded set of convenience-centric features
Useful companion apps
Cons
Smart call transfer counterproductive on occasion
Pricey