"The Philips W6610 features a mammoth 5,300mAh battery. Here's how it fared in our review."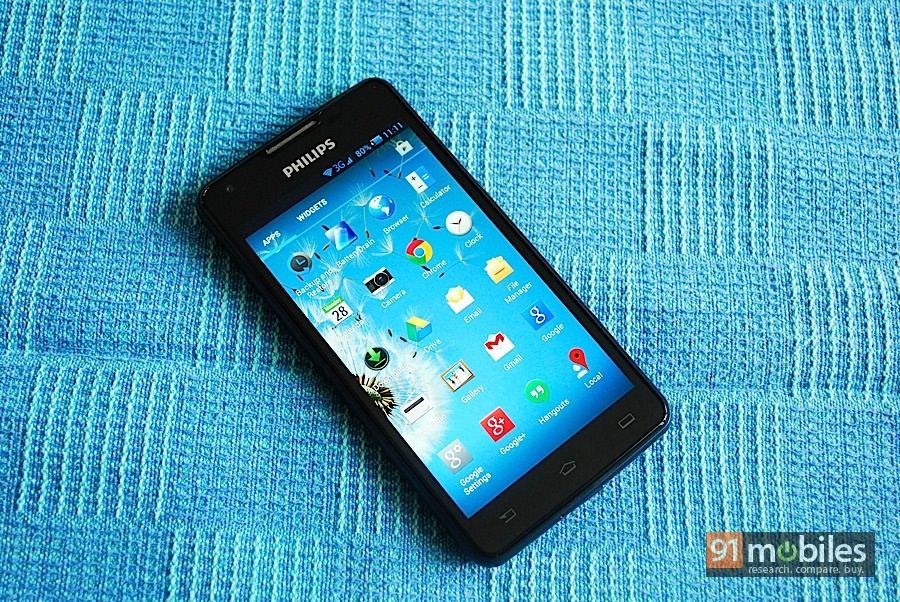 After a long absence, Philips made another attempt at entering the lucrative mobile phone space with a range of feature phones and smartphones. Given the abundance of mobile phone manufacturers internationally and in India, it made sense for Philips to join the bandwagon. And unlike most new entrants, Philips also has the advantage of being a known and trusted brand name.
The flagship device in the lineup is the Philips W6610 (unboxing and first impressions). With an MRP of Rs 20,650, the handset appears quite overpriced for its specifications, especially given what the competition looks like now. However, the price in part can be somewhat justified owing to the smartphone's mammoth 5,300mAh battery, which might just help you get over your needy relationship with your smartphone charger. The W6610 looks like it will remain a niche device, but given that the average smartphone can run for barely a day before dying out, the promise of a large keg of fuel looks very tempting. We've put the device to the test, and here's the full review.
Specs At A Glance
5-inch, 960 x 540 pixel display
8MP primary camera, 2MP front shooter
1.3GHz quad-core MediaTek MT6582 processor
Mali 400-MP2 graphics
1GB RAM, 4GB expandable internal storage
5,300mAh battery
Dual-SIM, 3G, Wi-Fi, Bluetooth 4.0, GPS
Android 4.2.2 Jelly Bean
FM radio
Plus-sized model with curvy edges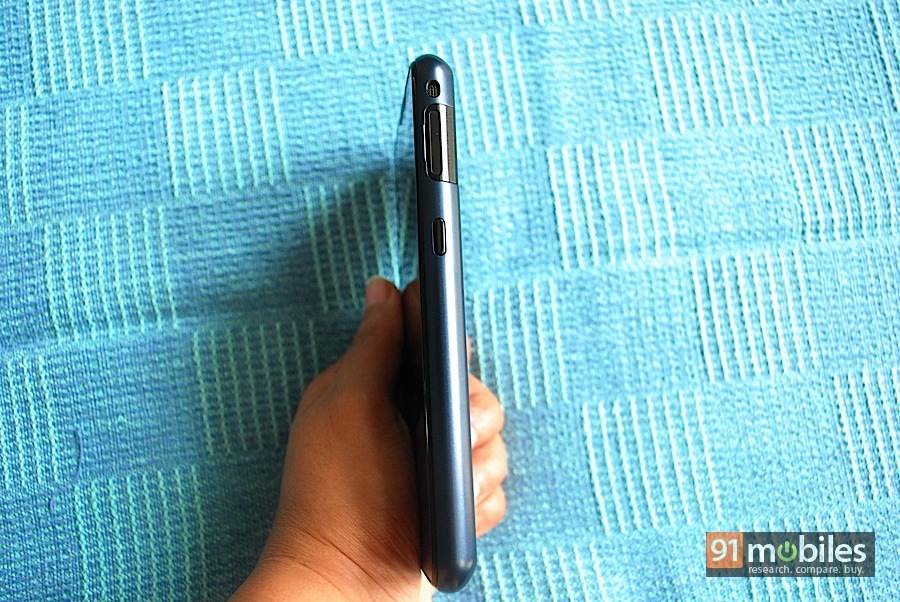 The W6610 is unabashedly bulky, both in weight and girth. The reason for this is obviously its 5,300mAh battery, which is squashed into a smartphone-sized frame. With dimensions of 145.4mm x 74.1mm x 11.4mm, and a weight of 200g, the Philips W6610 is one of the heaviest handsets we've come across, although we should mention that it feels reassuringly solid in the hand.
The handset resembles a rectangular slab with rounded edges, and comes in a navy blue colour with black detailing.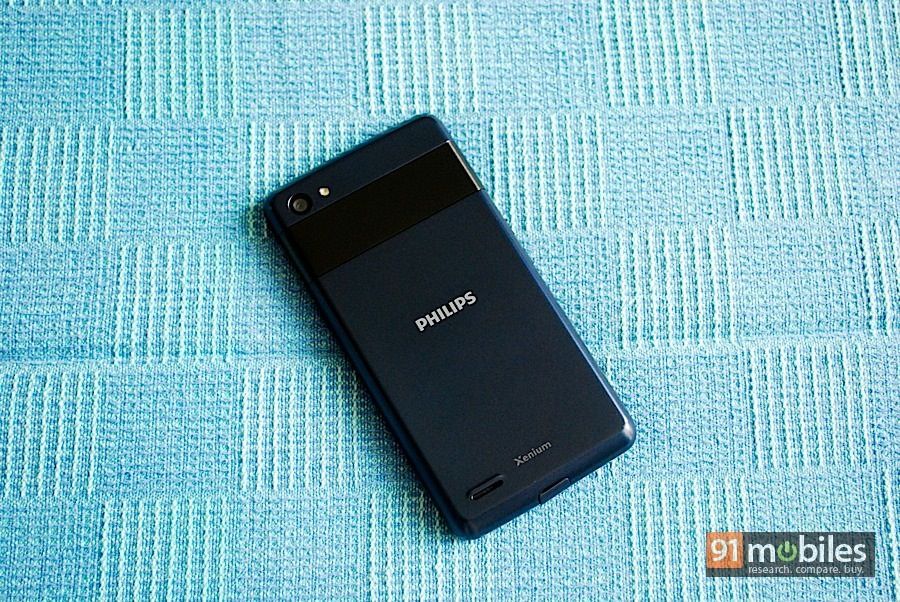 The front features a row of capacitive backlit Android hardware keys below the display. The top contains an embedded earpiece, an LED notification light, and the duo of proximity and ambient light sensors.
The 3.5mm audio jack is located at the top, while the microUSB port is concealed under a flimsy flap at the bottom. The left side contains the volume rocker, while the power button is located on the right. The buttons offer a satisfactory click when pressed and are responsive. On the right, you'll also find a dedicated switch to enable the Power Saving mode.
The back panel features the primary camera and LED flash on top, and sports a cut-out for the loudspeaker at the bottom. The rear cover isn't removable, keeping the monstrous battery away from sticky fingers. Rather than opt for an ejectable tray or slots in the side for the SIM and microSD cards, Philips has opted for a narrow removable flap on the back panel, which can be pried open.
Removing it exposes the two SIM card slots on either side, and a microSD card slot in the middle. Strangely, Philips has opted for two full-sized SIMs in the W6610, a rare occurrence on most higher-end smartphones these days. While the rear panel appears to be made out of a sturdy plastic, the removable flap is made of metal.
Overall, the device feels quite well built, and we think it can withstand a knock or two.
Average resolution, but very responsive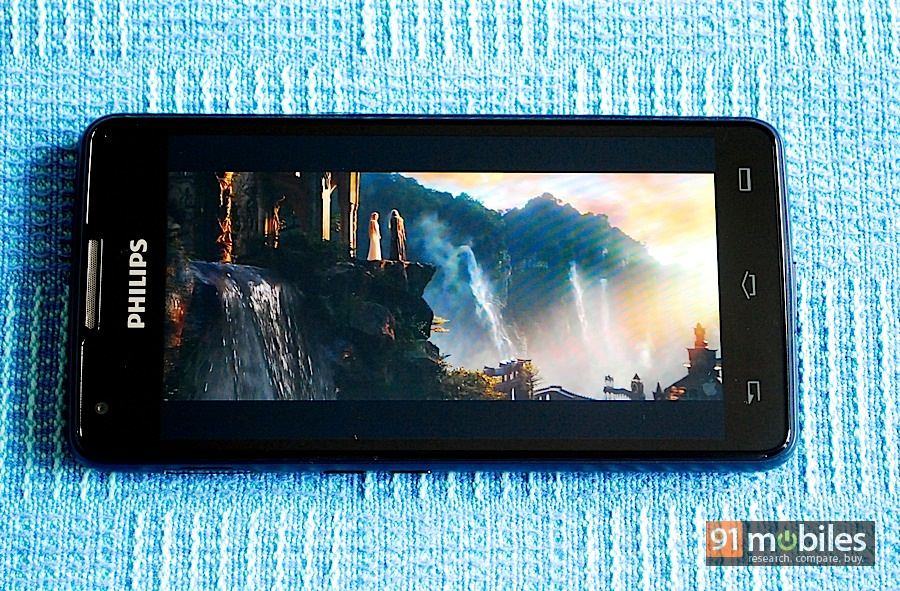 The W6610 features a 5-inch IPS qHD display, which is not to be confused with QHD, a la 2K. The screen offers a resolution of only 960 x 540 pixels, resulting in a pixel density of 220ppi. When devices even half its price are offering HD resolution, and the Xiaomi Mi 3 (review) has a 1080p screen, we felt Philips could have done better.
Resolution aside, the display was a pleasure to operate. While it's obviously not as sharp as some of its counterparts, it's very responsive and fluid, and brightness is a strong point too. Colours aren't very vibrant, but on the plus side they're not oversaturated.
We found that the display was fine for watching 720p videos, and was great for gaming too.
The display also supports a Glove Mode, which can be enabled via Settings > Accessibility or through the quick settings tab in the notification panel.
8-megger cam can churn out decent results
The W6610 offers an 8-megapixel primary camera with flash, and a 2MP camera in the front. The primary camera can take a decent daylight shot, but zooming in reveals a fair bit of oversharpening. Colours appear washed out in landscape shots, and the HDR mode isn't much help either. In low light, images are grainy as expected. The camera can take a usable photo at night, but has some difficulty focussing. The 2-megapixel front camera is fixed focus, which means very often you'll end up with a slightly blurry result. It suffices for video calling though.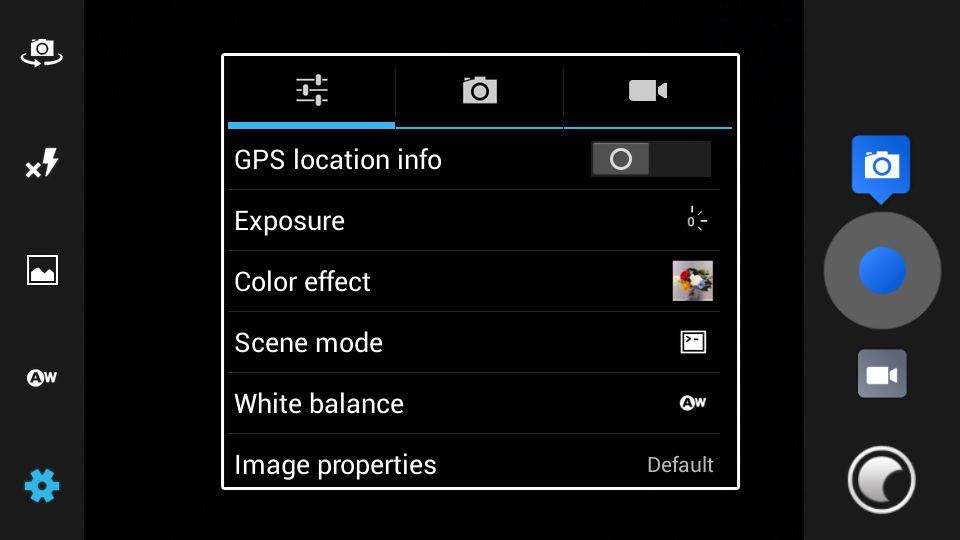 The camera app is quite standard, offering the usual array of controls and modes, and even throwing in the voice capture feature that we've seen on the XOLO Q1200 and Lava Iris 504Q+. There's also a dedicated control for colour modes below the shutter button.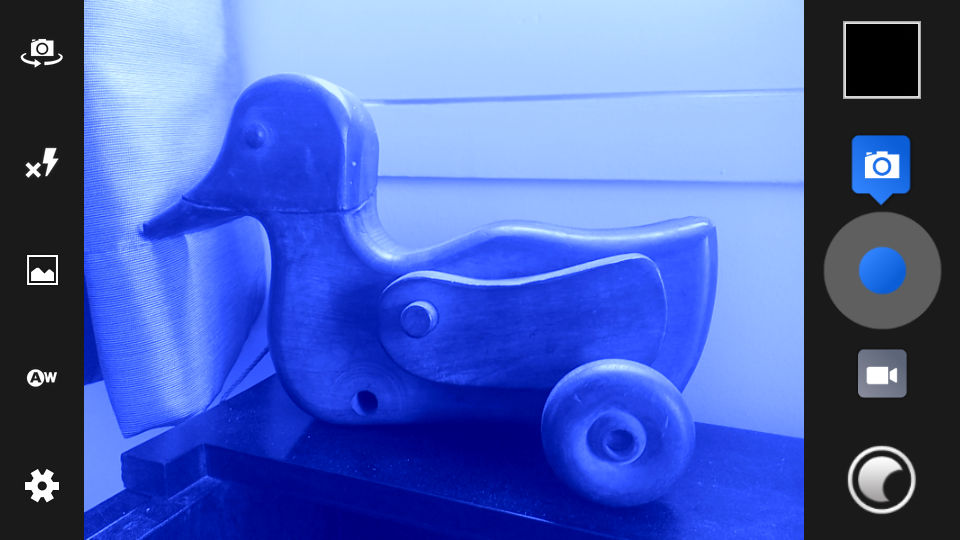 Here are a few image sample's from the W6610's primary camera. Click on the thumbnails to view them in full resolution.
No-frills Android Jelly Bean
The Philips W6610 runs a very dated Android 4.2.2 Jelly Bean, with no word on a KitKat update as yet. Philips has stuck to a mostly stock UI though, with minimal changes and pre-loaded apps.
The lockscreen displays haphazardly placed icons for missed notifications. The notification panel has a separate quick settings tab, where you can adjust brightness, data, Wi-Fi, the orientation lock, and more. We also noticed that the app drawer displays the wallpaper, which can be confusing if you have a busy background.
The icons are mostly default, but a few like the gallery, settings and camera have been tweaked. Pre-loaded apps are few, and include Chrome, and utilities like a file manager, FM radio, notebook, torch and to-do list. The only addition from Philips is the Power Saving app, which can be activated via the switch we mentioned earlier.
The app is very simple, displaying the current battery percentage and offering a choice of two modes: default and customised. The latter lets you specifiy brightness and screen timeout, disable Bluetooth, Wi-Fi, data, GPS, and even clean running apps.
Capable daily driver that runs on and on
The W6610 is equipped with a quad-core MediaTek MT6582 chipset clocked at 1.3GHz. This is supplemented by 1GB of RAM and a Mali 400 MP2 GPU. This is a tried-and-tested combination on several mid-range Android smartphones, and performance was smooth and glitch-free overall. The device didn't show any sign of heating up during our testing process, was responsive and handled multitasking well too.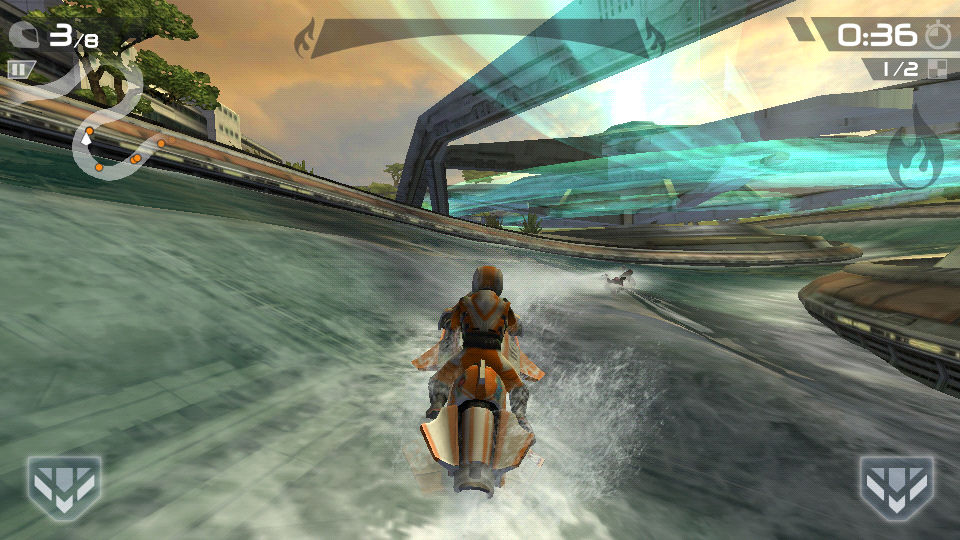 For gaming, we used the graphics-intensive Riptide GP2 as a benchmark, and found no lags or freezes during gameplay.
Call quality was clear on both ends with no dropped calls, although we could have used a bit more volume on our side.
One area where the smartphone lacks is storage. For a reason we just can't fathom, Philips is offering only 4GB of storage on the W6610, which is very meagre going by current standards. When even the Zenfone 4 offers 8GB of storage for Rs 5,999, we would have expected a minimum of 8GB on this device. To make matters worse, the storage is partitioned into about 1GB for apps, and 1.7GB for media storage. The microSD card can augment the memory by an additional 32GB, but that's not much consolation.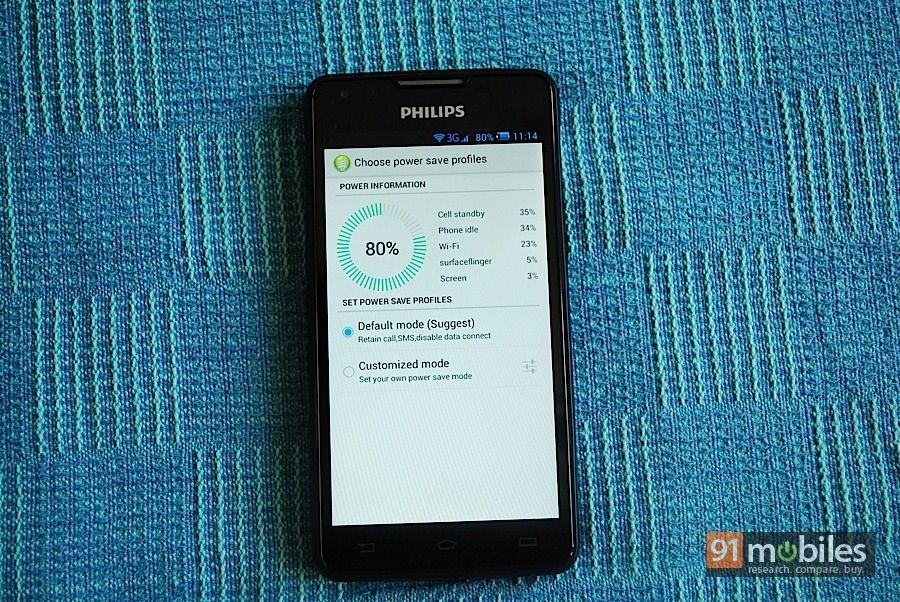 Given that Philips has put so much emphasis on the W6610's monstrous battery, we expected battery life to be impressive. Nothing, however, prepared us for this beast. Just to give you an indication, our standard battery loop test usually gives us between six to 10 hours on most smartphones, with a few rare instances like the Sony Xperia T2 Ultra (review) chugging on for close to 16 hours. The W6610 pretty much blows the competition away, and lasted us a few minutes over 23 hours before deciding to call it a night.
Real life usage was also excellent. After a day of regular use comprising of browsing, gaming and an hour of voice calls, the battery barely dropped below 85 percent. The smartphone easily lasts two days to three days with heavy use, making it ideal if you need to use your phone a lot and can't be bothered hooking it up to a charger. And if you thought a large battery would result in longer charging times, there's a pleasant surprise because the phone charges fully in a couple of hours.
Verdict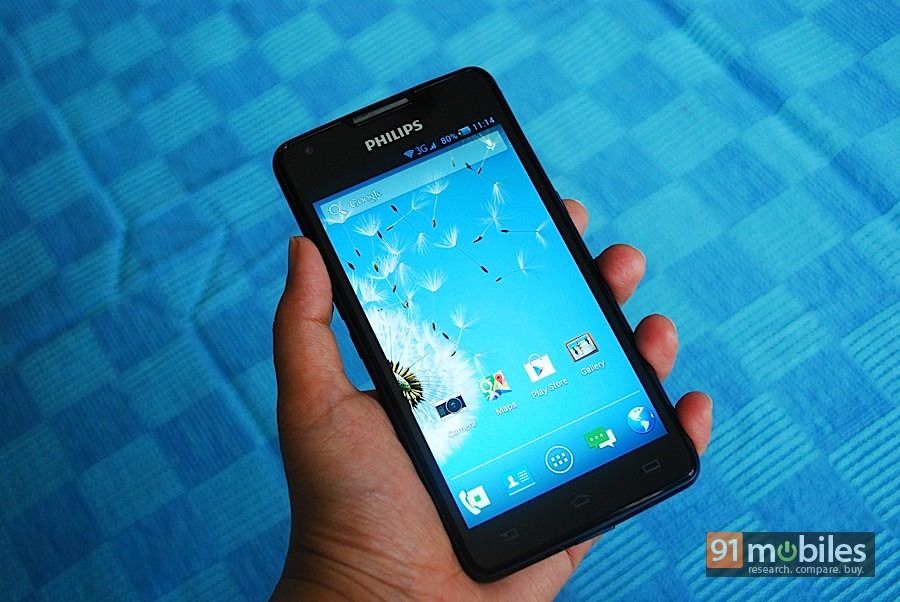 One thing's for sure, the Philips W6610 is definitely a niche product. At a time when most manufacturers are aiming to better their displays, cameras and processing power, the W6610 looks like quite the outcast. It's definitely not a smartphone you'd want to flaunt, and the large size and bulky weight don't add to its portability. There's a lot to fault Philips for here – the poor storage, average display resolution, mid-range processor and outdated operating system. It's clear that the phone targets specifically those who need all the functionality of a smartphone without worrying about carrying their charger around. There's a ton of folk who might find it useful, especially those whose jobs keep them away from a desk for long periods of time. Philips wasn't the first manufacturer to innovate on the battery aspect though. The Lenovo P780 is fuelled by a 4,000mAh battery and offers a 5-inch HD display for less than Rs 14,000. Micromax launched the Canvas Power later, which also offers a 4,000mAh battery and slightly downgraded features, but is available for as little as Rs 6,900. There's also the Gionee M2 which packs in a 4,200mAh battery that can also be used to charge other devices, which is available for Rs 10,300 online.
As expected, the W6610's price has come down quite significantly since launch, and it's now retailing for around Rs 16,999 online. At this price, it could be a palatable proposition, as long as you're willing to make a few compromises.
Price: Rs 16,999 (online price)
Editor's rating: 7 / 10
Pros:
Unbeatable battery life
Responsive display
Solid build quality
Good primary camera
Almost stock Android with no bloatware
Cons:
Bulky dimensions
Just 4GB of storage
Outdated operating system
Average screen resolution
Overpriced