"We review one of India's most affordable 4G smartphones, the Phicomm Energy 653"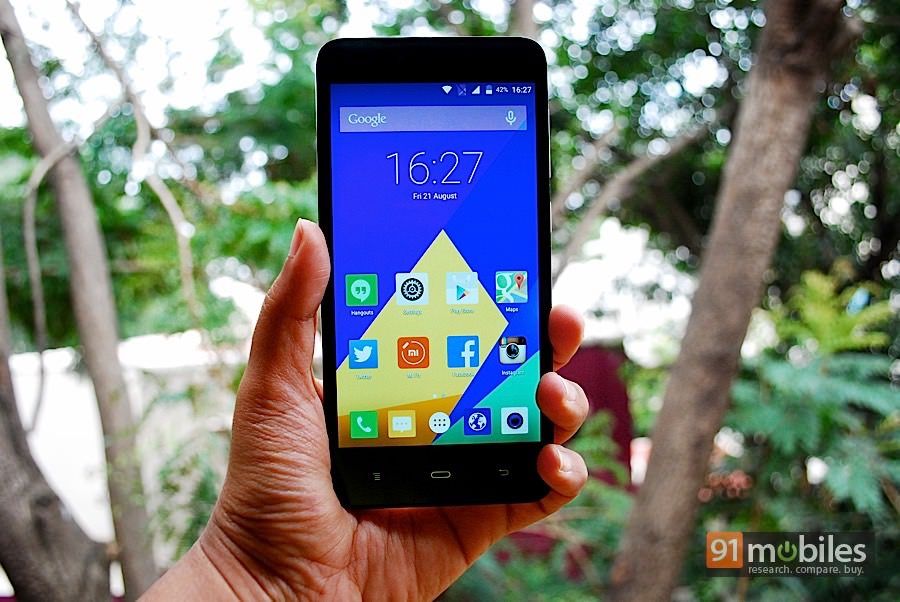 The growing interest in the budget smartphone space has put a lot of pressure on manufacturers. Achieving the perfect formula is tough, especially when there isn't enough room to play with the ingredients. With limited options available, companies have resorted to playing the specs game – octa-core processors, HD displays, 2GB of RAM, 16GB of storage and the latest buzzword – 4G LTE. In our experience, a good spec sheet is a very poor indication of how a smartphone will perform, but we're always ready to give new products the benefit of doubt. A new, if relatively unknown player in the Indian market is Chinese brand Phicomm. Its second device in India, the Energy 653 (unboxing and first impressions), until recently held the distinction of being India's most affordable 4G smartphone. To find out if it lives up to its intriguing moniker, we've been using the device for the past couple of weeks. Here's our review.
Specs At A Glance
5-inch, 1,280 x 720 pixel display (294ppi)
1.1GHz quad-core Snapdragon 210 processor
1GB RAM
8-megapixel primary camera, 2MP front camera
8GB internal storage (expandable up to 64GB)
4G, dual-SIM, Wi-Fi, Wi-Fi Direct, Bluetooth 4.0, GPS
Android 5.1 Lollipop with Expect 5.0 UI
2,300mAh battery


Sleek build, sharp display
In terms of design, the Phicomm Energy 653 is unremarkable at best. The device is made out of plastic, and features a two-tone finish with a black body and white removable back panel. The rear shell is glossy, and prone to getting smudged and scratched easily. Above the display you'll find the front camera, sensors and earpiece, while below the screen is a row of non-backlit capacitive Android keys.
The top edge houses the micro-USB port and 3.5mm audio jack, while the bottom features the primary microphone. The right side is where the power button and volume rocker are located. Flip the phone around and you're greeted by the primary camera, LED flash and secondary noise-cancelling microphone lined up in a row on the top left. There's Phicomm branding at the centre, and a loudspeaker grille at the bottom. Opening up the back panel reveals the dual micro-SIM card slots, microSD card slot and user-replaceable battery. The one physical feature of the smartphone that stood out for us was its slimness – at just 8mm the device feels very compact, and is easy to use one-handed.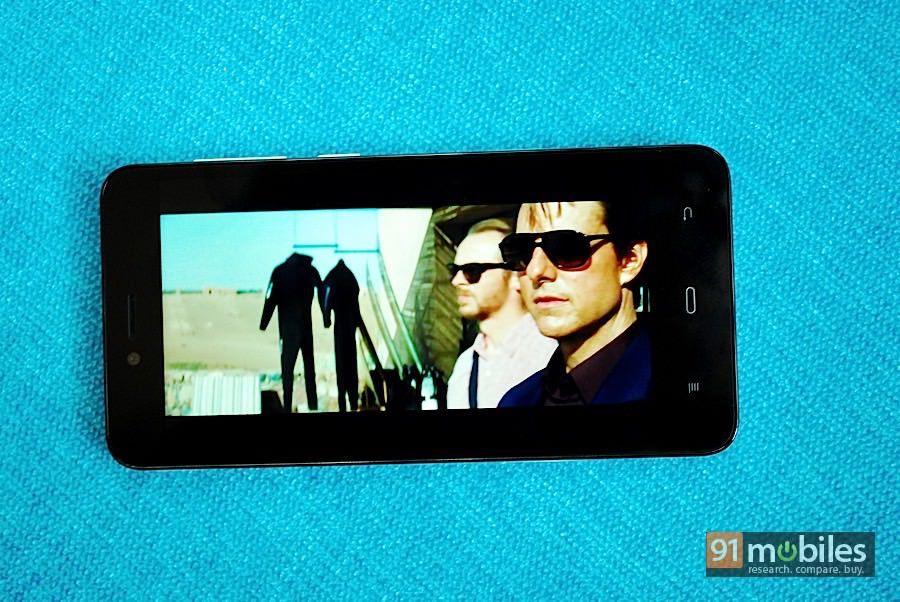 The Energy 653 features a 5-inch display, and Phicomm has been generous with the resolution, equipping the device with a 720p IPS panel that results in a sharp pixel density of 294ppi. The screen is crisp and clear, with good brightness levels and viewing angles. The screen is responsive, providing a smooth gaming and typing experience. There's no protective layer like Gorilla Glass to safeguard against scratches though, so you will need to invest in a screen protector.
Disappointing snappers
The Energy 653 features an 8MP primary camera and a 2MP front camera. The camera app is simple to use and features a bunch of controls and effects. When viewed in landscape mode, you'll find controls for the shutter, gallery and video/photo mode on the right. Apart from the front/rear camera toggle and flash controls on the right, you'll find a shortcut called Shot Mode, with options like Zero Shutter, Burst Mode, HDR and Anti-Shake. There are also a range of colour effects like black and white, sepia, negative, solarize, posterize, aqua, etc. In settings, you can adjust exposure, white balance, picture quality, face detection and the timer. We didn't expect much from the cameras considering the smartphone's price, and the results confirmed this. The camera takes usable photos in daylight, but lowlight images are very grainy. It also has trouble focussing, especially for macro shots. The front camera often gave us blurry, washed out shots, so we wouldn't recommend it for selfies.

Here are some image samples taken from the primary camera.
Lollipop in disguise
One of the standout features of the Energy 653 is its software. The device runs Android 5.1 Lollipop, overlaid with Phicomm's Expect 5.0 UI. The interface is more like a skin, changing a few design elements like the icons, but otherwise retaining the stock Android experience. It even features an app drawer, unlike most other Chinese UI's. Pre-loaded content is sparse, with Amazon Shopping being the only third-party app. In the settings menu, you'll find a section called Buttons. Here, you can program the power button to end a call, and the volume rocker to wake your device. You can choose a specific long-press and double tap action for the home button, and even configure it to answer incoming calls with a short press. For the menu button, you can choose both a short press and long press action.
Stable, except in close quarters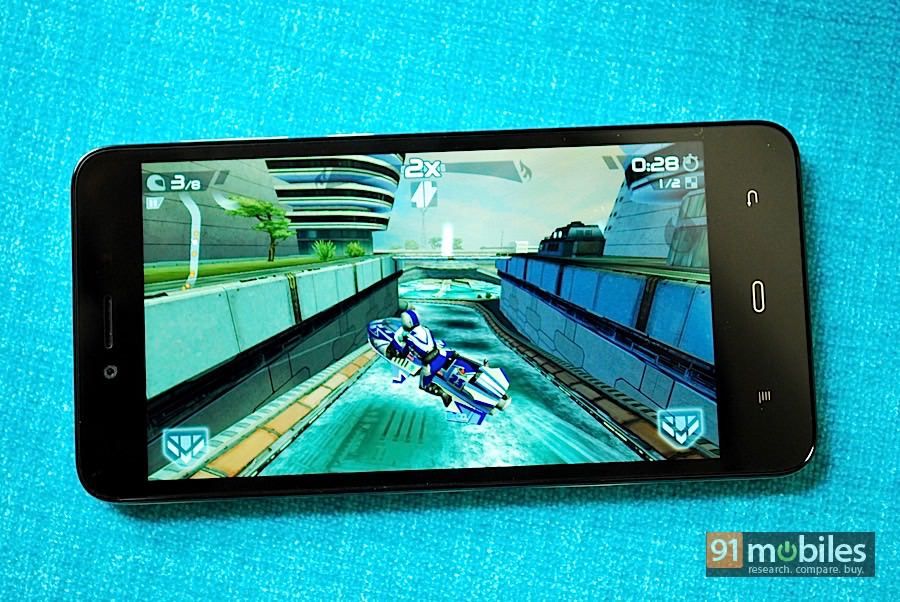 To power the smartphone, Phicomm has opted for Qualcomm's Snapdragon 210 chip, consisting of four cores clocked at 1.1GHz. The device is paired with a gig of RAM. Day-to-day performance was smooth and unmarred by any freezes or app crashes – pretty decent for a device at its price. To put the GPU to the test, we played games like Swordigo and Riptide GP2, and the smartphone didn't overheat even after 15-20 minutes of gameplay. There are a few noticeable frame drops and jitters, but gaming is a smooth experience overall. Our only issue with using the phone had to do with its faulty proximity sensor, which made phone calls virtually impossible. It wasn't just an occasional glitch – the touchscreen got activated every single time we made a phone call, either putting the caller on speaker, on hold and sometimes even calling a random contact.
In terms of the internal storage, you get 8GB of internal memory which is expandable by an additional 64GB. There's around 4.5GB available out of the box. The 2,300mAh battery gave us surprisingly good results. We easily managed until the end of the day with moderate use comprising of an hour or so of phone calls, social media and camera usage.
The Phicomm Energy 653 is a dual-SIM device, but supports 4G LTE on only one of its two SIM card slots. The other supports only 3G. The remaining connectivity features include Wi-Fi, Wi-Fi Direct, Bluetooth and GPS.
Verdict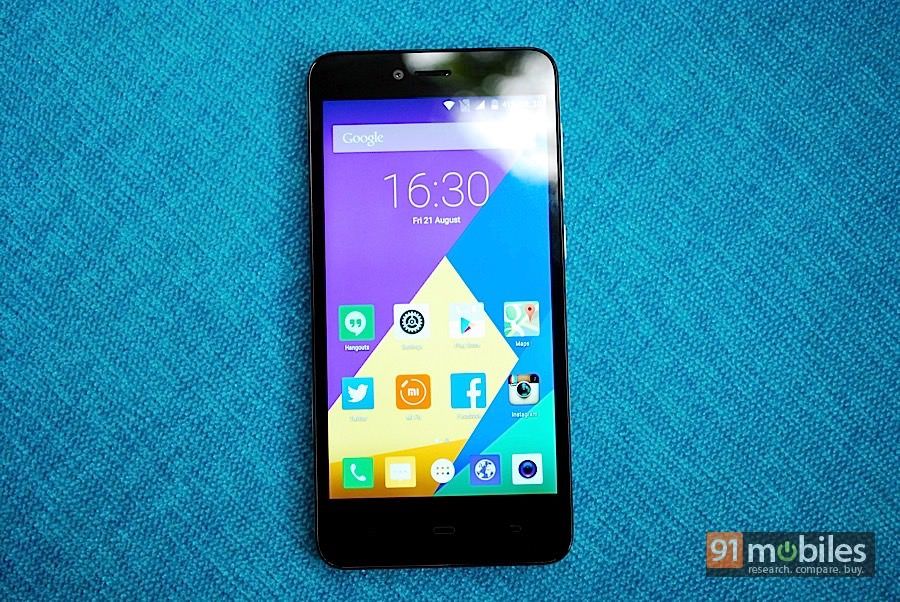 The Energy 653 offers a lot for its asking price of Rs 4,999. Its sharp display, near-stock Android interface, good battery life and smooth performance are testament to that. However, it's faulty proximity sensor and average cameras could be a put off for many potential users, and we hope Phicomm will address the former issue at the very least. The Energy 653 was recently dethroned from its title of India's cheapest 4G LTE smartphone by the Lenovo A2010, which beats it by a hair's breadth. While we can't comment on Lenovo's offering yet, if you are in the market for a budget 4G device, you might be better off considering the Xiaomi Redmi 2 (review), YU Yuphoria (review) or Moto E 2nd-gen (review), which retail for a slightly higher price, but offer a better all-round experience.

Price: Rs 4,999

Editor's Rating: 6 / 10

Pros:
Sharp, responsive display
Good battery life
Runs Android Lollipop
Supports both Indian 4G bands

Cons:
Below average cameras
Glitchy proximity sensor
Competitors for Phicomm Energy 653