CES 2013 event at Las Vegas seems to have something for everyone. Lovers of the number game Mathematics will be happy to know that a new app called "My Script Calculator" has been showcased at the CES 2013. The app was awarded with the Mobile App Showdown award at CES 2013.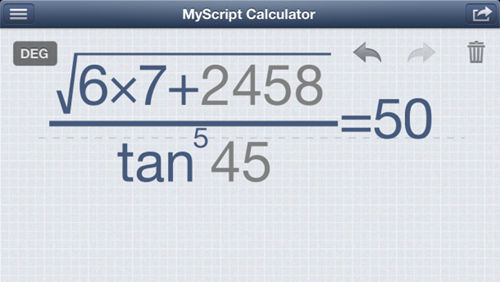 My Script Calculator is an app that is compatible with iOS as well as Android OS. The app enables its users to calculate and solve mathematical equations with ease and convenience. The app has a background similar to graph pages.
The app takes the experience of solving mathematical equations just by writing the expression on your touch screen. It is compatible to solve simple mathematical equations like addition, subtraction, multiplication or division. It can also help students of higher classes with subjects like Trigonometry and Geometry etc.
We simply needs to write the equation or expression using the touch screen and the app will solve it and provide us with the correct answer. It takes calculating experience to a new high.