"Worth a look if you're after a practical, usable smartwatch"
I remember getting goose pimples when I tried a smartwatch for the very first time, and it vibrated and delivered the first call alert to my wrist. This was sometime in the middle of 2013, and only the most tech-savvy probably knew what a smartwatch was. The watch was Pebble (the first-gen version of the Pebble Classic), and I had waited almost eight months for it to reach me after I'd ordered it online. The action was prompted by its hugely successful Kickstarter campaign that broke records, and made sure it grabbed enough headlines for a gizmo lover like me to sit up and take notice. Time seems to have come full circle, as almost three years later, I'm sitting down to write this review… right after Pebble announced its foray into India. The model sitting on my wrist today is the stylish Pebble Time Round, but amazingly, my three year-old Pebble is still going strong… and thanks to regular software updates from the company, is still very functional and far from obsolete.
The fact is, my Pebble smartwatch (pictured above on the right) is a very different device today than what it was when I first got it. That's the power of software for you. I once wrote a piece on how software makes the world go around, and highlighted the Pebble as one of the examples… and this was over a couple of years ago. The same still holds true, which shows the seriousness with which Pebble goes about its watch platform and the ecosystem that surrounds it. In the initial days, the Pebble had a limitation of just about eight apps, and while it did a fair job of delivering notifications, it had more than its share of rough edges – it couldn't display full message content for WhatsApp for example. I recall resorting to third-party Android apps like Pebble Notifier and Pebblify to get around that. The Pebble was still quite customisable, and there were websites like MyPebbleFaces.com where you could download watch faces from, or make your own using the online WatchFace Generator (hey, this one's still around, and works). The Pebble App store came later (check out the review I did back in 2014 to see how it looked then), and has now evolved into a full-fledged storefront that's accessible via Pebble's companion apps, and is the one-stop shop for downloading and cramming tons of apps and watch faces into your Pebble. The 8-app limit is long gone, as it uses an account-linked, cloud system to deliver new stuff to your watch.
It's to Pebble's credit that it has been able to enhance functionality, without changing the hardware significantly (in the Classic's case). It's not as if it hasn't done anything in the hardware department – there are newer models now. The Pebble Time adds a colour display and a microphone, the Time Steel adds to the build with its metal case, while the Round is all about style with its circular screen and slim bod. Pebble OS, which is the platform that runs on all of these devices, has matured quite a bit, and a very recent update has added native activity-tracking features that work automatically, without you having to do anything.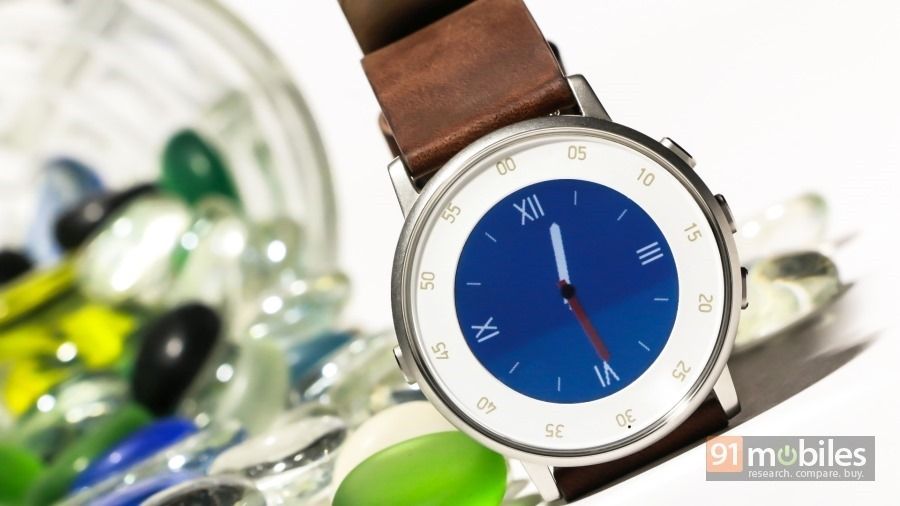 Talking specifically about the Pebble Time Round, it seems to have come out of a realisation that wearables need to look stylish, especially given the fact that none of the other Pebble watches can boast such looks. The circular display (the only one in the Pebble lineup), the slim case, and the light weight, all make it apt for not just round-the-clock wear, but the way it's designed shouldn't look out of place in a party, club or boardroom. The Time Round I have comes in silver, featuring a wide white bezel around the display (seems like a waste of space, really), and a 20mm brown leather strap. Apparently, the Time Round is available with a 14mm stone-coloured band in India, making it more apt for a girl's wrist, but there's also an all-black version with a 20mm strap.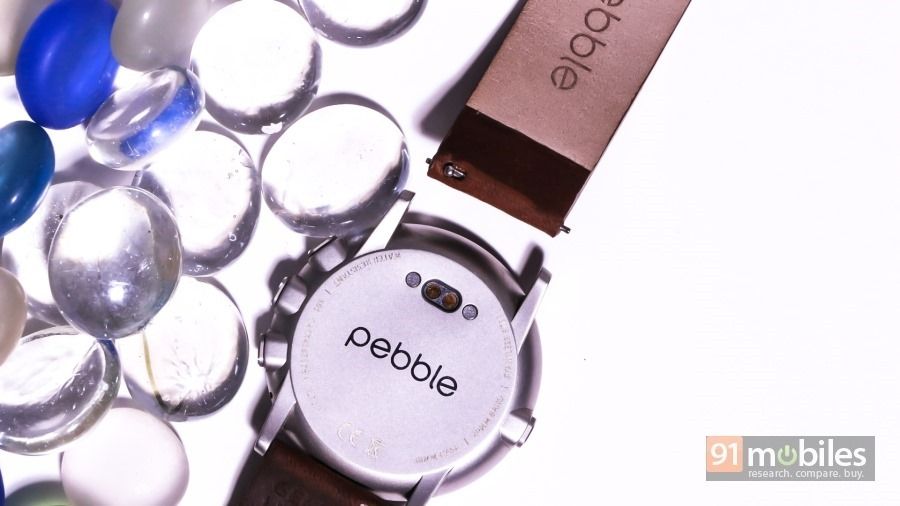 The strap comes with quick-release spring bars, which can be removed with your bare hands, instead of using a spring bar tool like in the case of regular watches. While watch straps compatible with these aren't really easily available, switching bands isn't too tough… as you can just visit a local watch store, choose a band (with matching dimensions) that catches your fancy, and get the guys there to install it on your Pebble using regular spring bars.
At the rear of the Pebble Time Round, you'll find a pogo pin connector, to which the bundled cable attaches magnetically. At the other end of the cable is a regular USB connector, which you can insert into your laptop or a wall charger to juice up the watch.
Since the Time Round (or any of the other Pebbles) doesn't feature a touchscreen, you need to operate it with the help of four buttons… with one of them placed on the left, and the other three on the right. The left key acts as a back button, while the middle one on the right acts as the select key. The ones on the top right and bottom right let you scroll up and down through lists and menus. Pairing is simple. Just download the official Pebble app on your iPhone or Android, and let it guide you through the process. You would need to create a Pebble account, and during the setup process, the app checks for any available software updates and installs it on your Pebble.
The Pebble companion apps on Android and iOS feature a neat interface, and you get tabs for watch faces and apps, and another one to control notifications. Notably, the latest Health update has added a new tab that provides a summary of your activity and sleep. And to log your activity, all you need to do is make sure you wear it – it's capable of monitoring walks, runs, sleep etc, and giving you a summary, all on its own.
The menu navigation on the watch is pretty simple and straightforward. Pebble's timeline interface works with most watch faces, and some apps. The way it functions is by displaying events or happenings in a chronological order, when you press the up or down key on the right of the watch. These 'events' could be actual events from your calendar, or other info like your sleep summary, sunrise/sunset timings etc.
By default, the only watch face available on the Round is the analogue one called TicToc. Worth noting that the Time Round's circular display is better suited for analogue watch faces than the rest of the range, but you have the option to download more from the store (hey, that rhymes). Plain ones, funky ones, digital ones, analogue ones – you can go crazy downloading and trying them all. Many of them have options to customise appearance in terms of colours, or add 'complications' such as indicators for battery level, weather, date, step count etc. In fact, some of them take customisation to the extreme… letting you change almost everything.
Coming to the watch apps, the default ones on the watch include the likes of calendar, weather, health, music etc, and the sequence in which they appear on the watch menu can be changed via the app. As far as third-party apps are concerned, they're neatly categorised in the store, and cover categories like health, essentials, voice apps, games, transit etc. Some of them won't work in India, but there's so such issue with others. You'll get a variety of functional stuff, like compass, timers, Twitter, weather, Tinder, etc. Also, most of them are free, but you'll also find a few paid ones like Snowy. Since the Pebble App store doesn't have a payment mechanism, these can be purchased via a system called KeizelPay that generates a code on the watch after you install a paid app on it, and then you can make the payment online using that code. Snowy is a voice assistant… handy since the Pebble doesn't have a voice-based assistant like Google Now on Android Wear or Siri on the Apple Watch. Then there are the likes of Morpheuz, which is an advanced (and free) sleep tracker, and though Pebble has a native sleep tracker of its own now, works really well if you want detailed stats. The choice of apps won't match the ecosystem available for Android Wear or for the Apple Watch, but I love the fact that many of the ones on the Pebble are proper apps, and not just mere extensions of their phone counterparts.
The Pebble delivers notifications dutifully, and you can read them on the watch itself. If you're using it with an Android device, you get more options, such as the ability to reply to messages using canned responses or using the voice reply feature to dictate short replies to the watch. And this works well – in my experience with the Pebble Time Round, it was quite accurate in detecting my voice. Overall, Pebble users on Android have more third-party apps to play with too, and more options to customise.
Coming to the battery life, the Time Round is rated for a couple of days of use on a single charge, and this matches what I got with it in real life too. It could vary a bit depending upon usage, and other factors… such as whether you use animated watch faces, the intensity and frequency of vibration alerts (these are customisable), the backlight etc. Apparently, the Time Round had to make compromises with the battery life due to its slim girth, but to make up for that, it features quick charging – juicing up the watch up to 75 percent levels after just 15 minutes of charging – and that's easily about a day's worth. This is convenient, and while I can't say I like the proprietary cable, I've just taken to carrying it around with me in my bag. A two-day battery life isn't much, but it's still almost double what most others offer currently.
I got a chance to chat with Pebble founder Eric Migicovsky, and he's pretty stoked about the launch in India. "With the Pebble, our idea was to start with something that's a great watch first, and then add smart features to it", he said. Another thing he said has also remained with me… that the Pebble doesn't aim to be a smartphone wrapped around the user's wrist… and I'd have to agree. The fact is, it's a very different beast compared to Android Wear-powered options and the Apple Watch, and probably not for you if you're looking to make some kind of statement by wearing a smartwatch. What I like most about the Pebble is probably that it doesn't purport to be anything more than what it actually is – a watch that's smart. Very smart.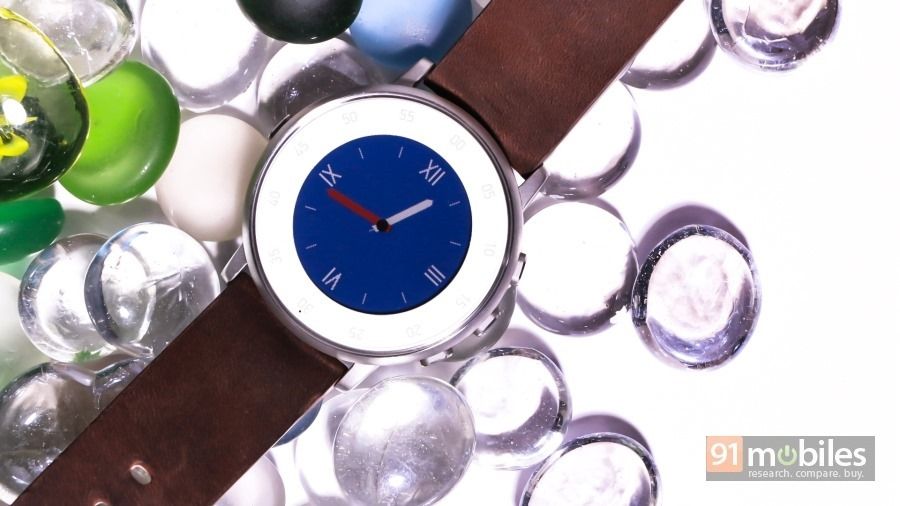 I'll have to admit – I'm a little biased in favour of the Pebble since I've sort of been part of its growth journey, in some way. That said, I genuinely believe that it's one of the most practical and usable smartwatches available (and that's valid for the entire range). Personally, I would probably choose the Pebble Time Steel due to its 10-day battery life, which would be a boon for someone like me who needs to charge multiple gadgets every day. And battery life is one of the key strengths of the entire lineup – even the Round, with its two-day battery, isn't too bad in that respect. The range lacks a few things which would be nice to have – a touchscreen, a heart rate monitor, possibly Wi-Fi support, but there other features that clinch the deal for me. The always-on, highly-readable display brings it closer to a traditional watch – I don't need to resort to wrist flicks or other contortions just to see the time.The fact that it's compatible with both Android and iOS is also quite useful. The immense scope of personalisation, combined with loads of tweaking options (such as IFTTT support and more) make it compelling for power users too. And the pricing seems to be quite sane. The Pebble then, regardless of the model you choose, is in my opinion, a worthy choice if you're looking for a watch with smarts baked in.
Editor's rating: 4 / 5
Pros
Always-on display
Decent battery life and quick charging
Customisability
Range of third-party apps
Cons
Lacks heart rate monitor
Proprietary cable
Photos by Raj Rout