"The Eluga A2 adds to the assortment of high VFM phones in the Rs 10k segment"
It's pretty clear that the Rs 10k price segment is seeing the most action as far as the Indian smartphone market is concerned, and there are quite a few options fighting for a share of the pie. Devices like the LeEco Le 1s Eco (first impressions), Xiaomi Redmi Note 3 (review), MEIZU m3 note (first impressions), Coolpad Note 3 Plus (first impressions)… and quite a few others play in the same price range, making things quite tough for those looking for a daily driver within a budget of Rs 10,000 or so. Specs like 3 gigs of RAM and high-powered batteries are making their presence felt, and Panasonic has now jumped into the fray with a contender of its own.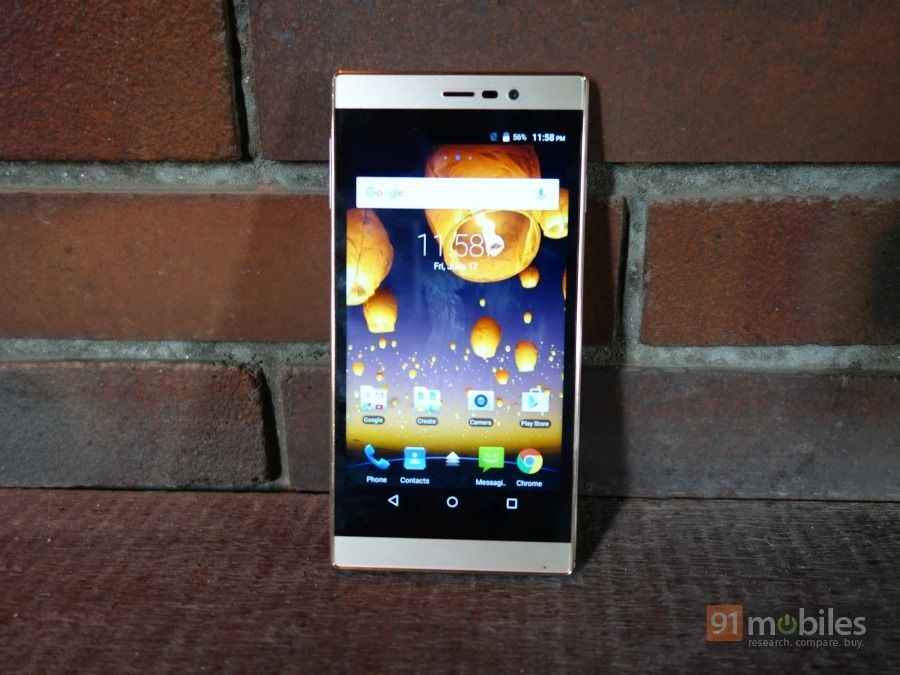 The Panasonic Eluga A2 is slightly different from most options we mentioned above, mainly because it sticks to a more manageable 5-inch screen size, while the others sport 5.5-inch displays. While the screen resolution on the Eluga is just 720p (in comparison, the others offer full HD displays), it attempts to lure prospective buyers with a few other compelling specs… which include 3GB RAM, VoLTE support, and a meaty, 4,000mAh battery. Let's take a closer look.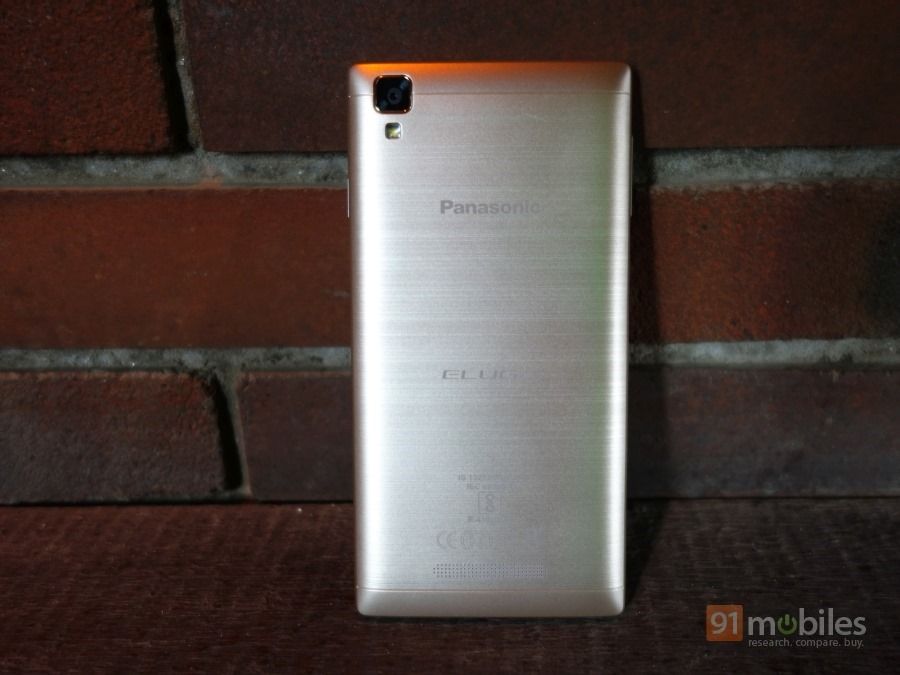 The Eluga A2 is quite compact, thanks to its 5-inch display. The company has done a good job by integrating a 4,000mAh battery into a relatively slim (8.9mm), and lightweight (167.5 g) device. While the Eluga A2 doesn't boast a metal body (which is another key differentiator in the same price segment), the smartphone does boast a brushed metal effect on its plastic rear that looks nice. The phone doesn't feel plasticky either.
The Eluga A2 rocks a squarish, blocky design, especially when viewed from the front. The rear is gently curved though, making it ergonomic to hold. Up front, you'll find the earpiece, sensors and front camera above the 5-inch HD display, but there are no hardware navigation keys since they're available as part of the hardware.
The placement of controls is pretty standard – volume rocker on the left, power key on the right, headset socket on top, and micro-USB port at the bottom.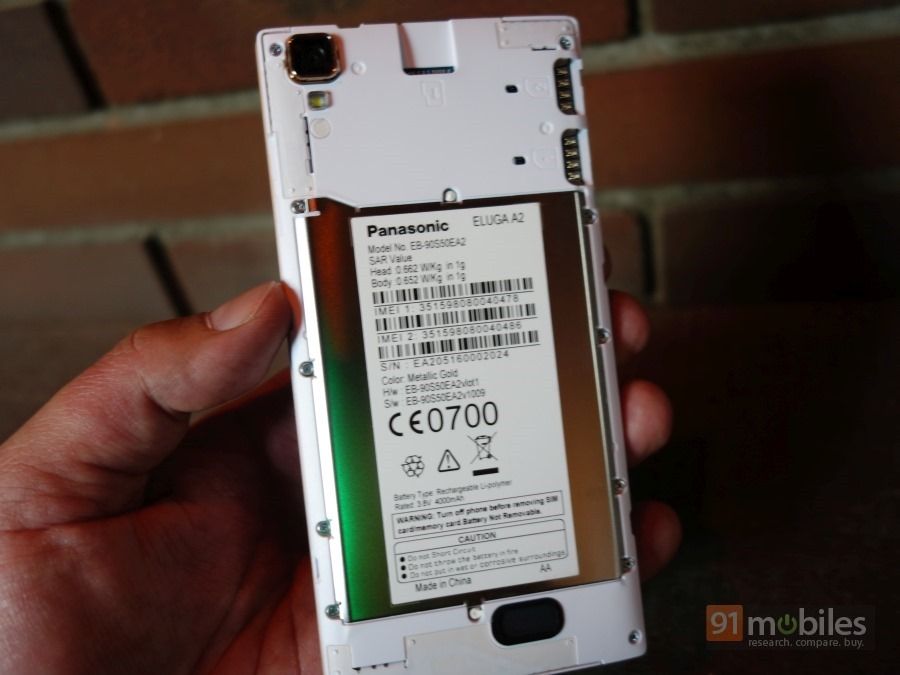 At the back, you'll see the main camera along with the flash on top left, Panasonic branding, regulatory info, and a speaker grille down below. The rear panel opens up to reveal a pair of SIM slots and a microSD card slots. The battery is sealed however, and can't be removed.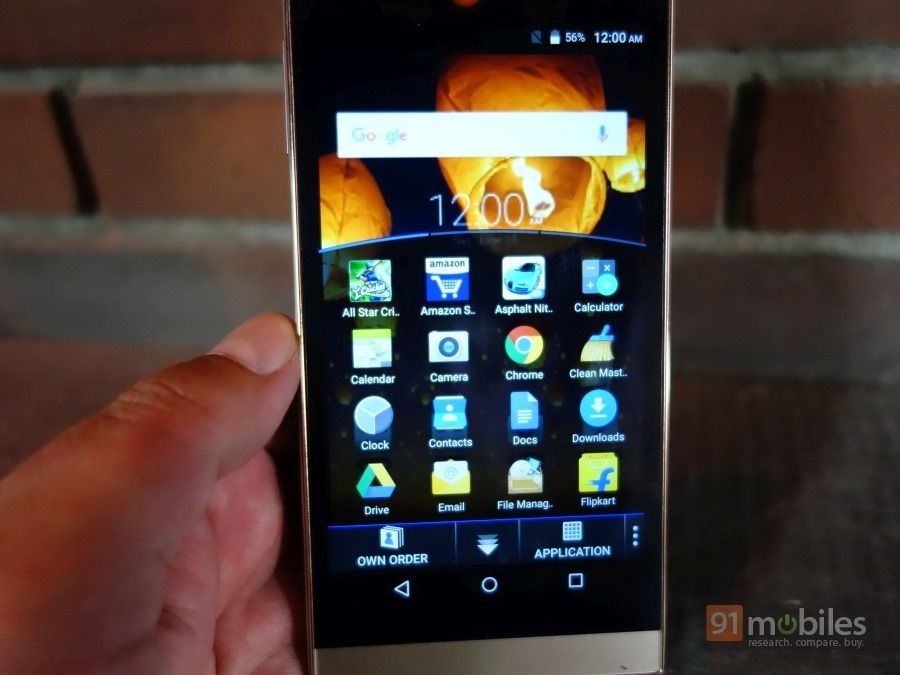 The software side of things comprise Android Lollipop, with Panasonic's custom skin dubbed Fit Home UI. While many things are closer to stock Android, one of the main features of this interface is a special one-handed mode that displays the app drawer as a carousel occupying just the lower half of the screen. You can however, switch to the regular full-screen mode if you like.
Inside ticks a 1GHz quad-core chip paired with 3 gigs of RAM, and there's 16GB internal storage which is expandable via the aforementioned microSD slot. About 10.5GB was free in our demo unit. Apart from dual-SIM support and 4G with VoLTE, the other connectivity options are fairly standard. Photography is handled by an 8MP primary and 5MP front camera. A quick look at the camera interface showed the usual modes. There were no lags in our brief usage, though we'd like to reserve comment before we get a chance to review the phone properly.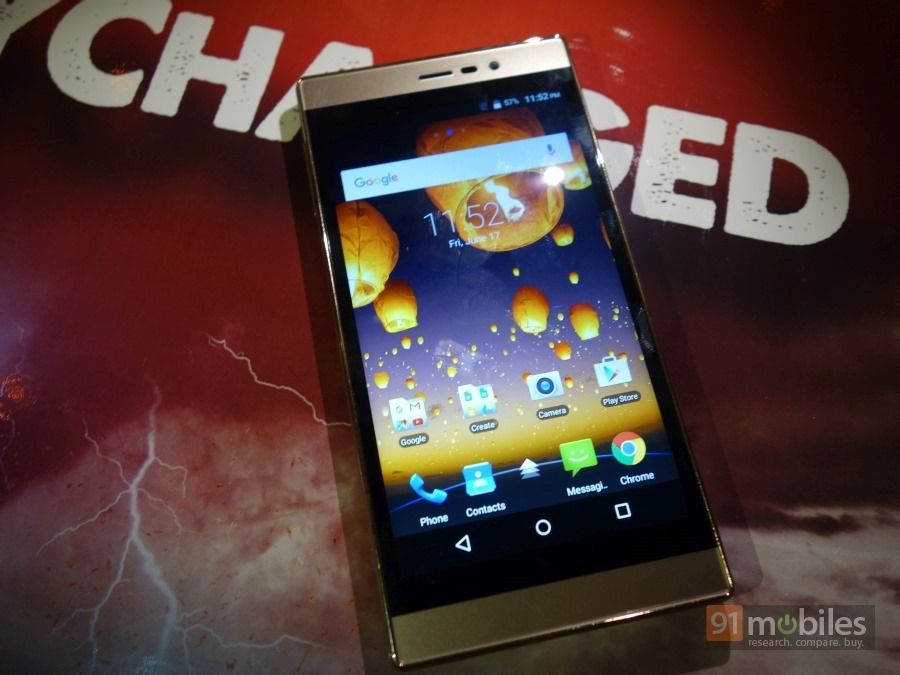 The Eluga A2 has been priced at Rs 9,490, and while some of its rivals in the same price category trump it if compared spec-to-spec, there's no doubt that Panasonic's offering seems like an option worth shortlisting, especially if one is looking for a compact phone with VoLTE support and a powerful battery.