"Oxigen Wallet comes across as a handy all-in-one utility app for bill payments and transferring money"
With the advent of the Internet and online banking, gone are the days when you needed to rush to the nearest store for recharging your mobile or to the electricity office every month for paying your bill. There are a multitude of ways including banking websites or recharge apps like Paytm and Mobikwik to conveniently pay for such things. But what if you want to transfer money to your friend for the last week's party or the movie you watched together? Either you have to meet to hand over the dough or visit your bank website or app, then add your friend's account as beneficiary (which usually takes up to 24 hours) and finally transfer the required amount. What if we tell you there's an easy way to do this along with all the things you usually do through other bill utility apps? Oxigen has been around in India for a while, and after the latest RBI guidelines, the service has become a semi-closed wallet. It has also rechristened itself as Oxigen Wallet, positing itself as a one-stop solution for most of your bill payment and money transferring needs.

The basics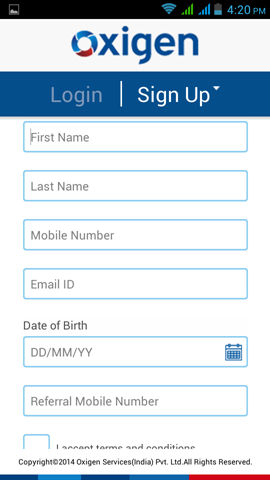 You can create your account on Oxigen Wallet by simply signing up with your mobile number and using a six-digit code as password. You can also sign up with a simple SMS (in a particular format) as well.
It's also important to understand what a semi-closed wallet means and what all it allows you to do. Unlike the closed wallet like you see in many recharge apps like Freecharge or e-commerce websites like Flipkart where the amount available in the wallet can only be used within the respective service, semi-closed wallets can be used to pay for other services as well. Some other examples of this type of wallet are Airtel Money and PayTM among others. Oxigen Wallet goes a step further by allowing you to withdraw money to your bank account as well.
However, semi-closed wallet have maximum limit of Rs 10,000 which means that at any point of time, your wallet can have Rs 10,000. If you want to increase your limit, then you can submit your KYC (know your customer) documents online to the website, which ups your limit to Rs 25,000.
User-friendly interface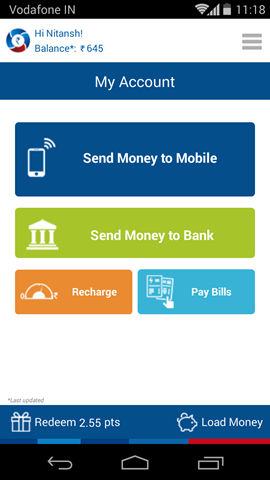 Coming back to the app, it adorns a simple interface with the all the options present right at the front after logging in. You can transfer money to a mobile number, withdraw money to your bank account, recharge your mobile / data card / DTH and pay postpaid mobile phone / telephone and electricity bills (limited to selected regions only).
Since you should have money to pay for all the aforementioned things, you can also load money to your account using your debit or credit card, or netbanking.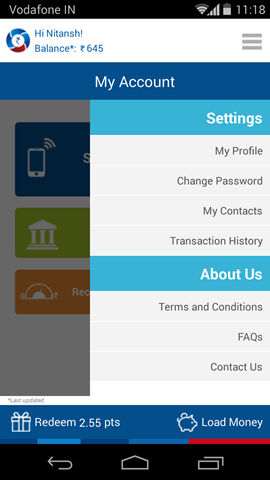 If you want to check advanced options, tap on the top-right corner and you'll see a menu allowing you to check your profile, personal details and transaction history along with the option to change your password. In the profile section, you can add your personal details, though you can't edit information like your email ID, date of birth, etc. You can also add your bank details or mobile phone numbers to transfer money or recharge your number in a jiffy.
Since you have to use mobile numbers to transfer money to your friends, you can add their name as contacts or go to your device's phonebook for adding the number.
With transaction history, you can filter the dates and take a look at the stuff that your Oxigen account has been used for.
If you have some queries, then you can check the frequently asked questions from the app itself and in case you want any clarifications, you can contact the company's customer care as well.
Serves multiple purposes
While most of the options available in the app are straight-forward, let's take a closer look at them.
1) Transfer money to friends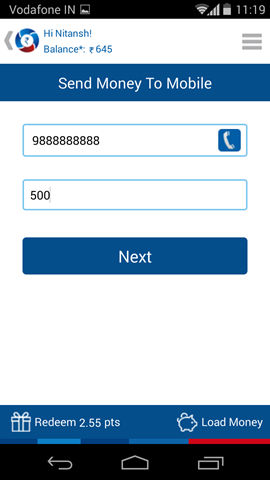 As mentioned earlier, for transferring any amount to your friend, you simply need their mobile number. This means, even if they aren't using the app, the transfer can be done because they can create an account as soon as they get a notification from Oxigen Wallet.
2) Transfer money to your bank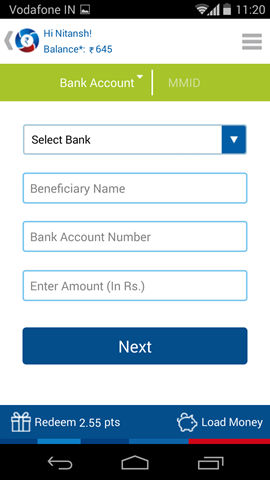 This is one feature which differentiates Oxigen Wallet from other semi-closed wallet services. If your friend has transferred money to you and you don't want to spend it anywhere, then you can withdraw this amount to your bank account. The service supports most banks and ensures that transferring is a seamless experience.
3) Recharge and pay bills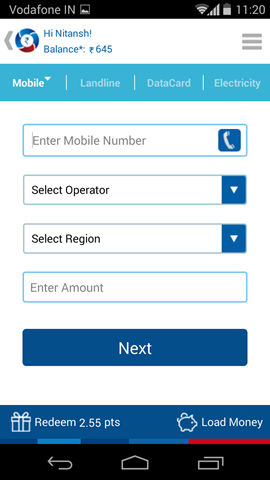 Both are fairly simple options as many other apps offer these features. Oxigen Wallet supports all the mobile operators for prepaid recharges and you can also recharge your DTH or data dongle.
The bills section provides options to pay for your postpaid mobile number or data dongle. You can also make the payment for your landline number or to your electricity provider, though at the moment it only supports power companies operating in Delhi.
For adding money to your Oxigen Wallet, you can not only use online banking or debit cards, but also by visiting any Oxigen outlet.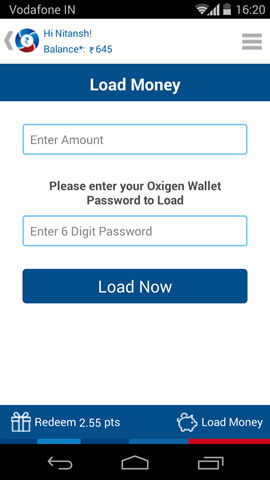 The service also offers loyalty points giving you points for every transaction. For each Rs 100 spent, you'll get one point and these points can be redeemed later against a recharge.
Verdict
Oxigen Wallet comes across as a handy all-in-one app handling your recharging, bill payment and money transferring requirements. It ensures that you don't need to juggle between different apps and the ability to transfer money to your friends acts like icing on the cake. As we stated earlier, you can use the wallet to pay for other services as well, and Oxigen has partnered with popular avenues like BookMyShow, Domino's, eBay, IRCTC, Redbus and more to allow Oxigen Wallet payments.
However, one qualm we had with the app was that there's no option of signing out. Additionally, it creates a new six-digit password each time you use the app from a new device.
Also, there's no provision of transferring your account to another number since the services ties your unique mobile number with your identity.
Editor's rating: 9 / 10
Pros
Fluid and simple interface
An all-in-one solution for payments
Ability to transfer money to anyone
Send money to your bank account
Cons
Only available for Android currently
No way of checking out various recharge packs for respective telecom operators unlike other recharge apps
Can't change your name in case the number you're using had already been registered with the service previously