Microsoft has updated its Outlook.com for Android application with a completely new user interface and various new filters to manage user's flagged and unread emails. Its new user interface is similar to the Windows 8 and the Outlook.com web application. With this new update users can mark emails as Junk.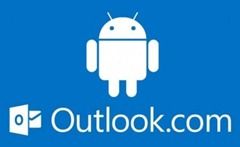 This new update has added many new features including conversation threading, filters for unread and flagged mail. Conversation threading will help users who prefer emails to be threaded and grouped. this feature is particularly useful for handsets with smaller display sizes.
Outlook.com that was launched by Microsoft in July 2012 continues to grow in terms number of users, and as on February 2013, the email service reportedly had 60 million active users. Microsoft recently revamped outlook.com's calendar design, giving it a new metro style look and feel.
Here are new features of outlook for Android applications,
Marking Messages as Junk
Conversation Threading
Filters for unread messages
New look and feel.