"Not just the smartphone, the box and contents are also as premium as they can get"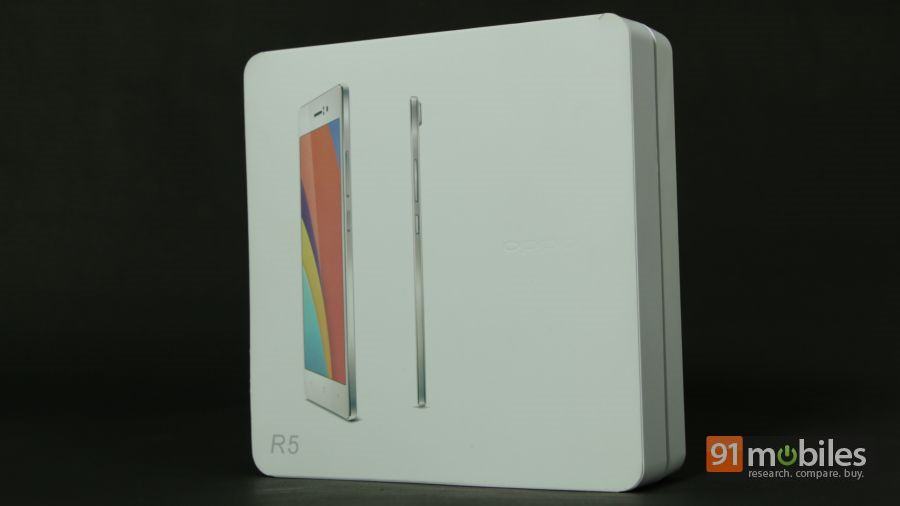 Within an year of its entry in the Indian market, Chinese brand OPPO has been making enough noise about its devices. While its debut offering, the N1 (review) has a unique swivel mechanism on its camera, the brand was also the first to launch a smartphone with eye-popping 2K resolution in India (OPPO Find 7). Its latest, the R5, also has a USP of having a wafer-thin body – even though vivo's X5Max (first impressions) stole the title of slimmest smartphone in the world right under its nose. But there's more to OPPO R5 than its slimness, which we will be talking about during our review of the device. But before that, as it's been our custom, let's welcome the OPPO R5 in our labs with the unboxing.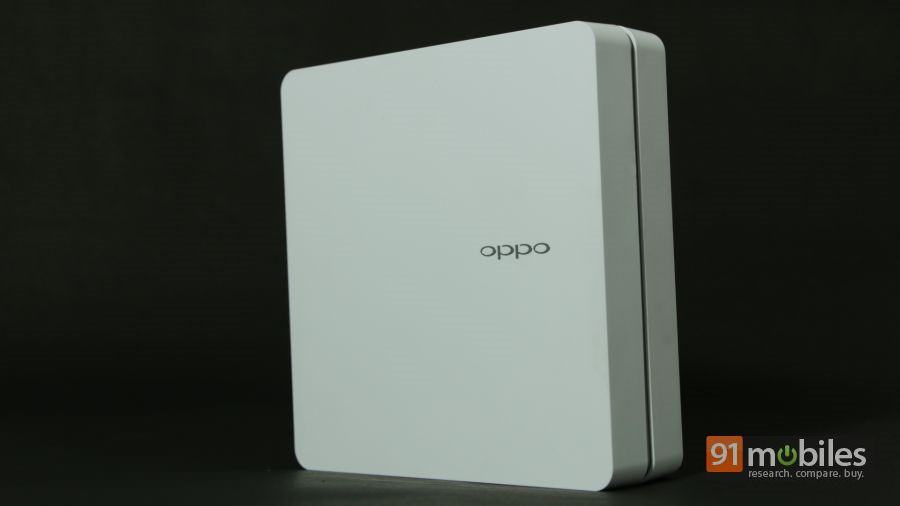 While the OPPO R5 is a slim phone, the box it comes packed in is anything but. The box has a minimalistic design and features a nice plastic construction exuding premiumness. Prying open the box offers a glimpse of the smartphone itself. Below the plastic tray holding the OPPO R5, you'll find other accessories neatly kept in different compartments.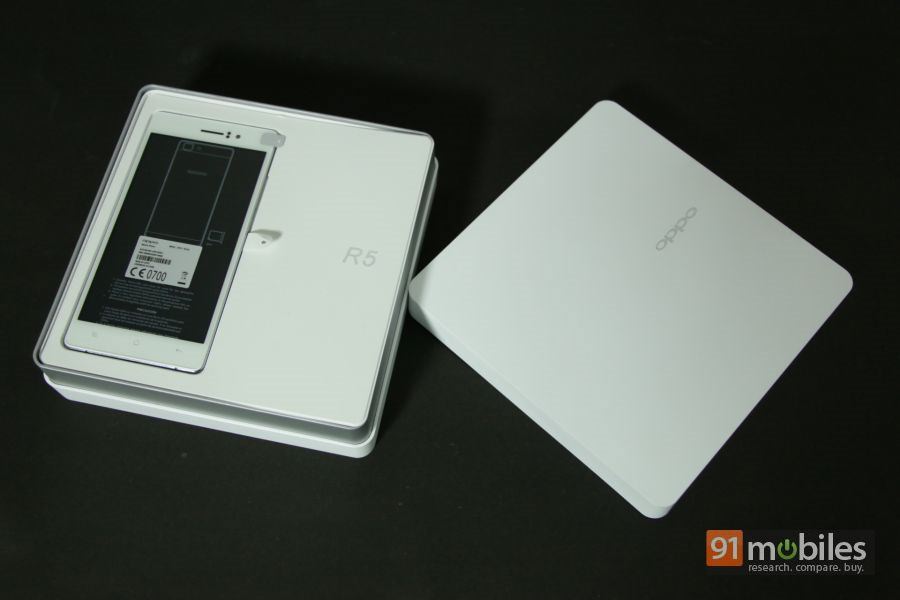 On the right side, you'll find a pair of earphones. While they appear normal, it must be noted that OPPO has bundled in earphones with a micro-USB connector, since the R5 lacks a 3.5mm jack. Thankfully, the earphones come with a adapter, which means you can use the same with your own set of earphones to plug into the OPPO R5.
A wall charger is also available of course, and it may seem like a regular charger, it does has some tricks up its sleeve. OPPO started offering rapid charging technology dubbed VOOC with its Find 7 (review), but now the company has managed to shrink the charger. The OPPO R5's charging adapter has amperage of 5A to charge it in a jiffy, but it can also be charged with other adapters (though you'll miss the rapid charging facility).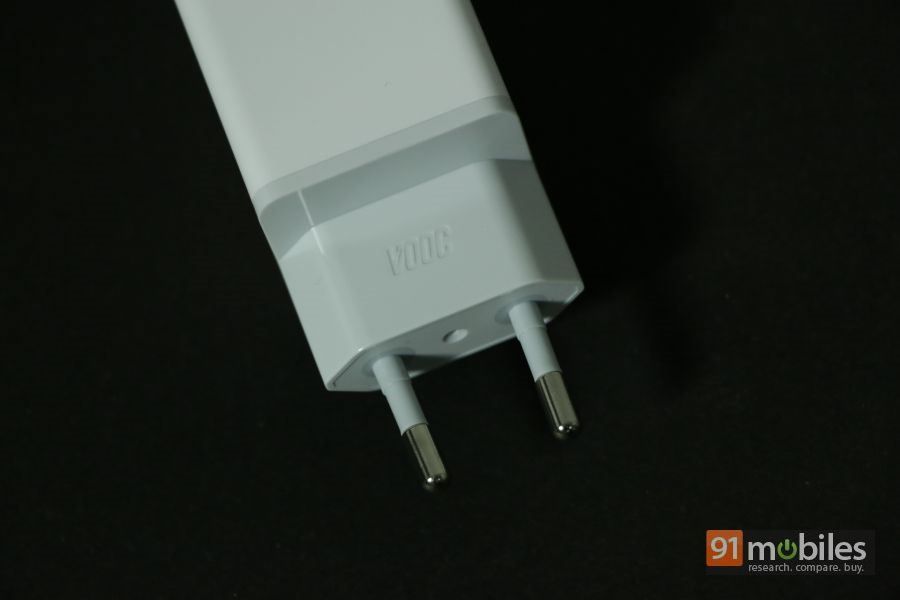 On the left side, there's a SIM ejection tool. Underneath it, you'll find a couple of guides about the device, VOOC charger, etc. OPPO has thoughtfully offered a protective clear case in the box, which can protect the R5 against dust and scratches.
Lastly, you'll find a micro-USB cable, which just like other box contents, is quite sturdy.
That brings us to the end of the unboxing of the OPPO R5. We've already brought you our first impressions of the size-zero smartphone. Watch out for more coverage on it.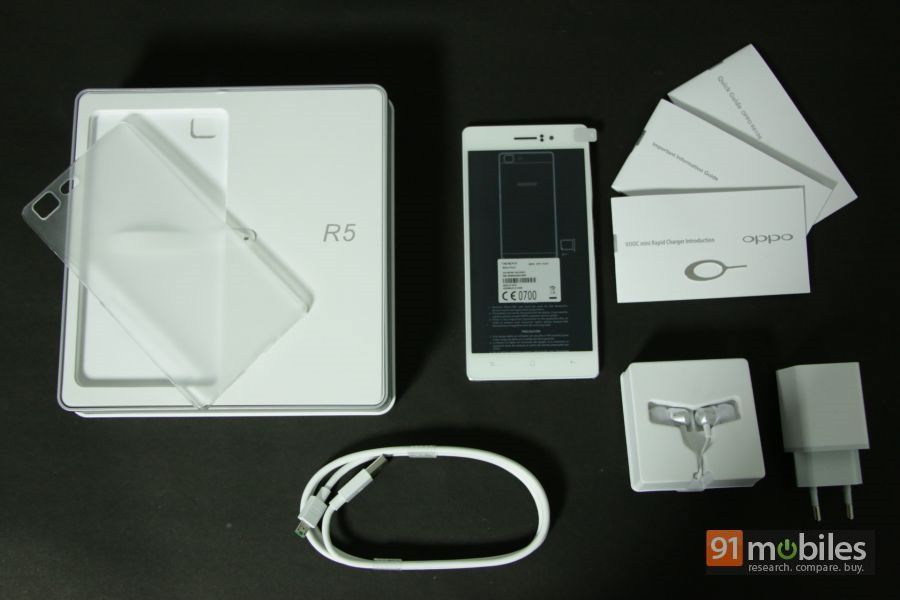 Photos by Raj Rout