Opera Mini is the world's most popular mobile browser due to its compression functionality which reduces data compression by 90% resulting in to faster and lighter web browsing on mobile devices.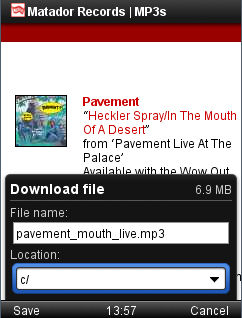 Opera Mini has announced an upgrade for its browser for Blackberry and J2ME devices (most of the feature phones are J2ME enabled). The newer version, known as Opera Mini 7.1 will come with a revamped download manager. Though Opera Mini already has a download manager integrated, but the company claims new Download Manager will offer smoother and faster downloading experience in the newer version.
"Downloading handling on basic phones has been a cumbersome task, but with Opera Mini 7.1 for J2ME and BlackBerry, this is now easier — and faster — than ever." company says in its press release.
The newer download manager enhances the experience both on downloading and file management fronts. A download will be paused automatically when the connection disappears and will resume when your phone is connected back.
"Sometimes it may feel like the universe is trying tell you something when the 10 MB presentation from your boss stops downloading at 9.99 MB after your train enters a tunnel, and lose the mobile signal for a few seconds." The company mentions, "With the Opera Mini 7.1 browser, downloading of a file can be paused when the connection disappears, and then resumed when you're back on track."
The downloaded file can be accessed from the browser itself in the Blackberry mobiles, while on feature phones it will ask you to choose whether you want to open a file directly or want to save it for later usage.