Onkyo is a well known brand in the US and various other markets for manufacturing Audio Gears and has recently been in news for launch of PC, Music Services and also a dual-screen netbook. The manufacturer has even marked its presence in the tablet segment a couple of years back. Now, the company is enhancing its product catalogue by adding six new Slate pads which it is going to release soon in the Japanese market.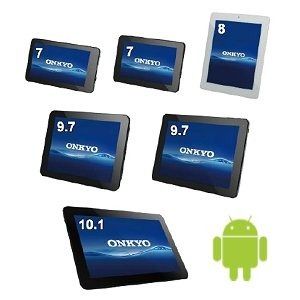 The range of six Slate Pads to be launched by Onkyo in Japan includes a device powered by 1.2GHz Cortex A8 CPU coupled with 512MB of RAM featuring 4GB onboard storage, Android 4.0 Ice Cream Sandwich Operating system as the least powered one placed at the bottom most. Whereas, most of the other Slate Pads to be launched by Onkyo in Japan feature a 1.6GHz Cortex A9 Processor assisted by 1GB of RAM and a Android Jelly Bean Operating System. The bouquet of upcoming Slate Pads includes a 7-inch, an 8-inch, one 10.1-inch and two 9.7-inch device models.
Onkyo will officially launch the Six Slate Pads on the 8th March and will price them within a range of 10,480 Yen to 28,800 Yen. There is no news regarding the launch of the Onkyo Slate Pad range in the Indian Market. But, we promise to bring the news to you at the earliest if any such information arrives from Onkyo, which presently offers only music accessories in the country.