"The OnePlus X is a sexy-looking smartphone, and should appeal to those looking for a compact, yet loaded smartphone"
It seems the phablet juggernaut is unstoppable, and love 'em or hate 'em, large-screened smartphones are here to stay. We strongly feel there's a market for compact phones too though, and with the OnePlus X, the brand is aiming at exactly that segment. The X is only the third smartphone from OnePlus, but in a very short period of time, this Chinese startup has managed to build solid equity among users globally. Its unique invite-based selling model may have something to do with that, but the fact is that its earlier offerings, the OnePlus One (review) and the OnePlus 2 (review), have both been hard-to-ignore contenders. Both phones stuck to the 5.5-inch screen size, but the OnePlus X is a compact phone, and attempts to cater to the phablet haters. Whether you hate phablets or not, the OnePlus X is still a noteworthy device, so without further ado, let's take a closer look at the latest mid-ranger.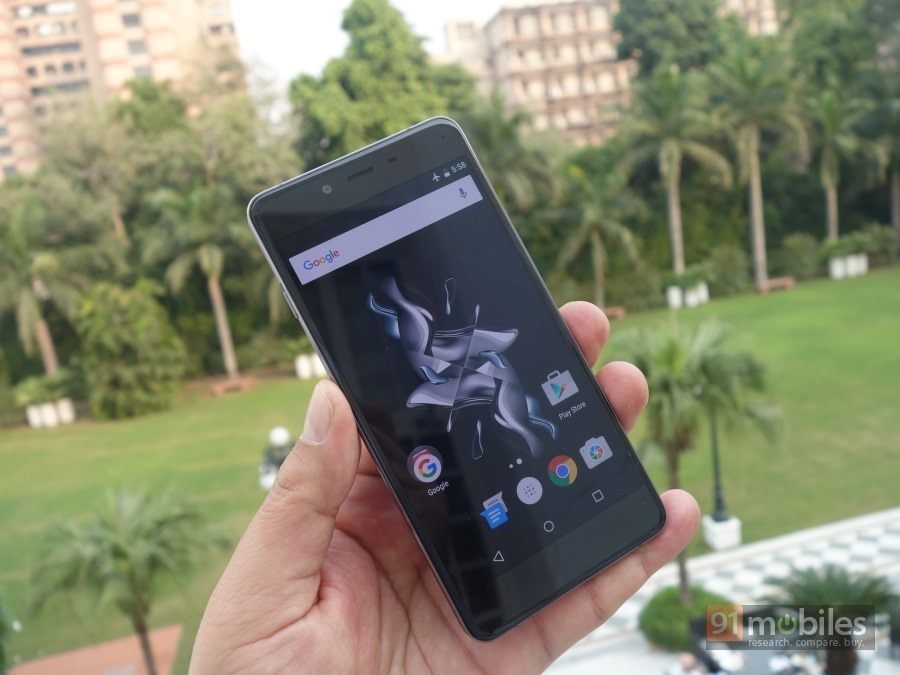 The OnePlus X will come in two variants – the Onyx, and the limited edition Ceramic model. The two don't look too different from a small distance, but hold them in your hands and you'll notice the difference in build quality.
The rear of the Onyx is fashioned from black glass on a metal bezel, sporting a glossy, piano finish. While the dimensions of the two models are the same, the Onyx is lighter, and tips the scales at 138 grams. The Ceramic model is much heavier at 160 grams though, and it's got its ceramic rear to blame for that. The OnePlus X Ceramic looks dark grey with a mirror finish in comparison to the deep black hue sported by the Onyx. As per OnePlus, the Ceramic version takes 25 days to craft, using a zirconia mould which is baked up to insane temperatures (1,480 degrees) for 28 hours before cooling for two days. Then the rear panel undergoes three different types of polishing and is said to be highly resistant to scratches despite its mirror-like sheen. What we can tell you for sure is that the Ceramic model definitely feels quite premium in comparison to the Onyx, but as we mentioned previously, that difference is only noticeable when you hold both phones in your hands. Also worth noting that the Onyx looks quite stylish and well-designed too, so the Ceramic model's more premium feel is just relative.
The two are pictured here together, with the Onyx on the left. Most of our hands-on is based on the premium Ceramic model, but our first impressions hold true for both variants. The dimensions, port placement, core specs and features are exactly the same, so usability and performance should be the same as well.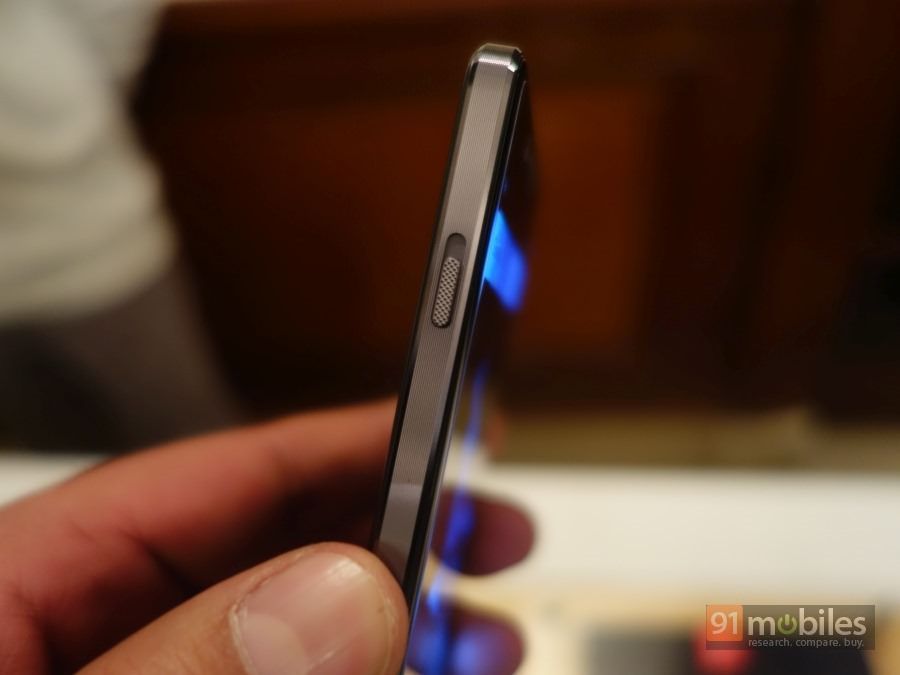 Sporting a brushed aluminium metal frame etched with 17 'microcuts', the OnePlus X is a mere 6.9mm thin, and nestles really well in one hand. Thanks to the 5-inch display, slim bezels and a svelte unibody design, the phone seems perfect for one-handed usage. The Alert Slider we saw on the OnePlus 2 is back, placed on the left spine. It switches between all notifications, priority alerts and no alerts, as usual.
The headset socket is on the top, while the power key and volume rocker are on the right, along with an ejectable SIM tray. The OnePlus X is a hybrid dual-SIM device, so this tray cam gobble up either a pair of nano-SIMs or just one nano-SIM along with a microSD card of up to 128GB capacity. Support for Indian LTE bands is covered, in case you're wondering. The other connectivity options include USB OTG and standard fare like Wi-Fi, Bluetooth and GPS.
For the OnePlus X, the brand has stuck to a conventional micro-USB port in place of the next-gen USB Type-C port that was one of the highlighted features of the OnePlus 2. We think using a micro-USB makes sense, as USB Type-C cables and adapters are still hard to come by. There's a bottom-facing speaker as well.
The fascia holds the 5-inch, full HD AMOLED display, with the earpiece, 8-meg front camera and the sensors above it. At the bottom, you'll find three capacitive navigation keys. The keys aren't backlit, which is a bummer, and would be tough to locate in dim environs such as cinema halls. You can choose to disable them in favour of onscreen navigation keys if you want though. The 1080p AMOLED display rocks a pixel density of 441 ppi, and looks very good, with deep blacks and vivid colours. Thanks to AMOLED tech, the OnePlus X can also boast an ambient display feature to display onscreen notifications when the phone is on standby.
Switch to the rear, and you'll see the lens for the 13-megapixel primary camera, an LED flash, and a OnePlus logo.
Oxygen OS, based on Android 5.1.1, is the platform of choice. The interface and features are pretty much the same as the ones we saw on the OnePlus 2, but just to give you a quick overview, you get a near-stock UI with a handful of tweaks and features that have been added by the brand. There's Shelf, a panel that slides out from the left side of the homescreen and lists recently-accessed apps and contacts.
In the device settings, you'll find options to control button behaviour, such as enabling software navigation keys in place of the hardware buttons, and assigning functions to long press actions for the keys etc. The available gesture controls include the basic ones such as double-tap-to-wake and screen-off gestures for launching the camera and flashlight. Customisation options including a dark theme, along with the ability to change accent colours. Homescreen settings (accessible by long-pressing any vacant area on one of the homescreens) let you apply third-party icon packs if you have any installed. As far as preloaded apps are concerned, there's hardly any bloatware and you'll only find Google's suite of apps, along with a few added by the brand, including a file manager. Oh, and before we forget, you'll also find an app called OnePlus Radio, because the X boasts an FM radio feature as well (unlike its two siblings).
The camera app is also the same as the one present on the OnePlus 2, bringing a minimal user interface not too different from the Google Camera app. Available modes include time lapse, slow motion, panorama, HDR, beauty and clear image. The 13MP snapper rocks features like f/2.2 aperture and phase detection autofocus, claiming autofocus speeds of 0.2 seconds. A couple of test shots indicated zippy focussing speeds and good results, though we can't really judge camera quality without proper testing.
Horsepower is handled by a quad-core Snapdragon 801 chip clocked at 2.3GHz along with 3GB of RAM. If you recall, this is the same combination that powered the brand's debut device, the OnePlus One. The choice of SoC seems slightly strange since the Snapdragon 801 processor is a couple of generations old by now, and doesn't support 64-bit processing. Don't let that act a deal breaker though, since it's a perfectly capable processor and can handle most tasks with ease. We didn't encounter any lags or freezes during our brief usage, but again, we can only comment on how well the X works as a daily driver and how long that 2,525mAh sealed battery lasts after a full-blown review. Out of the 16GB storage, our demo unit had about 10.5GB free to use.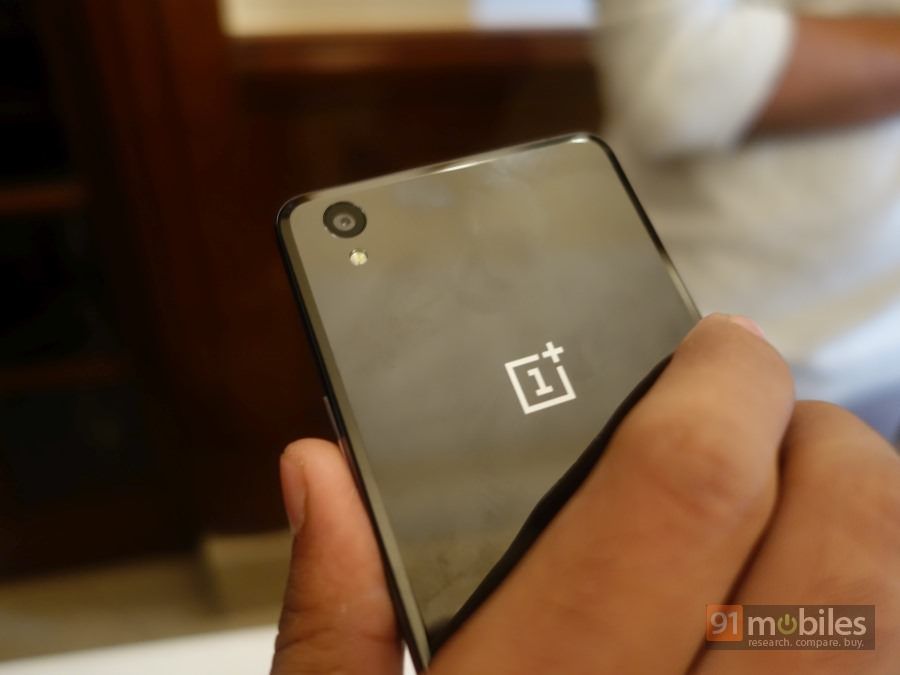 Priced at Rs 22,999, the OnePlus X Ceramic is a limited edition device and costs a full Rs 5,000 more than the Onyx. The latter carries a sticker price of Rs 16,999, and it goes without saying that it's likely to be the more mainstream model appealing to a wider audience. The OnePlus X Onyx faces rivals like the Honor 6 (review), but it nemesis has to be the Xiaomi Mi 4 (review), which boasts similar core specs – including a 5-inch FHD display, Snapdragon 801 processor, 3GB RAM, and 13MP camera. The Mi 4's non-expandable storage and lack of 4G support mean it does pale in comparison, but that apart, it's a solid option with smooth performance, very good imaging capabilities and excellent battery life. The OnePlus X needs to prove itself on all these counts before we can adjudge it a no-brainer. For now though, it sure comes across as a worthy option for anyone looking for a powerful, yet compact smartphone priced below Rs 20,000.