"Here's a quick look at the OnePlus Cardboard, your ticket to the OnePlus 2 launch"
Fact 1 – OnePlus is just about a year and a half old as a company. Fact 2 – the only device it sells is the OnePlus One smartphone, touted as the flagship killer. Fact 3 – despite being over a year old, the smartphone is still a very worthy buy for its asking price (read our review). Fact 4 – OnePlus enjoys a loyal fan following around the globe, and up until recently, utilised a unique invite-based mechanism to sell its one and only smartphone. It won't be too far-fetched to say that the company likes to think out of the box, and nothing highlights that better than the way it has chosen to unveil its second smartphone, the OnePlus 2. Needless to say that the device is one of the most awaited smartphones of the year, and the brand has been revealing its specs one by one. So by now, we already know that the OnePlus 2 will be powered by a Snapdragon 810 processor, come with 4GB of RAM, and rock a fingerprint scanner along with a USB Type-C port. A metal build has also been teased. The device will be unveiled on July 27th (early morning on July 28th as per India time), but it won't be a regular launch, no sir. The company will be taking the covers off the smartphone using virtual reality (VR), and promises that people around the globe will be able to view the stream and get a perception of being at the event physically. To make the viewing experience optimal, it's even launched its own version of the Google Cardboard – giving it out free in countries like the US and making it available for a very nominal cost of Rs 99 in India. The OnePlus Cardboard will soon be available to buy via Amazon India, but before that, here's a quick look at the VR headset.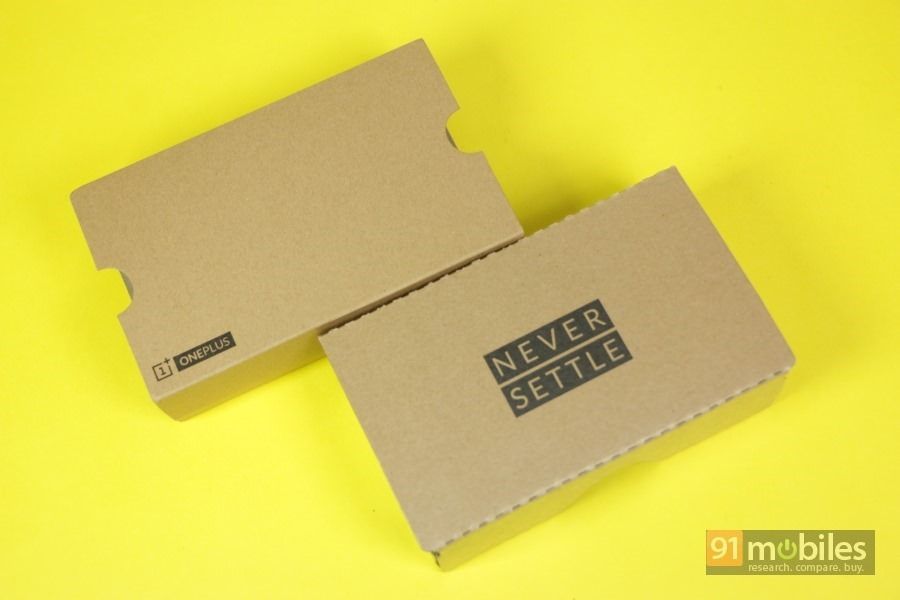 We started out planning to unbox the cardboard headset, but as it turned out, it's actually a box itself. A brown cardboard package with OnePlus branding on top, there's a thin slide-out shell that covers the goodies. Inside sits the cardboard headset, folded to keep the size compact. The headset bears a large 'Never Settle' logo on top.
The outer flap can be opened to reveal a visual indication of how the headset needs to be opened and set up for operation. The process is simple, and just involves about three folds. Velcro fasteners on the sides and top ensure that the folded flaps stay that way, and when you're done, you have a fully-functional Cardboard headset ready for use.
The headset sports a couple of lenses on one side, and there are proper cut-outs to ensure your face can be positioned properly for a comfortable viewing experience. OnePlus did say that it has used stronger materials to make its own version more durable, and that the headset comes coated with a special film that repels dirt and oil. It'd be a tad early to comment on this for now, but we can say that the headset does feel sturdy. A metallic mesh has been used at a couple of places, but as of now, we aren't sure if that serves some practical purpose or has just been added for more durability.

[Update]: There's an indent on the top right of the box, which has a flap covered with a mesh. This works as a click button to register select actions, similar to the sliding magnet clicker found on the original Google Cardboard design.
OnePlus also says that the headset has been designed to accommodate smartphones with up to 6-inch screen sizes, but the OnePlus One fits inside perfectly. We can vouch for this, as we tried placing a OnePlus One inside and it did fit like a glove (well, almost).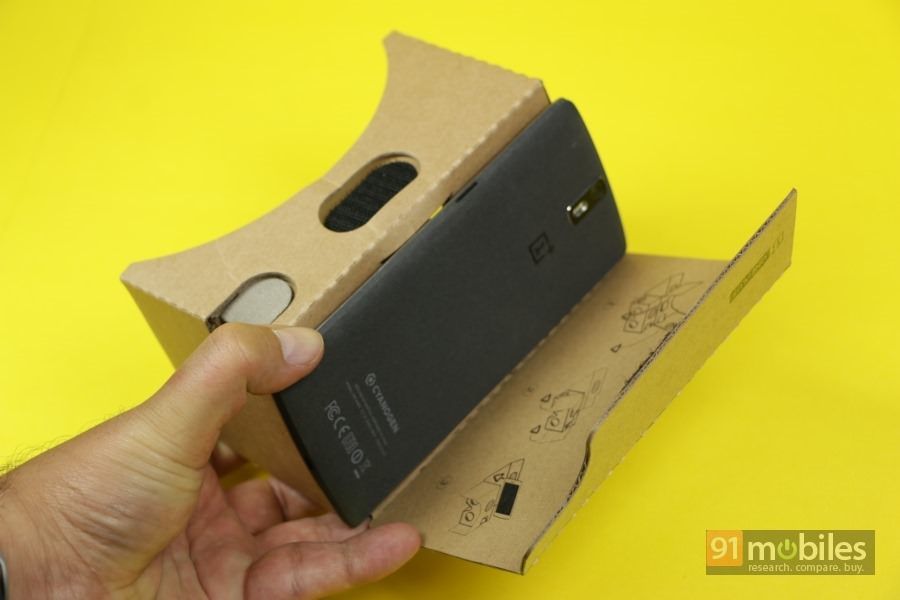 Of course, the VR headset isn't just useful for viewing the OnePlus 2 launch… you can use any Cardboard-compatible app or game with it, and considering the OnePlus Cardboard will be priced at a mere Rs 99 (plus shipping) on Amazon when it goes on sale within the next 10 days or days, it makes for a no-brainer of a purchase. As far as we're concerned, we'll be saving ours for the big launch on July 28th, and you can expect timely updates on the OnePlus 2… a device that's looking like it could even be worthy of a 'flagship obliterator' tag.

Photos by Raj Rout