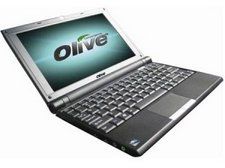 Olive Telecom has now taken a big step and tied up with BSNL to introduce India's first 3G embedded Zipbook V-X108 bundled with BSNL 3G connectivity countrywide.
Intel Pentium N450 processor With preinstalled windows 7 along with a recommended 1.3 mega pixel camera is supplied to the new olive Zipbook. Estimated price for Zipbook is Rs20,999.
The Zipbook offers a perfect paragon mobile broadband experience with captivating data download schemes up to 6GB/month for 3 months. The technology in this mobile computing device is probably the best in its class to enjoy uninterrupted broadband service. In Karnataka region along with other leading retail outlets, the Olive Zipbook will be accessible soon.
Olive had presented a wide range of other smart gadgets in a huge chain. Olive exhibited merging class of mobile phones starting at Rs999. Some best example includes OliveFrvrOn, India's first dual-power hybrid phone, OlivePWRR and OliveTouch; OliveMSGR, a QWERTY-keypad phone; two candy bar phones, OliveCompacta and OliveGLIDE; and three dual-sim, dual-stand-by phones, OliveLumen, V-G400 (Clamshell) and V-G500 (Slider). OliveWIZ, India's first triple-sim QWERTY keypad phone; two touch-screen dual-SIM phones. Company's fused portfolio covers WCDMA, CDMA, GSM and mobile broadband access handsets and Smartphones, mobile computing devices and advanced data modems for wireless broadband.