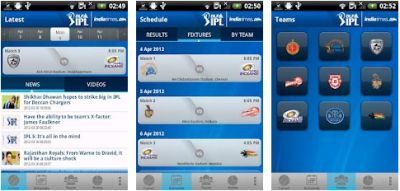 Trying to find Live Scores of any match in the IPL season 5? Seek no further. The official android app for the IPL T-20 has been released by Indiatimes.com. The app shall provide users with ball by ball updates on all the matches in the tournament. The newest edition of the Indian Premier League will begin on April 5, 2012 all the way till May 27 and will consist of 76 matches altogether. A long schedule like this indicates that you will not go without cricket for even a single day! With the official IPL 5 Android app, you can get:
Real-time match scores
Schedules on the basis of Results, Fixtures and Team
Team profiles and Player profiles
The latest news and photos of every event during the IPL 5
Post-Match videos from every game
Live game coverage – Commentary, scorecard, match graphics
Complete up-to-date information on off-field events, also including interviews of players and officials of the DLF IPL 5
The IPL 5 Official Android app is listed under the sports apps section in Google Play store (formerly Android Market). The latest version of the app (version 1.0) was released by the developer on March 30, 2012. The app can be installed on any device running ANDROID 2.1+. The IPL 5 Official Android app can be downloaded completely free of cost from the Google Play store. You can also buy the tickets to all the IPL 5 cricket matches online from the official website,
www.iplt20.com
.