Nvidia has announced it's much discussed, much awaited new Tegra 4 processor made to work on smartphones and tablets. Nvidia is claiming the new Tegra 4 processor to be the world's most quick paced mobile chip.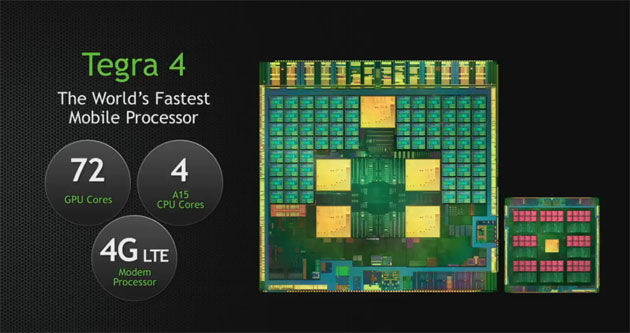 Nvidia Tegra 4 was unveiled and made its official debut at CES in Las Vegas. Made to keep the Company's signature 4 is to 1, which is four processors and a fifth battery saving core, there Tegra 4 also has 72 GPU cores on circuit, to take mobile gaming to a new level than ever before of more power, alongside built-in LTE support. Nvidia Tegra 4 was showcased for testing on the Google Nexus 7 tablet. 25 separate web pages were made to open up, and time taken for them to load was about 27 seconds. This is progress from the 50 seconds of load up time that was initially observed in the Samsung Nexus 10, which is presently pitted to be the fastest Android tablet available in the market. Nvidia made mention that the new processor is thrice as fast as the Amazon's Kindle Fire HD tablet and is also faster than the Apple iPad 4.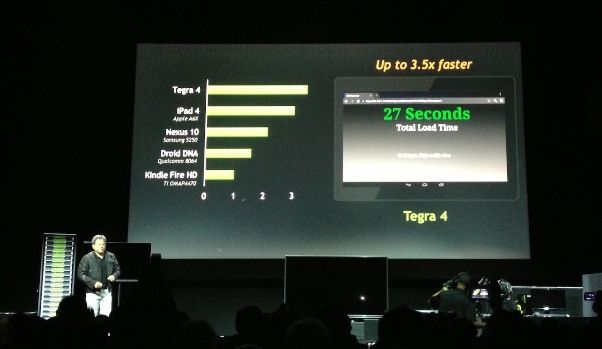 "Should you load a webpage using Tegra 4, it will come up in just a second," Nvidia stated. "With this processor, there won't be any more having to wait around." We expect more from just speedy loading of web pages, and Nvidia meets our expectation, or at least they say so. Nvidia commented saying that the processor was made with the intention of taking perfect images and videos also. The company's chief executive Jen-Hsun Huang claimed the Nvidia Tegra 4 processor takes images up to ten times the speed than other previous-generation processors, making HDR images look a lot more crisp, sharp and clear, specifically adding that the images taken will prove to be even more impressive than images shot using an iPhone 5. "We want your smartphone to be able to take images just as good as a DLSR," Huang said at Sunday's press conference, at which V3 was in attendance. If that be true, that's definitely something most of us would all go after.