"The brand's debut offering aims to be a photographer's delight with a 16MP primary camera and a slew of modes and options"
Over the past few months, we've seen several new brands from China making their way to India and the latest to arrive at our shores is Nubia, a sub-brand of leading telecom equipment manufacturer ZTE. While the Nubia range has a wide range of offerings, the brand is making its debut here with its mid-range offering, monikered Z9 mini. Similar to its counterparts, the device will only be available to buy online, and the retalier in this case will be Amazon.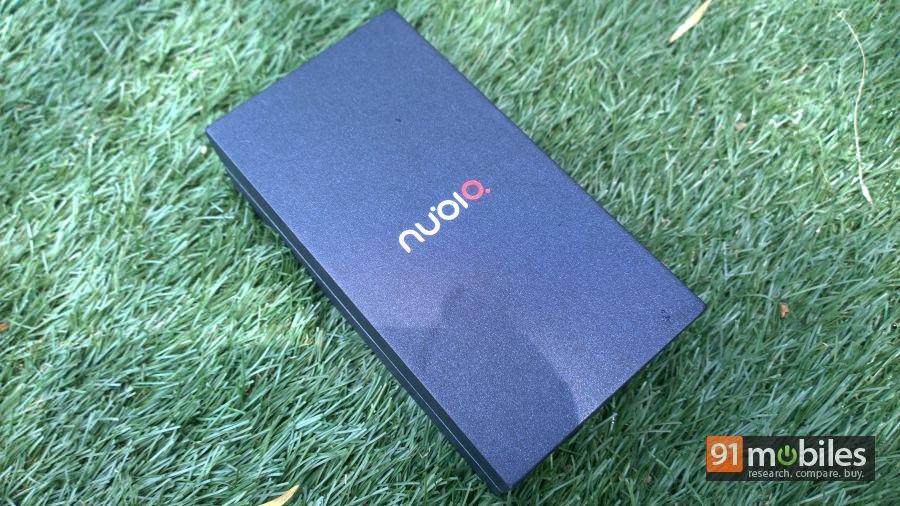 We were able to get our hands on the nubia Z9 mini, so let's take your through a quick unboxing, followed by a preview of the device itself.
The nubia Z9 mini comes packed in a deceptively-compact black box. Opening the lid reveals the smarthone itself, below which you'll get a wrapper that houses the wall charger, a micro-USB cable and a quick start guide. That's the bare essentials with smartphones these days and that's all you get in the sales pack of the nubia's debut offering in India.
Now, let's bring our attention back to the smartphone, which is surely a looker with its aluminium and glass body. As the name of the device suggests, it's a 'mini' phone, which nowadays means that it's fitted with a standard 5-inch display. Whether or not a 5-inch display-equipped handset can be called a mini smartphone is up for debate, but that doesn't change the fact that the nubia Z9 mini fits well in the hand and can be operated single-handedly. It has extremely narrow bezels and features a screen-to-body ratio of 74.1 percent.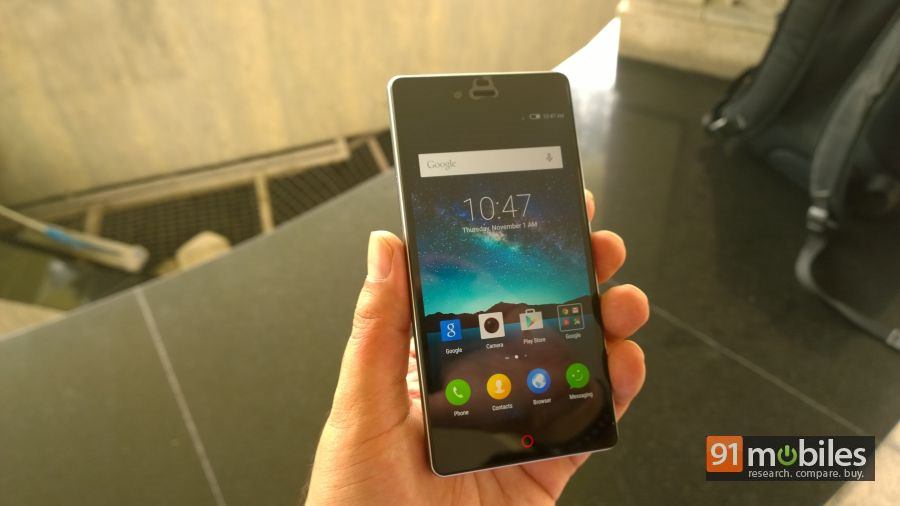 Making the nubia Z9 mini robust is a frame made of aircraft-grade aluminium-titanium alloy, while the rear panel sports a smooth glass finish with a star pattern. The pattern appears pleasing to the eyes as it reflects light in different directions, but at the same time it's a fingerprint magnet, not to mention that it won't be able to offer a solid grip for long periods of use.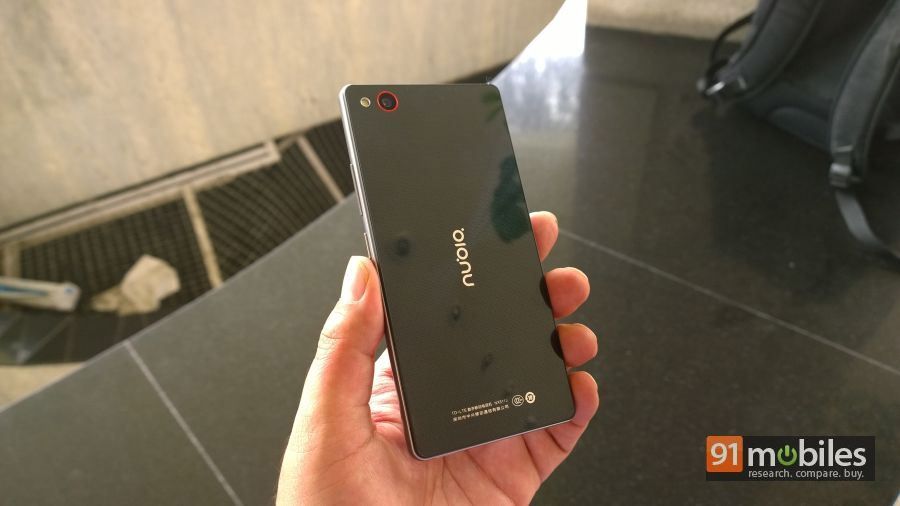 The 5-inch CGS display on the nubia Z9 mini is sourced from Sharp and bears full HD resolution. The display offers sharp text and impressive colours with good viewing angles, though the brightness seemed to be on the lower side. It's protected by a layer of third-gen Corning Gorilla Glass. Above the display, you'll find an earpiece, a couple of sensors and a front-facing camera, while below it, there's a row of navigation keys. Similar to previous offerings from ZTE, the centre key doubles up as breathing light too, which lights up while charging or when there are notifications waiting.
On the right edge of the nubia Z9 mini, there's a volume rocker and a power button, while the left spine has a tray that accepts a pair of nano-SIM cards. Up top lies a 3.5mm audio socket, whereas a micro-USB port is available at the bottom along with a speaker. At the back, there's a primary camera unit with an LED flash adjacent to it.
While the nubia Z9 mini seems to be a unibody device at first glance, the rear cover can be pried open, which exposes a 3,000mAh embedded battery and a microSD card slot.
Inside the chassis, the smartphone hides a Qualcomm Snapdragon 615 processor, which offers two quad-core Cortex-A53 clusters clocked at 1.5GHz and 1.0GHz respectively. The CPU is paired with 2GB of RAM, and the combination makes the device smooth and zippy. There were rarely any lags, but then we only used the phone for a few minutes and wouldn't be in a position to judge on its performance without stretching it to its limits by multitasking or playing graphics-heavy games. For storage purposes, the phone ships with 16GB flash memory, out of which around 11GB is available to install apps or store content. You can also expand it furtherby another 128GB or make use of phone's OTG capabilities to plug in your flash drives.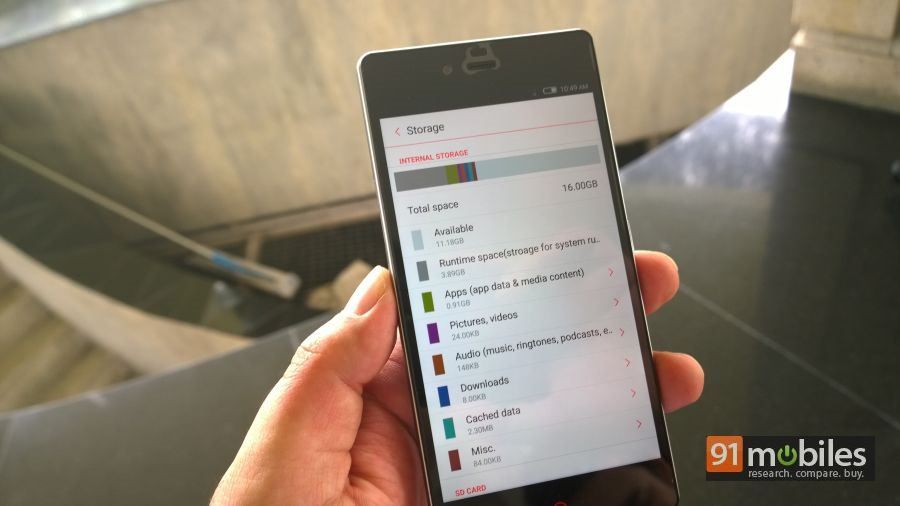 Till now, the smartphone might look like just any other mid-range offering, but its shooting capabilities changes that perception. Equipped with a 16-megapixel camera at the back and providing a host of modes and settings, the nubia Z9 mini is a photographer's delight… on paper at least. The device uses Sony Exmor RS sensor with a wide aperture of f/2.0. There are a spate of modes such as Star Trail, Light Painting along with a Pro mode, that allows you to adjust ISO, Exposure, white balance, etc. We clicked a few images with the handset and they looked nice enough on its screen, but the actual prowess of the camera can only be known when we review it extensively by shooting in different lighting conditions.
The nubia Z9 mini is aimed at selfieholics too. At the front, it sports a 8MP Sony IMX 179R lens with f/2.0 aperture and 80-degree wide angle, which allows it to shoot group selfies as well.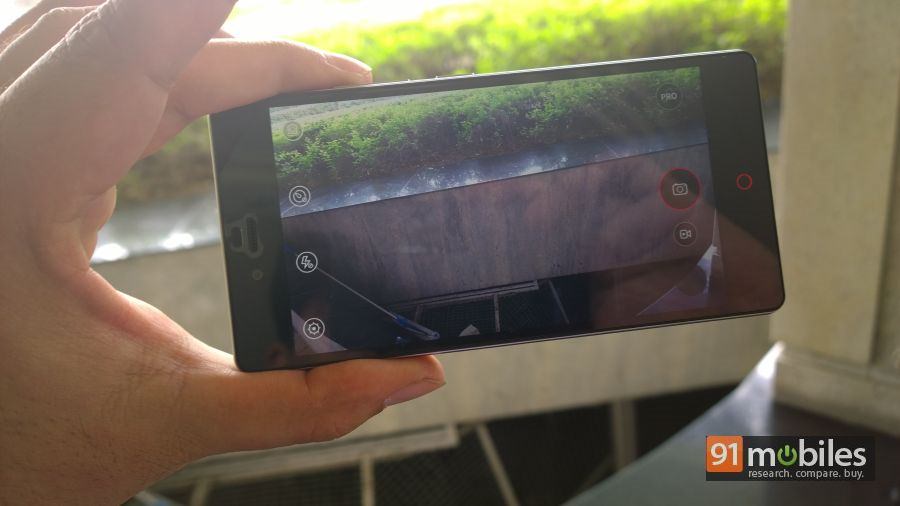 On the software side of things, you get Android 5.0 Lollipop, which is layered with the brand's custom skin labelled Nubia UI v2.8. Sadly, you will be hard pressed to find the new Material Design language or Lollipop's UI in general, as the interface is totally different. Similar to the ZTE V5 (review), there's no app launcher and all the apps are available on the home screen itself. There are also various features such as one-hand mode, split screen, etc.
Nubia is targeting the smartphone at the mid-budget segment and has priced it well at Rs 16,999. However, it's not able to stand out amidst rivals such as the Xiaomi Mi 4i (review | FAQs) and ASUS ZenFone 2 (review | FAQs), which are priced lower, yet manage to offer similar specifications. However, its camera capabilities might change our opinion, so keep an eye out for our review to know whether it deserves your hard-earned cash.