Indian Railways has launched a pilot project to install free Wi-Fi service on passenger trains in the country to help travellers stay connected throughout their journey.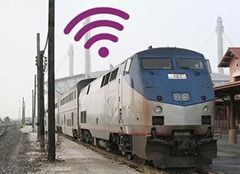 Minister of Railways, Pawan Kumar Bansal, launched the free Wi-Fi facility on moving trains on 2nd of April,2013 starting on the New Delhi-Howrah Rajdhani Express and fifty other trains are expected to be connected within this year. The speed offered will be 4 MBPS for download and 512 KBPS for upload. Important applications like Email or online transactions can be done effortlessly at this speed, while video downloading and online games will lag.
The passengers will be able to use Wi-Fi by entering their Passenger Name Record (PNR) , Government ID (e.g. Voter ID number, Aadhar card number. etc.), and mobile number. After the validation of the data entered by passengers as per DOT guidelines, login ID and the password will be sent to the registered mobile number.
The Satellite antenna is placed on one of the power racks. This is linked through Wi-Fi radios provided outside each coach from where the data will be transmitted through each coach via indoor access.
Indian Railways are going to extend this services in Rajdhani/ Duronto / Shatabdi and many other express train based on customer feedback.
The user may get lower speed because it would be shared by all the passengers travelling on the train.