Nokia x2 was one among the most awaited phones in India since you get a whooping 5 Mega Pixel camera phone with led flash under 6K. Additionally a nice audio player with great audio quality and dedicated music keys and a built-in antenna FM make it fall under the value for money phones category. But there are loopholes too. Lack of some features like 3G, Wi-Fi and running on outdated Symbian S40 may rise a question on the effectivity of the phone. So let's go through a detailed review to see what features make it a great buy and what turns to be a deal breaker. What's in the box
The handset
Charger
One-piece headset
A 2GB microSD card
Build and Design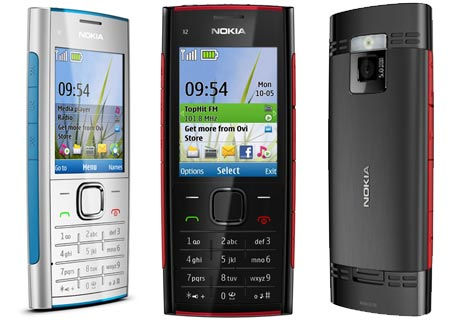 Nokia X2 is a bar candy phone with a cool youth look. Both the available colors use a nice combo to deliver a great look. On the front there is a 2.2-inch screen which leaves pretty much space for the keypads. The back panel looks stylish with a matty finish battery cover and embedded 5 Mega Pixel camera with a flash above it.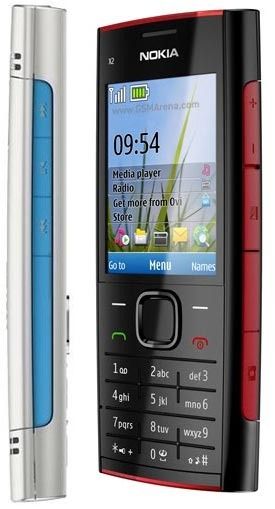 On the left side their are three dedicated music keys which are big and easy to use. These buttons control both the radio and the audio player. On the right side of the handset their are volume (+/-) buttons, the microSD port with a flap on it and the camera shutter key.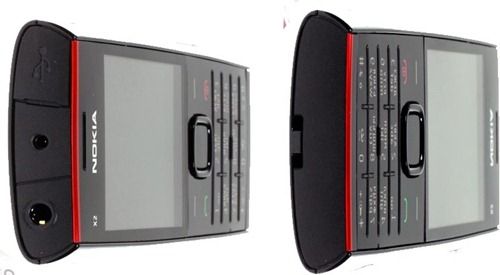 At the top of the phone there are three ports for the various purposes. The 3.5mm audio jack, the 2mm charger plug and the microUSB port with a flap on it. Nothing worthwhile on the bottom of the phone.
Operating System and User Interface
The Nokia X2 is based on Symbian series 40, 6th edition operating system. We wonder why Nokia choose to use an outdated OS in a market where OS is rapidly becoming a key factor in success of products. Anyways the Symbian S40 is easy to use and kind of a familiar OS for masses. Symbian S40 doesn't support multitasking. Which means if you are playing a game and some message has arrived, you have to stop the application to read the message. An incoming call pauses any application running which can be resumed after call has finished.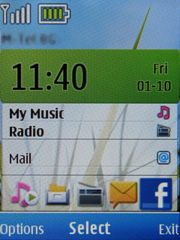 One good feature is its active standby screen which provides direct access to various shortcuts, mails and other applications like Facebook and media players. You can easily customize the home screen according to your needs. User Interface is quiet easy to use. The menu can be used in four different forms – List, Single, Grid and Grid with labels. The email client is easy to use and setup. Nothing much to mention regarding UI.
Camera and multimedia
The 5 Mega Pixel camera is the main key for Nokia to sell this product in the market. Frankly speaking the camera is not as impressive according to the 5 Mega Pixel tag. If you compare it with 5 MP camera of other high end phones, the difference is clearly visible. The camera lacks auto focus and the flash is good for only close range. Even the available camera settings are quite limited. In case of video recording X2 uses QVGA resolution at 20 fps which definitely won't produce impressive videos. Remember our criticism are totally based on the comparison with 5 MP camera tag. For the price range offered, the camera isn't bad. The music player of the Nokia X2 is impressive enough with decent looks and features. Impressive sound quality and support to wide variety of formats makes it a great audio player. On the other hand the video player is basic and can be used for viewing in horizontal mode too. Regarding FM their is a built in antenna to receive signals. This enables users to play FM without plugging in the headphone.
Games and applications
The Nokia X2 comes with many pre-installed games including some popular games like Bubble breaker, 3D rally, Diamond rush, Bounce (new version), Snake 3 and Sudoku. It wont disappoint you when it comes to applications. Apps like OVI store for S40, Opera Mini, Facebook etc comes pre-installed with X2.
Price and Verdict
Through 91mobiles the
Nokia X2
is available at as low as Rs. 5,599. Considering the price offered the Nokia X2 is not a bad deal at all. Except of questionable 5 Mega Pixel tag everything else does its job perfectly. The media player is quite good and ability to use FM without a headphone is also impressive. In comparison to equally priced other handsets, it has many hands up. Let us know your views if you have already purchased one.