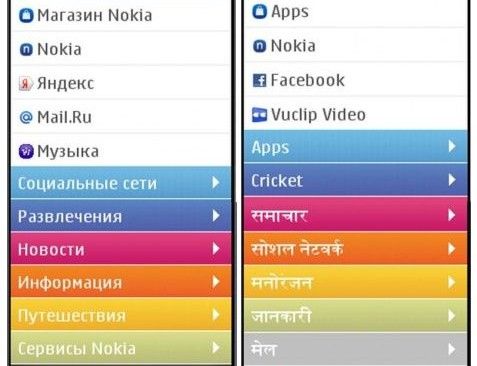 Finish handset maker Nokia launched the Nokia Browser 2.0 today, a major update designed for Nokia Series 40 devices. According to Nokia, the new version of the browser cuts down on data consumption by up to 90%, giving consumers cheaper and faster internet access. Sites load around 3 times faster than in those devices which do not support cloud-accelerated browsing. Consumers will also enjoy a variety of other improvements in the device's performance. Using the Nokia Browser's intuitive start page, users will be able to easily discover new web content and have one-click access to top sites. The new, improved Download Manager makes downloading external content like videos, music and photos a breeze. This content can be stored on the memory card of the phone. The update will be available to all phones belonging to Series 40: QWERTY, Touch and Non-Touch, including Nokia Asha series, and other popular devices like the Nokia C2-03, Nokia C3-00, and the Nokia X3-02. The update shall be pre-loaded on certain current devices and all future Nokia Series 40 devices. However, existing users may download the update for free, over-the-air. New users can easily download it from the Nokia Store. The browser is currently available in 87 languages in more than 200 countries. Nokia Browser 2.0 utilizes cloud-based servers which adapt ordinary web pages so as to help them perform better on the device. Web pages are usually cached and compressed in the cloud, so users are able to gain faster access in a manner that requires less data to be transferred over the mobile network. For pay-per-use data contracts, users will get more cost-effective web browsing, while for operator data plans, users will not exceed their monthly usage limits easily.
What's New in the Nokia Browser 2.0:
Faster browsing with improvements in speed
One-touch access to the hottest Web apps to give a richer web experience
Brand new intuitive user interface offers easy access to search popular content and valuable features
Improvements in media handling give users a better way of downloading audio, video and photos. Users can now download content in background mode and thus continue their browsing. They may also queue downloads for later, when performance or rates are better.
One-click share over Social Networks like Facebook or Twitter, to share any page URL and comments direct from the browser. The browser remembers Facebook/Twitter login details of the user.
Nokia Series 40 device users can download the Nokia Browser 2.0 at:
http://store.nokia.com/content/51924