The Finnish Smartphone Manufacturer, Nokia is all set to heat up the floors of Mobile World Congress 2013 going to held next week at Barcelona, Spain.
Nokia has launched an Application for Windows Phone. This application is named as "Nokia MWC 2013" and is available for free download from Windows App Store.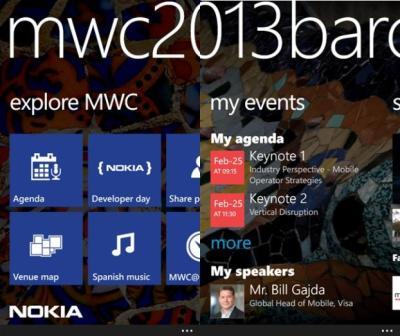 If you have decided to visit the Mobile World Congress 2013 event, this app will help you a alot. This app features 8 tiles which offers you a big package of information. It tells you the timings and details of all the events and press conferences going to be held at MWC.
The Map support will direct you to the venue and you will be easily roaming around the halls at the event.
The App developers have added the best of features in this app. This App enables you to to share your's introduction and contact details using NFC at the event.
The Live Tiles and Lock Screen will remind you about the next happening of the event, so that you may not miss any important event.
This Application will also help you outside the venue. The quick shortcut to Nokia Maps will help you to discover the Barcelona city. Also present Nokia Drive will help you to drive around the Barcelona City.
The Spanish Music Tile will offer you the best Spanish pop, rock and hip hop music. While the "Social Media" will enable you to stay connected with your Facebook, Twitter and Linkedin updates. "Discover More" will offer you some more of useful apps and addition information about the Mobile World Congress 2013 event.