Three smartphones, from three notable brands with three different operating system, all launched around the same time to heat up 2013. We put an image of Nokia Lumia 920 vs. Samsung Galaxy S3 vs. iPhone 5 on our Facebook page and the post went viral with comments from followers declaring their favourite pick and even a mashed up choice asking for combined features like "Phumia" (Lumia + iPhone). Lets check out a feature compare.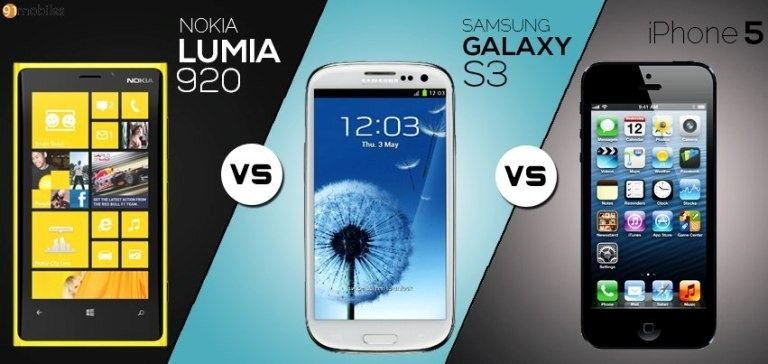 Design
The Galaxy S 3 dimensions are 5.38 x 2.78 x 0.34 inches and weighs 133 grams which is a very handy size for a smartphone. The Lumia, though not as big as the S3, is quite heavy at dimensions of 5.13 x 2.79 x 0.42 inches and weighing 185 grams. It is a brick like phone and comes in very lively colours which sets it apart from its competitors. The iPhone 5 is of course the smallest of the three at 4.87 x 2.31 x 0.30 inches weighing a mere 112 grams The iPhone 5 has a very elegant design. Our vote goes to iPhone 5 for its light body and rich design.
Display
Galaxy S3 has a 4.8 inches Super AMOLED capacitive touchscreen with display size of 720 x 1280 pixels and a pixel density of 306 ppi. The Lumia 920 has 4.5 inches IPS LCD capacitive touchscreen with display size 768 x 1280 pixels and a 332 ppi pixel density. The iPhone 5 has 4 inches LED-backlit IPS LCD, capacitive touchscreen with display size of 640 x 1136 pixels and pixel density of 326 ppi. Galaxy S3 is ideal for watching videos, gaming and for viewing in general. However, it has the lowest pixel density of the three phones, which means the Lumia 920 and iPhone 5 offer better clarity. Lumia 920 has a ClearBlack display filter which cuts down the glare and offers more clarity. The iPhone 5 has the much publicised retina display which offers the user easy viewing experience.
Processor & RAM
The Lumia 920 has a 1.5 GHz dual core Qualcomm processors with 1GB of RAM along with speed enhancers such as the PureMotion HD+ that offers better performance. The Galaxy S3 has a 1.5GHz dual-core Qualcomm Snapdragon S4 with 1GB of RAM. Finally, the iPhone 5 has a 1.2GHz dual core Apple A6 processor with 1GB of RAM. All three phones have brilliant and processors with excellent RAM, the competition is leveled.
Operating System
The main difference between the three phones springs here. While the Samsung Galaxy S3 comes with Android 4.1.2 Jelly Bean OS, the Lumia 920 is built on the Windows 8 platform and iPhone 5 on Apple's iOS 6.1 platform. Android at one time was referred to a the Windows of mobile operating systems. It has established itself as the most favoured operating system. Windows is the latest entrant in the mobile operating system world. However, it is fast catching up with some major improvements made on the Windows 8 version and is expected to outpace Android's market soon. iOS is the creme de la creme operating system, it has a great hardware that can be referred to as the definition for cutting-edge technology, and has the largest library of content and applications. Our vote goes with iOS, even though Windows also looks promising.
Camera
The Galaxy S3 has a 8MP rear camera with autofocus, LED flash. The camera has Full-HD video recording of 1080 pixels and a 1.9MP front camera for video calling. The Lumia 920 has a 8.7MP rear camera with optical image stabilization, autofocus and dual-LED flash and video recording at 1080p with video stabilization. It has a 1.3 MP front camera. Finally, iPhone 5 also houses an 8 MP front camera with autofocus and LED flash which records videos at 1080 pixels. It has 1.2 MP front camera that is useful for video calling. All three phones offer similar camera features with some extra features the are unique to the model.
Memory & Battery
The Galaxy S3 comes in 16GB, 32GB and 64GB versions with expandable memory capacity of upto 64GB. The Lumia 920 come with 32GB internal memory which cannot be expanded. Finally, the iPhone 5 also comes in 16GB, 32GB and 64GB versions with no provisions for memory expansion. The Galaxy S3 wins hands down even though Lumia 920 and the iPhone 5 have decent inbuilt memory.
Verdict
All three phones are the best available on the platform on which they are being featured. iPhone is known for its glamour quotient while Samsung for its utility and Nokia for its innovation. All three phones have unique features that appeal to individuals. On Facebook all three phones got more or less equal votes and boos. We leave the final verdict to the fans.