Nokia is running a colorful campaign for Lumia 710 customers in USA. We all knew that Nokia Lumia 710 is been on sale in United States since January 2012. So, one who purchased the Lumia 710 smartphone in between 11th January, 2012 and 31st March 2012 were eligible for this promotional campaign. Customers of Lumia 710 will get an additional Xpress-on Color cover for free. However, this isn't a simple task for them.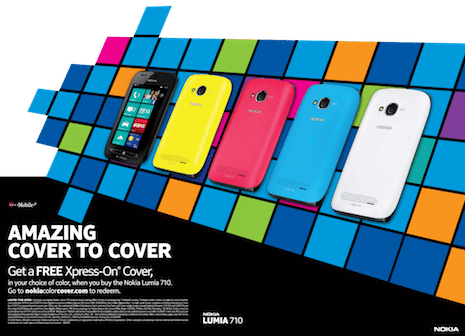 To claim a free Xpress-On Color Cover, a customer needs to complete just four tasks…
Visit the Nokiacolorcover.com webpage
Enter your mailing address, device purchase date, 15-digit device IMEI number
Choose the Xpress-on Color cover you like to claim (yellow, fuchsia, cyan and white colors)
Submit your online claim form
Mail in your purchase documentation (original purchase receipt and original UPC barcode panel off of the product box) postmarked by April 13, 2012
That's all you need to takecare…. Nokia will send you the Xpress-On Color Cover to your postal address…
cool ???