"The Nokia Lumia 630 comes with dual-SIM support and the Windows Phone 8.1 update loaded with tons of new features"
If you were to hunt for a budget smartphone with dual-SIM support, Android was the only platform available. iOS doesn't support dual-SIMs, neither does BlackBerry, and up until yesterday, Windows Phone wasn't friendly with this much sought after feature too. But that was yesterday. Microsoft just
announced a massive update
to its mobile OS at its Build conference, and hidden among a plethora of new features is dual-SIM support. Nokia promptly
unveiled the Lumia 630
, the very first Windows Phone device that accepts a pair of SIMs, and is also the first one to carry the newest update. And in a matter of a few hours after the global announcements, we had the dual-SIM
Lumia 630
in our grubby paws, rocking Windows Phone 8.1 and all the goodies it brings with it. Excellent opportunity for us to bring you a closer look at the new device, right along with a few key highlights of the new UI and other features of the latest iteration of WP. Let's dive right in. We've seen budget devices from Nokia before, spanning the Asha and Lumia series, and more recently, the
Nokia X
too. And the Lumia 630 isn't too different. It sports the same solid build we've come to expect from Nokia, complete with a matte body that comes in a riot of different hues.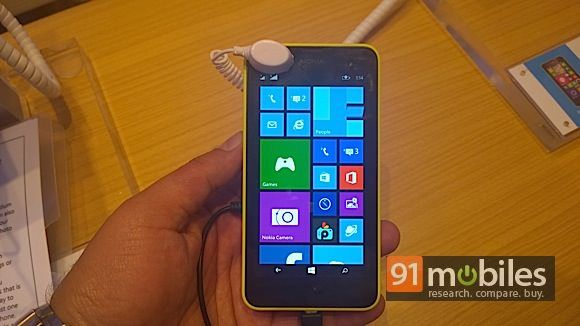 The design is a tad more boxy than curvy, but that doesn't take away anything from the fact that the device looks scrumptious at first glance (won't really stand out in the midst of other Ashas or Lumias though), and feels solid in the hand. Its 4.5-inch screen helps, making it quite compact and great for one-handed usage.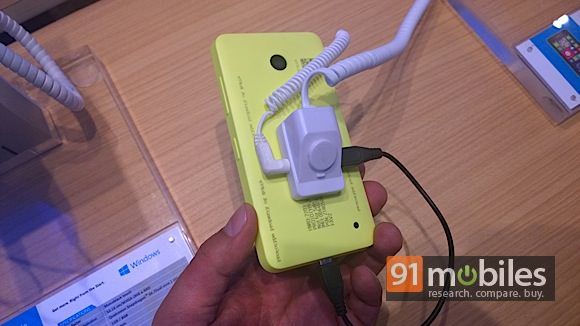 Port placement is pretty typical as well – the 3.5mm audio socket on top, the micro-USB port at the bottom and the volume rocker and power key on the right.The front shooter is missing in action, but you do get a 5-megapixel autofocus cam at the rear. The shell is removable and interchangeable, revealing the 1,830mAh battery, the pair of SIM slots and the microSD card slot. Worth mentioning here that the Lumia 630 supports 3G on only the first SIM slot, and is a dual-standby device. Thanks to a new
Smart dual-SIM
feature though, it lets you set up call forwarding between the two SIMs so you don't end up missing calls when one of the numbers is in use. A 1.2GHz quad-core Snapdragon chip and 512MB of RAM power the proceedings, with 8GB of local storage at hand. You can add more via the aforementioned microSD card slot though.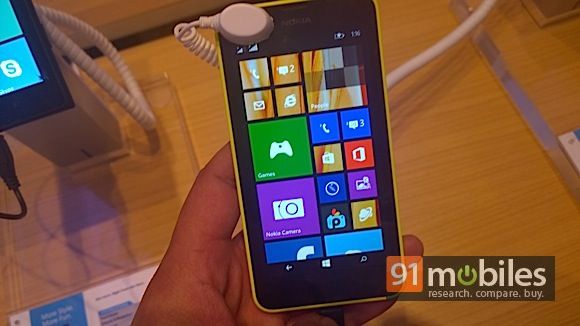 But enough about the device. Yet again, the key highlight in the Lumia 630's case, is
the software
. Being the very first to come with the newest, biggest update to Microsoft's mobile OS, i.e., Windows Phone 8.1, the smartphone is unlike any other WP-toting device out there, at least till the time its cousins, the Lumia 635 and the Lumia 930 make it to the shelves, and the rest of the Lumia family gets in queue to receive the same update. We covered a few key highlights of WP8.1 earlier, but getting a first-hand feel is a different matter. At first glance, the update seems as worthy as promised, maybe more. The new UI changes and features add a whole new level of intuitiveness, convenience and capabilities to WP, taking usage to a whole new level. Not that there are many ground-breaking features here, but a far as Windows Phone users are concerned, the update packs in enough to make existing devices feel like new, software-wise. In fact, there are so many of them, that it may not be possible to highlight them all here. We'll still get you the overview of the highlights though.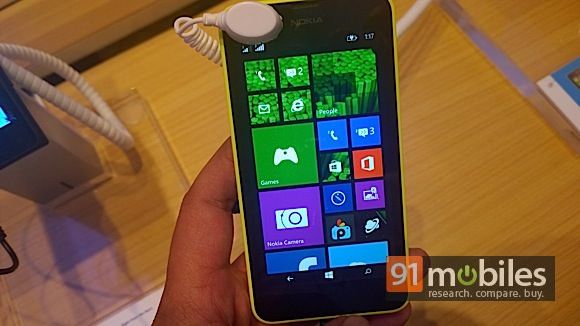 First up is the software-based implementation of the three standard WP keys at the bottom. These rotate with the UI and are hidden from view while using full-screen apps and games, adding to the experience. As far as the start screen is concerned, you can now choose a custom image as wallpaper, and all compatible tiles become transparent and display the chosen image. The visuals are even more gorgeous when you scroll up or down, since the tiles move but your background stays put, adding to the whole transparency effect. Further, you can also choose whether to display a third column of medium tiles on the home screen or not. That's not all – you can even back up your start screen configuration for use on other Windows devices. There are a bunch of features that aren't so apparent though.
Skype
now features dialer integration, so you can switch to a video call right from within the dialer window, while you're on a cellular call. The calendar also receives a fair share of enhancements, with a new week view and weather displayed on top.
We mentioned the
Smart dual-SIM
feature earlier, but there are quite a few interesting functionalities that Microsoft has baked in for playing well with two SIMs. You can choose to have separate tiles on the start screen for accessing calling and texting functions on each SIM – with each displaying its own separate call log and messaging threads. Interestingly, you can also choose to link the two tiles together, so the call logs and messaging threads merge into common lists displaying events from both SIMs together. You can rename the pair of SIM cards for easy identification, and the device remembers the SIM you used last for interacting with a specific contact, choosing the same one when you call or message the same contact the next time. You can even override this by locating a contact in the P
eople Hub
, and allocating a specific SIM to him or her.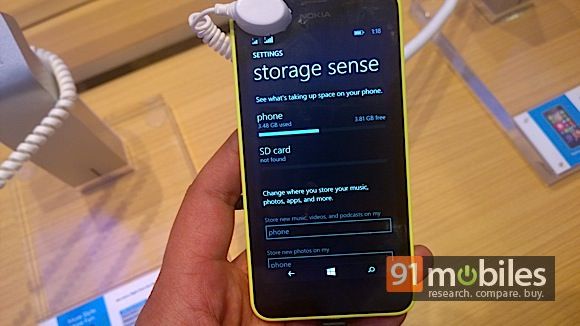 Delve into settings, and you'll find a host of new capabilities like screen projection (over Miracast),
Storage Sense
that displays occupied memory on the phone and memory card, and lets you move apps to the memory card too,
Wi-Fi Sense
that allows for easier hooking-up to secure public Wi-Fi networks, and
Data Sense
that lets you choose the desired level of data compression so you can load web pages faster and save on data costs. The
Battery Saver
lets you monitor battery, check which apps are sipping more juice, and prolong battery life when it's low. Text input on WP8.1 gets a boost with the introduction of
Word Flow
. This is nothing but swipe-based text input, allowing you to draw through letters on the virtual keyboard to enter text, and also throws up suggestions. It claims to get better over time, learning the words you use more often and drawing from your contacts list too. Another very useful highlight is the ability to sync open tabs and bookmarks from
Internet Explorer 11
on the device to other Windows-based devices, such as your laptop. There's also a new Reading view on Windows Phone 8.1 that makes web pages cleaner and reformats them for an easier reading experience.
As usual, we've saved the best for last… not that we've touched upon all the new features in Redmond's mobile platform. We cried for it, we begged for it, we waited for it, and now Microsoft has decided to finally hear our pleas and add a central notification centre to Windows Phone. Called
Action Center
, this is accessed by the familiar swipe-down action from the top of the screen, and offers access to connectivity and brightness settings, along with a list of recent notifications. As expected, you can clear them all at one go, or tap on one to jump to the app responsible. In our opinion, this new feature alone holds the potential to take Windows Phone usage to the next level, because frankly, we found the OS lacking without this. The
Cortana
voice assistant is yet another compelling and useful functionality added to Windows Phone 8.1, but unfortunately, it remains a US-only feature to begin with. The Nokia Lumia 630 is expected to land in India sometime next month, and if you wish to get your hands on Windows Phone 8.1 at the earliest, this device is your best bet. Of course, the update will also be rolling out OTA to existing Lumia devices, and that should start happening in a matter of 'a few weeks'. We'll be taking the both the Nokia Lumia 630, and the latest Windows Phone 8.1 platform through their paces in excruciating detail, so as the cliche goes – keep watching this space.