"The Nokia Lumia 630 is priced at Rs 11,500 and runs Windows Phone 8.1"

Microsoft announced Windows Phone 8.1 at its Build developer conference last month, a big update to the WP8 platform that brought with it a host of new features, UI changes and most importantly, Action Centre, a much needed pull-down tab for notifications.
The other significant announcement at Build 2014 came from Nokia. The company, which has now been formally acquired by Microsoft, unveiled the first Windows Phone 8.1 smartphone in the form of the budget-friendly Nokia Lumia 630. The smartphone also gets the privilege of being the first dual-SIM Windows Phone handset.
The Lumia 630 went on sale in India this month at an MRP of Rs 11,500. We've already had the chance to go hands-on with the phone at a preview event earlier, and now we have the phone with us for review. Let's start with a quick unboxing.
The Nokia Lumia 630 doesn't get the standard blue Nokia packaging (sniff), and instead comes in a flat, glossy white box.
Even though Nokia is technically Microsoft Mobiles, the Lumia 630 retains Nokia branding, on the handset and elsewhere. Microsoft will change branding once it starts manufacturing devices itself.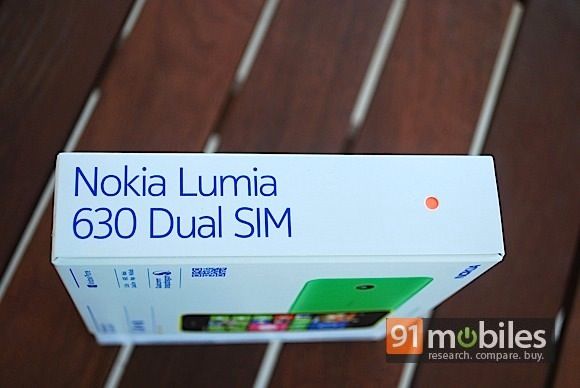 A smooth slide-out tray reveals the handset on top. We've got the bright orange variant, which is quite an eye-catcher. Beneath the phone lies a 1,830mAh battery unit, a Quick Guide and a 3-pin wall charger with a fixed cable. Unfortunately, there's no separate USB cable for data transfers, and Nokia hasn't even included a wired headset in the box, a standard accessory even the entry-level Nokia X doesn't miss. Admittedly, the headline doesn't really feel apt now.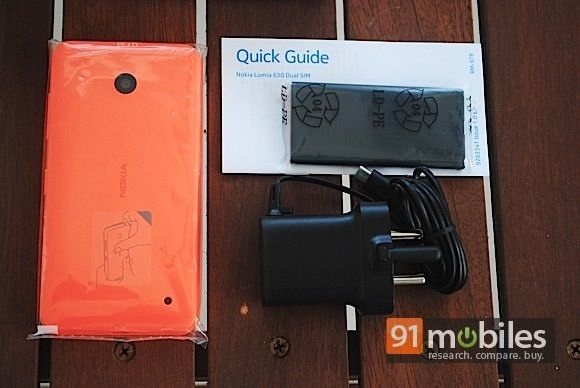 Nokia is trying to make up for it by offering a 50 percent discount on its Coloud headphones to anyone who's purchased a Lumia 630 until June 30th, 2014. The offer can be redeemed on the official Nokia Store.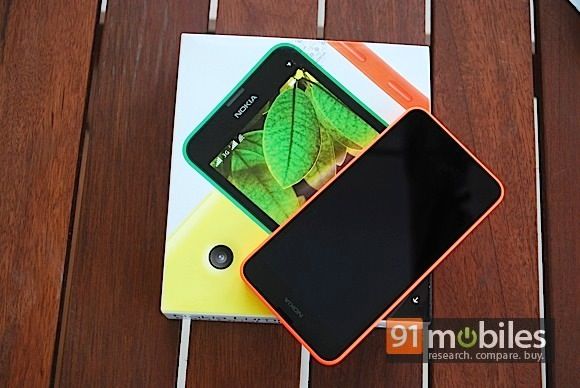 With specs like a 4.5-inch 854 x 480 pixel display, a 1.2GHz quad-core Snapdragon 400 processor, 512MB of RAM, 8GB of expandable storage and a 5MP primary camera, the Lumia 630 is a formidable competitor to the Moto G, interchangeable back panels and all.
More than the hardware, the software additions are what make the Lumia 630 such an attractive device. We're looking forward to spending some quality time with the smartphone, and we'll have more for you in our full review.