"The Lumia 630 is one of the most attractive options among affordable smartphones. Check out how it fared in our full review."
The Nokia Lumia 630 is an affordable Windows Phone handset that's significant for a couple of reasons. Not only is it the first dual-SIM WP device, it's also the first smartphone to run Windows Phone 8.1. While the smartphone lacks several key features that are a given in its price range, like a front camera, LED flash, and proximity and ambient light sensors, Nokia seems to be betting on the software offerings to mask the bland specifications. Windows Phone 8.1 has plenty of new tricks up its sleeve, and coupled with the iconic Lumia design, the smartphone makes for an attractive buy. We've been using the Lumia 630 for a few weeks now (unboxing, FAQs), and here's how it fared.


Colourful, trademark Lumia design
If there's one thing a Nokia phone guarantees, it's quality hardware. The Lumia 630 features the trademark Lumia design, with a removable back panel that extends over the sides.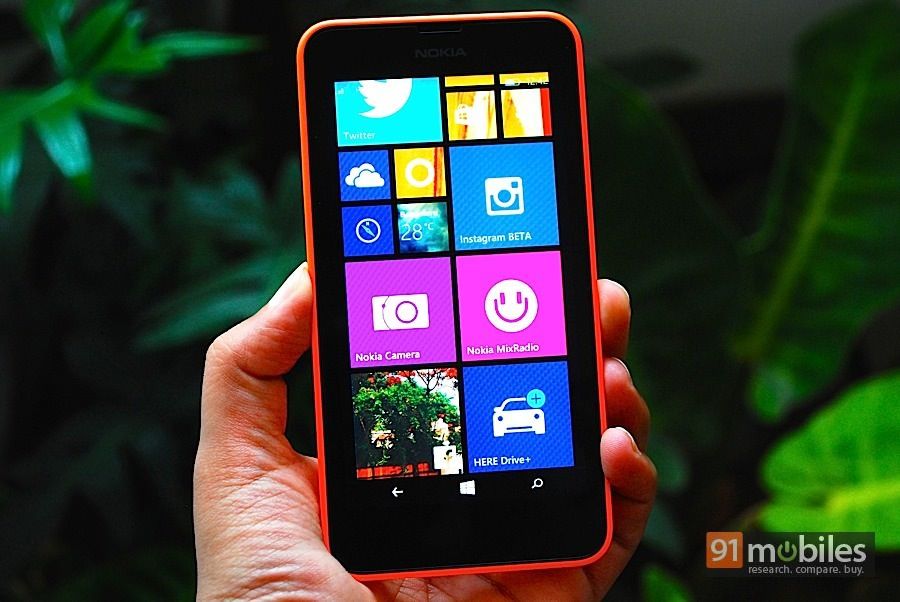 We have an orange unit, but you can get yours in white, black, green or yellow too. The front is bare, with a Nokia logo on top, along with cut-outs for the earpiece and microphone. The Lumia 630 is also the first WP device to feature onscreen controls, giving the standard capacitive Windows navigation keys a miss.
Specs at a glance
4.5-inch display, 854 x 480 pixels (217 ppi)
1.2GHz quad-core Snapdragon 400 processor
Adreno 305 GPU
512MB RAM
8GB internal storage with microSD card slot
5MP primary camera
Windows Phone 8.1 with Lumia Cyan
1,830mAh battery
Dual-SIM, 3G, Wi-Fi, Bluetooth and GPS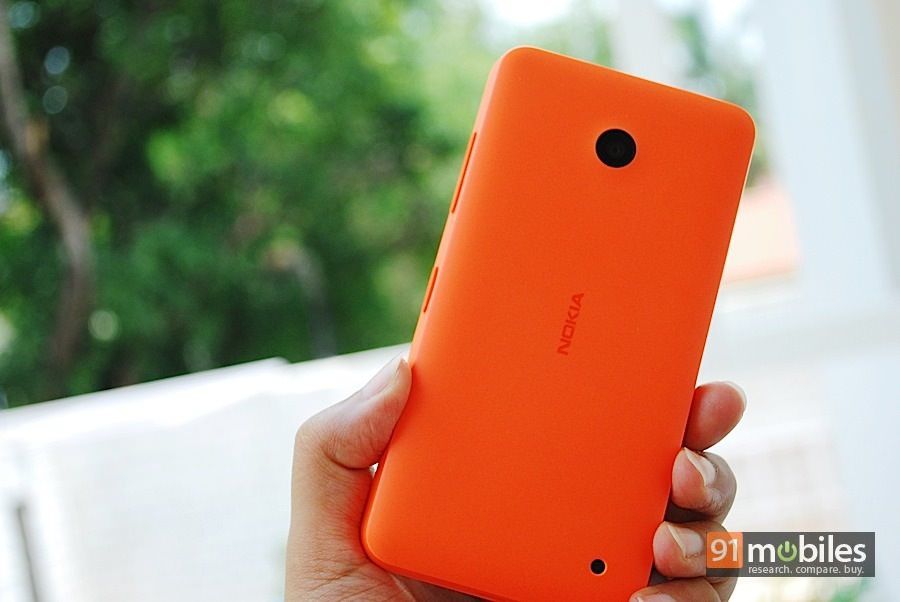 The back panel is made of a durable plastic, which doesn't feel premium, but not cheap either. It doesn't pick up scratches or grime easily, and our unit looked as good as new even after a few weeks of regular use. The rear is quite sparse, with the 5MP primary camera on top, another Nokia logo in the center, and a cut-out for the loudspeaker at the bottom.
The right side is home to a power button and volume rocker, with the buttons integrated into the back panel. On top, there's a 3.5mm audio jack, and at the bottom there's the micro-USB port for charging and data transfers.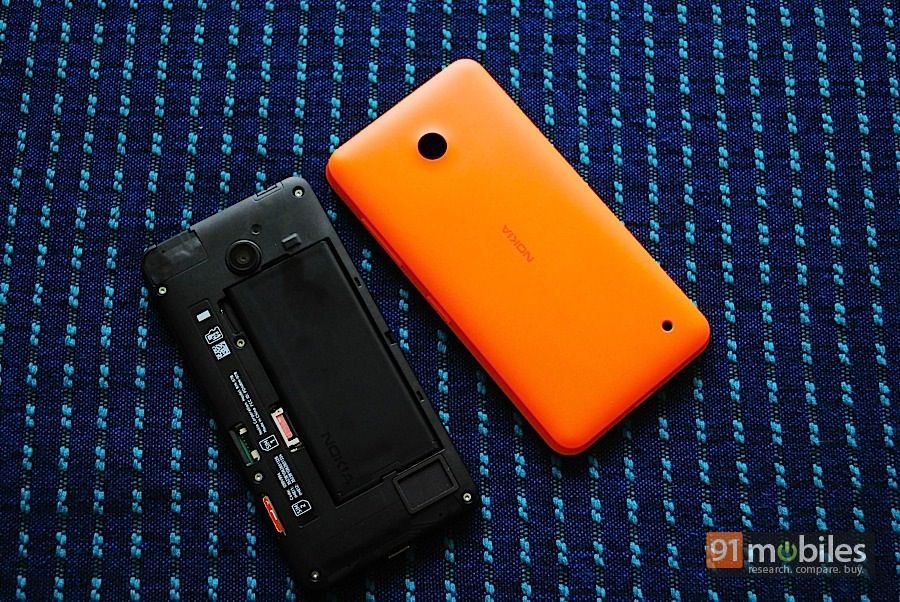 The back panel comes off without much of a struggle, revealing the removable 1,830mAh battery, a pair of micro-SIM slots, and a microSD card slot. The Lumia 630 isn't the slimmest of smartphones, measuring 9.2mm in thickness, but it's still compact enough for one-handed use, and quite light at 134g.
Low on pixels, but high on brightness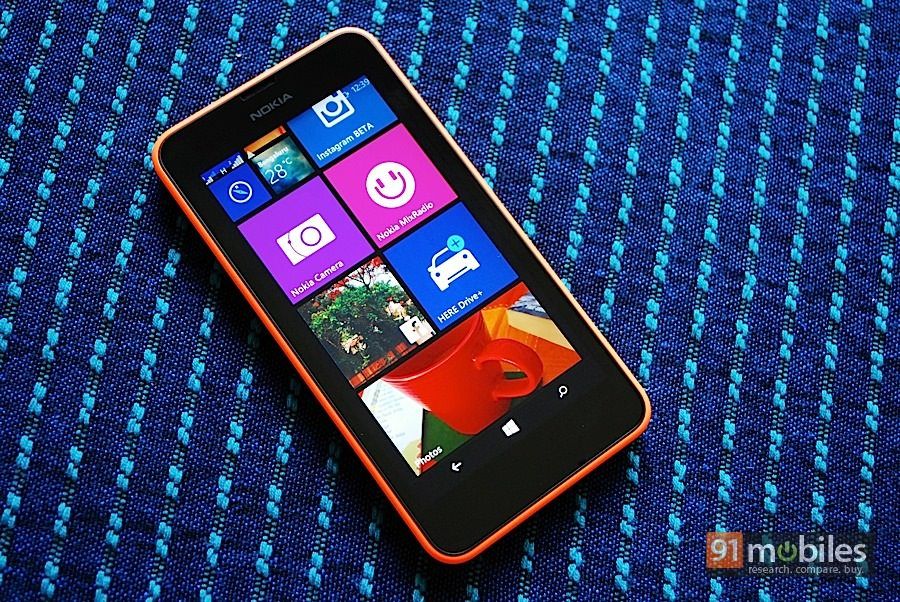 The Lumia 630 features a 4.5-inch IPS display, with a resolution of 854 x 480 pixels. With a pixel density of 217ppi, it's not the sharpest around, but it's bright with good viewing angles. The screen gets Nokia's ClearBlack treatment, which renders blacker blacks, and improves image quality outdoors. This was evident in its decent sunlight legibility. In addition, the display is sealed with a layer of Corning Gorilla Glass 3 for scratch protection. The Windows navigation buttons are present on the display at all times, and don't disappear even when gaming or watching videos. In settings, you can specify a colour for the navigation bar, and configure it to match your theme, background or accent.
The lack of an ambient light sensor means you'll need to adjust brightness manually. During our testing period, we had the brightness set to medium, and rarely felt the need to adjust it, unless we were using the device in sunlight.
While screen isn't as buttery smooth in terms of touch responsiveness as we'd like when scrolling or swiping, it suffices for regular usage.
Lone 5MP snapper just about does the job
Given that even entry-level smartphones are now offering front cameras and a flash, we find it surprising that Nokia has chosen to exclude these two integral features in the Lumia 630, at a time when selfies are all the rage and video calls are a way of life. The 5-megapixel primary camera is all the imaging hardware you have, and it just about does the job.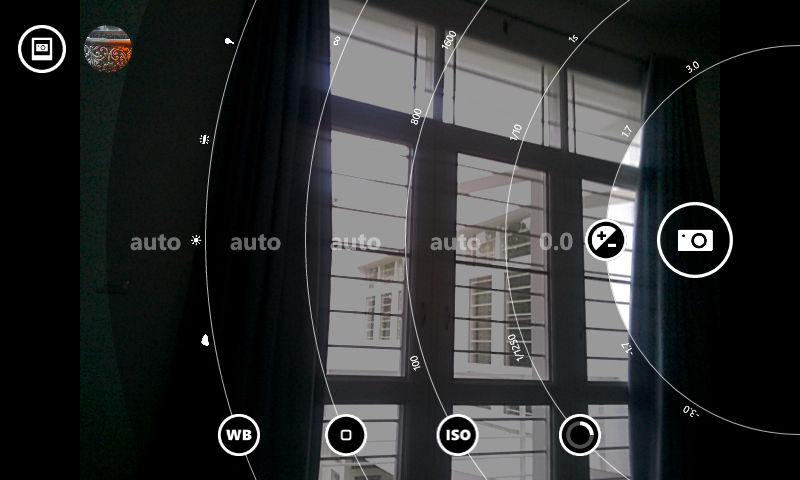 The Lumia 630 comes pre-loaded with two camera apps – the standard WP camera app, and Nokia Camera. The Nokia Camera app lets you choose between auto, night and sports modes, and provides a handy swipe-out arc of controls for exposure, ISO, white balance and focus. The standard camera app has a small selection of scene modes, including a close-up mode for macros. It also lets you tweak white balance, ISO and exposure.
The camera is suitable only for use in well-lit conditions. It takes good daylight and macro shots, but there is a significant loss of detail when you zoom into landscapes. Low-light shots are very grainy.
Here are a few image samples taken with the Lumia 630. Click on the thumbnails to view them in full resolution.

Welcome to the world of Windows Phone 8.1
Windows Phone 8.1 isn't an incremental update. In fact, it's more of a complete overhaul, bringing a host of new features which finally bring the operating system (nearly) up to par with iOS and Android. Since the Lumia 630 is the first handset to run WP 8.1, we're going to give you an overview of it's main highlights.
Perhaps the most significant change in WP8.1 is Action Center, a centralised area to display all incoming notifications. A much-needed feature that should have made an appearance eons ago, Action Center is accessible with a quick swipe down from the top of the display, and can be accessed within most apps and the lock screen too. You can swipe away notifications one-by-one, or clear them all in one go. There are four icons for 'Quick Settings', and you can customise these to access controls like Wi-Fi, Bluetooth, camera, and more. The brightness control is particularly useful, letting you toggle between low, medium and high settings with successive taps.
In terms of cosmetic changes, Windows Phone 8.1 now lets you add start screen wallpapers. If you're wondering how it works, the wallpaper shows through only transparent (system) tiles. You might have to re-arrange tiles to get the effect you want. The wallpaper continues over the length of the start screen, giving it a sense of continuity. We found that the effect works better with patterns or textures, compared to photos. There's also an option to add an extra column of tiles, although it looked terrible on the smaller Lumia 630. We imagine it would look better on a phone with a larger display and better resolution, like the Lumia 1520.

The WP keyboard now supports Word Flow, a swipe-to-type input, that lets you trace your finger over keys to complete words. Internet Explorer has received a much need revamp, gaining an incognito mode, reading mode, unlimited tabs and the ability to navigate backwards and forwards by swiping. There's also a new Driving Mode, which when enabled, can turn off all notifications, except calls and texts. Other Windows Phone 8.1 features include a revamped calendar app, and the ability to change ringtone and media volumes independently, and Skype integration in the dialer. The Windows Phone Store displays personalised recommendations, featured apps and quick links to lists like the top free apps, top new apps, top paid apps and top rated apps.
Windows Phone 8.1 comes with a trio of new Sense apps for Wi-Fi, Storage and Data. Wi-Fi Sense automatically connects to public Wi-Fi networks, and lets you share your home Wi-Fi network with friends. Data Sense lets you manage your cellular data by setting an upper limit on data consumption and restricting background data usage. Storage Sense lets you view what's taking up space on your device. The app also lets you choose whether to save apps, media and downloads on the phone memory or SD card.
There's also a new Battery Saver option, which lets you select which apps to allow to run in the background. There's also an option to conserve battery life by dimming the display and turning off data when you're low on juice.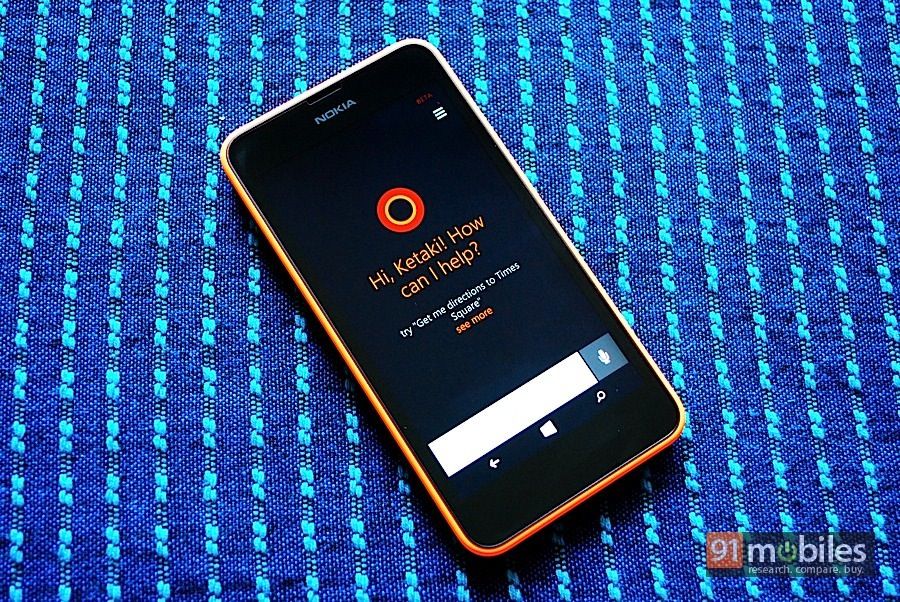 One of the most interesting, although restricted, new features in Windows Phone 8.1 is Cortana. The personal voice assistant is based on the artificial intelligence character in the Halo video game series, and aims to be a WP equivalent of Siri and Google Now. Although the feature is US-only at the moment (it's coming to the UK soon) it can still be accessed by changing your speech, language and region settings to the United States. Cortana will ask you a few basic questions while setting up, to determine your interests. When you open up the app, you'll see news headlines, weather updates, calendar updates and more, depending on what you answered. You can always tweak these by accessing the 'Interests' option in Cortana's Notebook. You can interact with Cortana either by typing or speaking into the mic. We used Cortana to set up basic tasks, like dial a number, set a reminder or alarm or check the weather. 'She' has no problem recognising accents, and if she doesn't have the answer to a question, she displays Bing search results for the questions asked.
Utility aside, Cortana also has a fun side to her. Ask her about love, life, her favourite video game (it's Halo, duh) and even what she thinks of Siri.
With Cortana enabled, you also get a Quiet Hours option, which is the equivalent of Do Not Disturb on iOS. You can specify a set of hours during which you won't be disturbed with calls and notifications. You can even specify an 'inner circle' of contacts who can break through quiet hours barrier.
Then there are Nokia's additions
The Lumia 630 gets the Lumia Cyan firmware update, bringing a host of Windows Phone improvements exclusively for Lumia devices. It includes enhancements to the camera roll and Creative Studio, and an improved Nokia Storyteller app. Plus, it also enables Miracast for screen-mirroring. Unfortunately, the Lumia 630 misses out on Glance Screen to display notifications when the screen is locked.
The Nokia Lumia 630 gets a Smart Dual SIM feature thanks to an updated Network+ system app. Even though the Lumia 630 is a dual-SIM standby phone, it emulates dual-SIM active features by forwarding calls to one SIM when the other is busy or unreachable. It also displays separate call and text message tiles for each SIM, although you can link them in settings. There's even a handy toggle to switch between SIMs in the phone and messaging apps.
One of the most exciting features of the Lumia 630 is its SensorCore technology, which is again a Nokia exclusive. The software works with compatible apps to track your activity throughout the day without impacting battery life. While Nokia has opened up SensorCore's SDK to developers, currently the only app which supports it is Bing Health & Fitness. The app displays distance covered, calories burned and steps walked, letting you track your results on a daily basis. Given that wearables and activity trackers are all the rage now, this is a coveted feature to have, especially on a budget handset.

The Lumia 630 comes with its share of preloaded apps, divided between Microsoft, Nokia and third-party additions. Among the Microsoft-owned apps are Xbox Music, Xbox Video, Weather, Travel, Sports, Podcasts, OneNote, OneDrive, Outlook and Office.
From Nokia's side, you get App Social, MixRadio, HERE Drive and HERE Maps, Camera, Cinemagraph, Creative Studio, Glam Me, Xpress and PhotoBeamer.
Third-party apps include Flipkart eBooks, Facebook, Evernote, BoxTV, LINE, Paytm and PicsArt.
A zippy processor, but not enough RAM
The Lumia 630 gets Qualcomm internals, and is powered by a quad-core Snapdragon 400 processor clocked at 1.2GHz. There's 512MB of RAM to aid it, and even though it seems paltry, Windows Phone has been optimised to chug on with less memory. An Adreno 305 GPU takes care of graphics.
The Lumia 630 was fine for day-to-day tasks, but we did find that a few apps take a while to load. One app in particular is the Nokia Camera, which takes about 4-6 seconds to open. The standard camera app was much faster in our experience. The smartphone isn't blazing fast, but it's suitable for everyday use and doesn't freeze.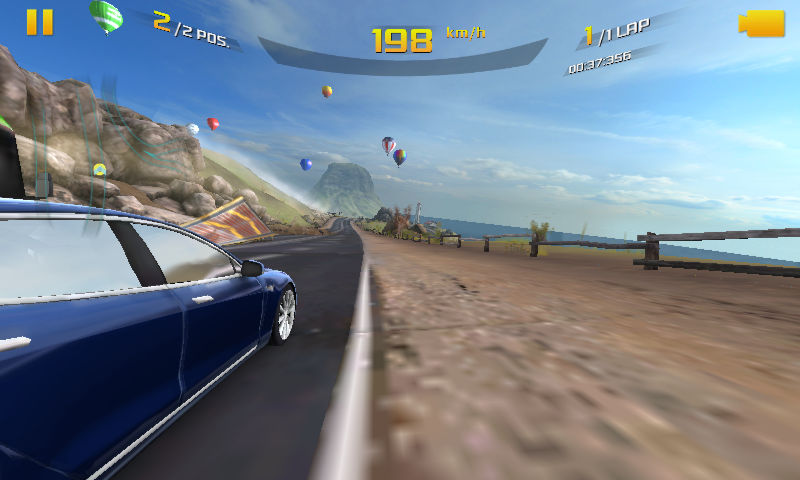 We spent some time playing Asphalt 8, and the Lumia 630 is able to handle the animations and keep up with the game like a star. However, the RAM limitation may prevent you from running certain games with a higher memory requirement.
Internal storage maxes out at 8GB, out of which a little under 4GB is user available. Not to worry though, because not only does the phone support microSD cards up to 128GB in size, you can also install apps on a memory card thanks to Windows Phone 8.1. Like we mentioned earlier, you can configure these settings in Storage Sense.
The Lumia 630's 1,830mAh battery lasted us about a day with regular use, when both SIMs were inserted. However, if you use 3G data throughout the day, you'll need to refuel sooner. Playing 720p videos and heavy games drains the battery quite fast too, so you'll need to carry your charger with you.
Call quality was a strong point, with users on the other end rarely complaining of any disturbances. Although the Lumia 630 lacks a proximity sensor, it does feature a technology that turns off the display in-call when it comes in contact with a large object – in this case, your face. We never faced the issue of the touchscreen turning on when we were on a call, so this needn't be cause for worry.
Verdict


Packaged with all the goodies that Windows Phone 8.1 brings, and adding dual-SIM to the mix, the Lumia 630 seemed like an all-rounder at the time of its launch, but with Micromax entering Windows Phone territory with its Canvas Win series of handsets, we're not so sure. The Canvas Win W121 (first impressions) improves upon the Lumia 630's sore points, packing in a front camera, 1GB of RAM, and proximity and ambient light sensors. While Nokia currently has the upper hand in terms of design and brand association for Windows Phone, not to mention all the software goodness it includes, we're not sure how long it can remain top dog.
Price: Rs 11,500


Editor's rating: 8 / 10


Pros:
Supports 3G on both slots
Dual-SIM support
Runs Windows Phone 8.1
SensorCore for fitness tracking
Cons:
Average display
Has only 512MB of RAM
No front camera or flash
No proximity/ambient light sensor
Video by Pratik Vyas