"The Lumia 630 has quite a few firsts to its credit including being the first smartphone running WP 8.1"
Just a month after its showcase at BUILD 2014, where Microsoft also unveiled Windows Phone 8.1, Nokia has launched its latest offering in the Lumia range. The Lumia 630 is aimed at the affordable segment and with the support for dual-SIMs, the company hopes to win some market share from Android devices that boast this capability.
The Nokia Lumia 630 is fitted with a 4.5-inch display bearing a resolution of 854 x 480 pixels, resulting in pixel density of 218 pixels per inch. Inside the chassis, purrs a Qualcomm Snapdragon 400 quad-core processor running at the clock speed of 1.2GHz. The CPU is accompanied by a 512MB of RAM. The storage is handled by an 8GB of onboard memory, with the provision of expanding it further up to 64GB thanks to the availability of a microSD card slot.
For photography, the device comes with a 5-megapixel autofocus camera. Sadly, there's no snapper at the front. In the connectivity department, the device has support for the usual options including 2G / 3G, Wi-Fi, Bluetooth and GPS. The Lumia 630 draws power from a 1,830mAh Li-ion battery. Similar to its brethren, the device offers interchangeable rear panels in multiple shades such as orange, green, white and yellow.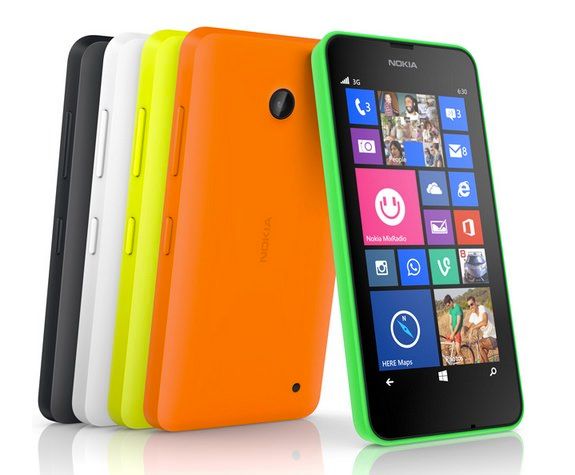 Among the many firsts claimed by the Nokia Lumia 630 is that it's the first WP device with onscreen navigation buttons instead of hardware capacitive keys. This is possible because of the several feature additions in Windows Phone 8.1 including dual-SIM compatibility. Some other noteworthy features of Windows Phone 8.1 are Action Center – a much-needed option giving quick access to toggle connectivity options and display notifications, custom backgrounds for the Start Screen, a host of Sense apps and Word Flow supporting swipe-to-type gestures. Another major addition to WP 8.1 is the Cortana virtual assistant, though it's in beta stage and may arrive in India only later.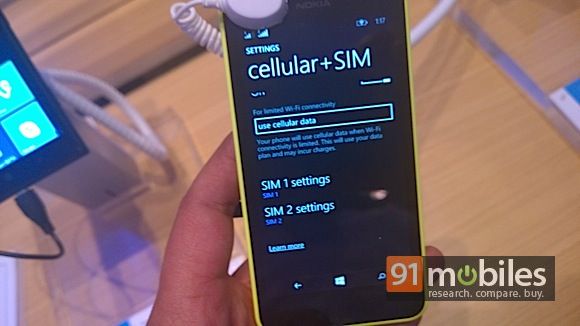 The Finnish brand (now part of Microsoft) has priced the smartphone competitively at Rs 11,500. It'll be going on sale starting May 16th, and will come with a few freebies, including 1GB data from Vodafone free for two months, eBooks from Flipkart worth Rs 2,000, and a two-month subscription to Box TV. A single-SIM variant of the Lumia 630, sporting the same specs, has also been introduced for Rs 10,500.

As per our first impressions of the Nokia Lumia 630 and WP 8.1, the device can certainly pose a good competition to other devices at this price point, though it won't be easy with formidable devices like the Moto G standing on its way. It might also have to compete against its own sibling (step-cousin, to be precise, since it crossed the bridge and runs Android), the Nokia XL which is also expected to hit the retail shelves soon. At BUILD, the brand has also announced its flagship, the Lumia 930, but there's no information when it'll arrive on Indian shores.

Related read: Nokia Lumia 630 first impressions