After the successful launch of their first Windows phone Lumia 800, the Finnish mobile phone maker Nokia has come up more such products. Nokia at Mobile World Congress 2012 introduced Nokia Lumia 610, Nokia Lumia 910, and Nokia 808 PureView smartphones running Windows Phone OS. According to Nokia's CEO, Stephen Elop Nokia is advancing to improve its Windows product line. Based on his views and comments on next Lumia device, Concept-phones envisaged the Nokia Lumia 1000 Windows smartphone design.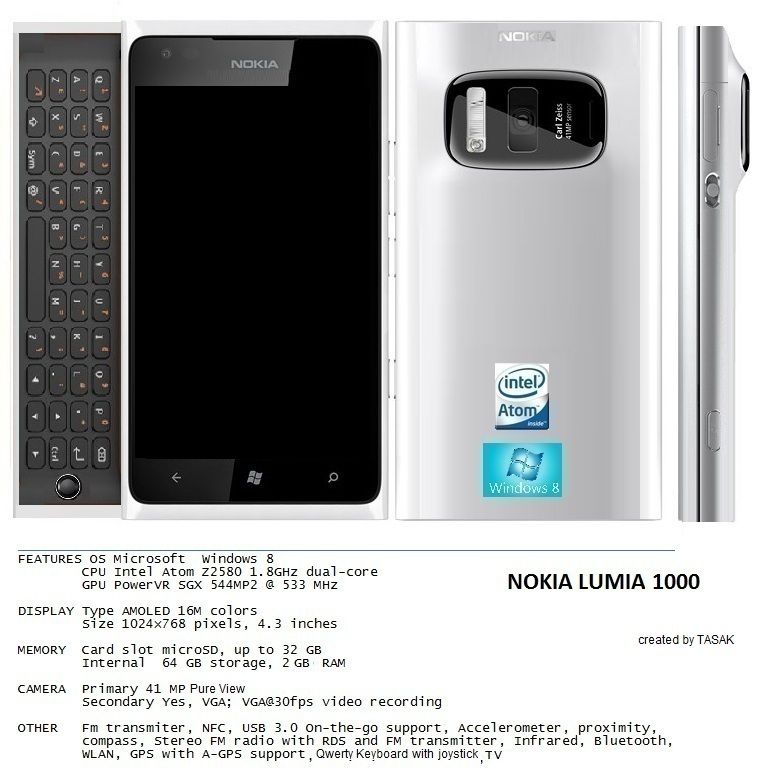 Nokia Lumia 1000
is expected to feature a 4.3 inch AMOLED display with 1024 x 768 pixels resolution. The design facts quickly visualized from the Nokia predecessors Lumia 800 and Lumia 910. No doubt that it might reflect the actual design in coming days. Coming to the hardware and software elements, Nokia Lumia 1000 will feature a bumpy 41-Megapixel camera with PureView technology as promised by Nokia. The device runs on Windows 8 OS and powered with 1.8Ghz Intel Atom Dual-core processor and 533Mhz GPU. But, it is strange to see that the smartphone runs on Windows 8 OS instead of Windows Phone 8. Also, the deployment of dual-core processor in the device confronts the comments of Stephen Elop,
"Dual-core and Quad-core mobile phones are waste of battery."
Nokia Lumia 1000 will feature external memory slot with 64GB MicroSD support, NFC (Near-Field Communication) and 3G. For a greatest disappointment, the comes with a 0.3 Megapixel front facing camera that is oldest of old. The Nokia Lumia 1000 comes with Bluetooth, Wi-Fi, GPS and QWERTY keyboard with joystick. Also, it is expected with an USB 3.0 is again a battery drainer. The mystifying device facts are leaving us crazy !!!
Adding all the features, how much you think the device will cost???