Whoever thought Nokia was late to the dual-sim party has been proven wrong. When the likes of International players such as Samsung and the likes of local domestic players such as Micromax were literally snatching away the market share from Nokia with the concept of dual-sim and triple-SIM feature phones, Nokia joined the bandwagon very late and yet managed to come out victorious. If the stats published by cyber media research has to believed, Nokia has roughly 19% marketshare among the dual-sim (multi-sim) mobile phone market segment and is leading the chart. Nokia is followed by micromax and karbonn with roughly 7% each.
According to the report which was published way back in november 2011, 54% of the 166 million mobile phones sold in India are multi-sim in nature. Out of these 89.4 million mobile devices, 10 million are smartphones (dual-sim smartphones).
This clearly underscores the supreme brand value that Nokia commands in this country.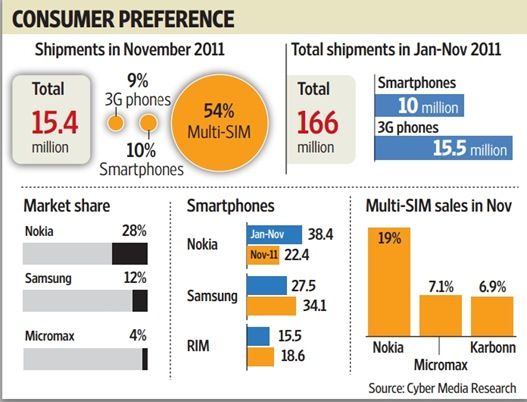 source [cybermedia research]