Nokia has introduced a 3D Printing Guide for the Nokia Lumia 820 that enables its user to print his own Custom Back Panel for the device.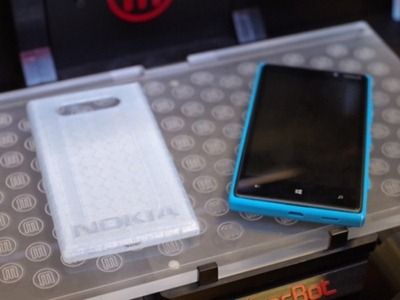 Nokia has released 3D Printing Development Kit (3DK) for printing Back panels for the Lumia 820 with Customised Designing. After the organisation of 3D Print Show at London 3D Printing techniques are witnessed to make a lot of Buzz and have been claimed as a technique that are about to change the World in the same internet has changed things since its arrival.
So, if you own a Lumia 820 or planning to grab one soon attracted by the interchangeable Back Covers offered by the Finnish Company then the newly introduced 3D Printing Guide is yet another reason that will help the Device pull you towards loving itself.
With the introduction of the 3D Printing Guide from Nokia, the Company has become the First Mobile Device Company to officially provide compatibility to 3D Printing Feature. The Finnish Mobile Manufacturer has also managed well to claim itself as the First company to offer support to the Wireless Charging Feature openly for its Products.
3D Printers can be owned from Z Corporation and CADD Centres in India if one has plenty of money and goes crazy behind the Technique.
We are eagerly waiting to see some attractive Lumia 820 Back panels designed in an awesome way really soon. Please let us see in future if you put your creativity in designing a 3D back panel for your device being a Lumia 820 owner.