On the official Facebook page, Nokia India announced today the availability of PR 1.2 update for Lumia 800 and Lumia 710 smartphones.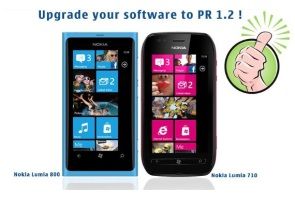 Owners of Lumia 800 and Lumia 710 can either upgrade their smartphones with the help of Zune PC app or by reaching out to their nearest Nokia Care centre. The Nokia executive will do all the needful for the update for you, and it won't even take much time. Just a cup of coffee and it is done. The Nokia Lumia 800 & 710 PR 1.2 update offers more battery life and improves the audio performance. It also fixes up the self-rebooting, freezing and call-ending issues. How to update Lumia 800 & Lumia 710 by yourself? Simply follow the below given instructions:
Install Zune PC app from Zune.net.
Make sure you have enough battery power before starting the update.
Connect the smartphone to computer with compatible data cable.
Open Zune there.
Zune will show you PR 1.2 update as available.
Follow the instructions and soon the latest version will run on your smartphone.
With this software update your phone will match up with more performance and more usability, and no more complaining of battery drainage, as earlier many owners of the Lumia smartphones usually said. Also, no more complaints of a bug that disabled the call disconnection sometimes for many users across the globe. The Facebook page of Nokia India has been flooded with positive as well as negative comments. Some have successfully updated their phones. What about you? Do put your views in the below given comment box.