Nokia has launched Nokia Asha 301 in India and it is available to buy online for Rs. 5,140. Just like previous Asha phones Nokia Asha 301 is also running on Nokia 40 Series operating system. It comes with 3G connectivity features along with Dual SIM networks in the budget range. Currently White, Black and Cyan color choices are available for the buyers with Nokia Asha 301 but soon they will be able to buy the phone in 5 color choices.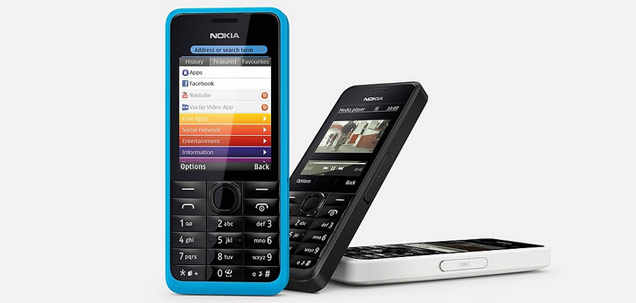 Features of
Nokia Asha 301
–
It comes with a 2.4inch LCD display with 240*320 pixels resolution
It is running Nokia 40 Series operating system
It comes with a 3.2MP camera with lots of photo editing options
It comes with 3G connectivity and Dual SIM features
It comes with Bluetooth and USB connectivity features
There is 64MB of internal storage, expendable up to 32GB using microSd card
Comes with Whats app, YouTube, Facebook & Twitter pre-installed apps
Five different color choices
Powered by a 1200mAh battery
Camera is one of the best features in
Nokia Asha 301
that allows you to take 5 pictures in one shot using the burst mode. It also comes with a special voice guided self portrait mode that tells you to position the device correctly while taking snaps. Overall, the features of
Nokia Asha 301
are going to impress the budget buyers looking for a decent Nokia device.