Oil Rush, the popular RTS Game developed by UNIGINE is on its way to be launched in an Android Version accompanied by tremendous Amazing 3D Graphics and Touch Controls.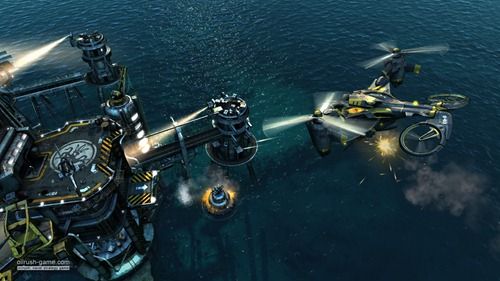 Previously launched Oil Rush Game was a Proprietary engine from the Developer that had been designed not only for Windows but for Mac as well as Linux Operating System too.
UNIGINE has designed the Oil Rush as a Strategy Game which involves Players to fight in order to gain the control of Oil Fields in the Ocean followed by its Protection. The Game is set in a post Apocalyptic World of a Science Fiction where Oil is considered as the new Money. However, it can be said to be an imagination somehow related to the Truth as Oil is already being considered practically as Money.
After being launched in the Next Month, Oil Rush with its android version will be able to run on the Android Devices that have been powered with Snapdragon S4 Mobile Chips MSM8960, MPQ8064 and APQ8064. UNIGINE has already released a list of device which will be capable to run the upcoming Version of the Oil Rush Game.
The list of devices released by UNIGINE includes Samsung Galaxy S III LTE, Samsung Galaxy Stratosphere II, Motorola DROID RAZR HD, Motorola DROID RAZR
MAXX HD, Motorola DROID RAZR M, Motorola ATRIX HD, Motorola PHOTON Q, Sony Xperia V, Sony Xperia TL, LG Optimus G, LG Optimus Vu 2, LG Spectrum 2,
HTC One X (US Version), HTC One S, HTC EVO 4G LTE, HTC DROID INCREDIBLE 4G LTE, HTC DrOID DNA, Lenovo IdeaPad and Google Nexus 4
So, keep looking for the Android Version of the Oil Rush Game at the Google Play Store next much to experience the heart throbbing Game.