Nokia's Lumia range of devices have been growing steadily since its launch two years ago. While WP platform on which these devices run is still incomparable to huge market share held by Android and iOS platforms, it's slowly emerging as a third front. Also, Nokia's consistent efforts in bringing the superb hardware, innovative camera and good battery life in a smartphone is able to generate good sales and interest for Lumia range.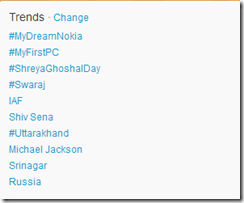 It also made us think about what the future Lumia flagship smartphone should have to make people drool over it as well as make it stand out against iPhone's and Android smartphones from Samsung, HTC, etc. Instead of brainstorming about this supposed device ourselves, we turned to you guys over Twitter and ran a contest '#MyDreamNokia'. The contest received a wonderful response from all of you as the contest was trending across India, that too at first position for almost whole day. We got more than 500 tweets ranging from humorous suggestions to practical ones and even things which all of us want, but sadly may not see in a Nokia smartphone. It's really difficult to even shortlist some of the best tweets from such a varied response, but we've tried our best to curate some of the awesome tweets by you-
[View the story "Curated #MyDreamNokia tweets" on Storify]
These tweets surely gives us an idea if Nokia makes such a smartphone, then it would be a blockbuster success. Although it was really difficult to select the best tweets, but we wanted to award these persons for their awesome suggestions-
@91mobiles #MyDreamNokia Future will thrill indeed! pic.twitter.com/hhthyRZewW

— Wilson john (@heyoslim) June 26, 2013

@91mobiles #MyDreamNokia a phone made from a chemically based thin solar skin to charge the battery when it's exposed to any kind of light

— Alex ? ? (@alexguiarebello) June 26, 2013

@91mobiles #MyDreamNokia 1) 4.8″ HD Super Amoled Screen 2) 10,000 MAH Battery 3) 4GB RAM 4) Scratch and break proof screen

— Mayank Gupta (@311mg) June 26, 2013

Thanks to all again for such an amazing participation and do check back as we'll soon come up with a concept design of this device inspired by your ideas!