Mobile World Congress
may seem a lot like just a showcase of the next-gen products from device manufacturers ranging from
smartphones
to
tablets
and the nascent, yet exciting category of
wearables
, but it's not only limited to those. The event is also about devices in general and one such area is the heart of any mobile device. You guessed it right – we're talking about the little chip that add wings to your smartphone or tablet with its processing power. At MWC 2014, we saw new chipsets from all key players like Qualcomm, Intel, MediaTek and Broadcom.
Qualcomm Snapdragon 801: the fastest quad-core processor yet
This SoC is the upgraded version of the company's popular Snapdragon 800 and brings with it higher clock speeds, support for faster camera sensors, better post-processing of images, and enhanced graphics performance among others. The processor has already seen the light of the day in the
recently announced
Samsung Galaxy S5
,
Sony Xperia Z2
and
Sony Xperia Z2 Tablet
. The Snapdragon 801 includes a quad-core Krait 400 processor clocked at 2.5GHz and an Adreno 330 GPU. It has all the connectivity capabilities including Bluetooth 4.0, Wi-Fi 802.11ac, USB 3.0, GNSS (Global Navigation Satellite System) and can benefit from GPS as well as GLONASS satellite navigation systems. It also gets an integrated Qualcomm Gobi chip supporting worldwide LTE frequencies. It supports higher-res display of 2,560 x 1,440 pixels and can also mirror device screens in full HD resolution. The processor can support cameras of up to 21-megapixels and thanks to dual image signal processors, the devices powered by this SoC will be able to capture images and video simultaneously. The camera support covered also includes recording videos in UHD resolution. Thanks to Qualcomm's proprietary Quick Charge 2.0 technology, the processor enables 75 percent faster charging for the device its hidden inside.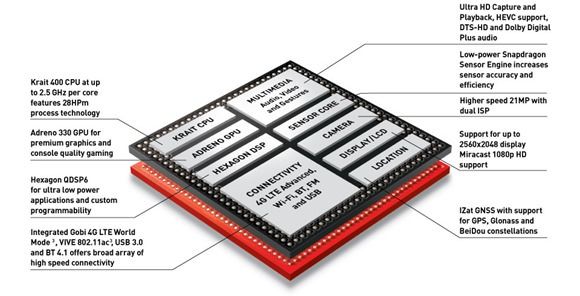 Qualcomm Snapdragon 610 and 615: the 64-bit buddies
Qualcomm has added two processors in its Snapdragon 600 series, which powered last year's flagships like the Samsung Galaxy S4 and
HTC One
. While the Qualcomm Snapdragon 615 is an octa-core SoC, the Snapdragon 610 is same as its sibling but gets a quad-core chip. Both the processor have support for 64-bit computing, similar to the
Qualcomm Snapdragon 410 processor
unveiled last year. The Qualcomm Snapdragon 615 has an octa-core ARM Cortex-A53 processor, which is a combination of four cores with a clock speed of 1.8GHz and four clocked at 1GHz. It's accompanied by an Adreno 405 graphics processor which has support for OpenGL3.0 ES and DirectX 11. In terms of connectivity, its compatibility is similar to the Snapdragon 801. The chipset can also power 2K displays and mirror using Miracast in full HD. For imagery, it supports up to 21-megapixel cameras but can capture video only at 1080p resolution. Devices with these processors can charge up to 40 percent faster as they offer Quick Charge 1.0 technology. Mobile devices with Snapdragon 610 and 615 processors will start shipping by the end of this year.
Intel Merrifield and Moorefield: power efficient 64-bit SoCs
Intel has also jumped on to the 64-bit bandwagon started by Apple's iPhone 5s with its A7 chip. The chip manufacturer unveiled two chipsets – the Atom Z34xx (codenamed Merrifield) and Z35xx (Moorefield). While the former will start powering devices in the first half of this year, the latter would be available by the second half only. Intel has also announced multi-year partnerships with handset manufacturers like Dell, Lenovo, ASUS and Foxconn for using these processors in their devices.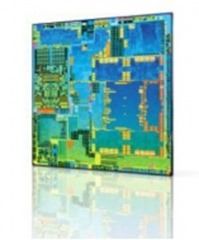 Both the chipsets have support for global LTE bands along with the usual connectivity options. The difference between them is that Merrifield is more mainstream with its two-cores, whereas the Moorefield aims to power top-of-the-line devices with quad-core architecture. Merrifield will operate at speeds up to 2.13GHz while Moorefield will operate up to 2.3GHz. The SoCs will be accompanied by up to 4GB RAM, 256GB flash storage, and a PowerVR graphics processor. Camera capabilities include support for up to 13-megapixel cameras with full HD video recording at 60fps. The chips also get advanced sensors onboard such as pedometers, GPS, gesture sensors and motion sensors. Since these sensors are controlled by the chip, it also helps in improving their power efficiency and thus improving the battery life.
MediaTek MT6752 and MT6732: affordable 64-bit solutions
MediaTek is the fastest-growing chipset manufacturer largely because of its affordable and powerful processors. The company announced new additions to its processor lineup with the MT6572 and MT6732 SoCs, both offering 64-bit compatibility.

The MT6752 processor deploys eight ARM Cortex-A53 cores coupled with a Mali-T760 GPU. For connectivity, it offers support for 2G, 3G and 4G networks. It has an integrated 16MP ISP which can take 1080p videos at 30fps. MT6732 gets four ARM Cortex-A53 processors along with a Mali-T760 graphics processor. It has support for 13MP imaging processors, which are able to capture videos in 1,920 x 1,080 pixel resolution. In the connectivity department, the SoC has support for LTE networks, dual-band Wi-Fi and Bluetooth 4.0 LE. The processors also have support for MediaTek's ClearMotion and MiraVision technologies which can play back high-resolution videos at 60fps smoothly. Both the chipsets will be available to handset vendors by Q3 and devices running on them will land by the end of this year.
Samsung Exynos 5422 Octa and Exynos 5260 Hexa: moving sideways
Unlike other manufacturers, Samsung has launched two variants of its flagship devices – one that runs on a Qualcomm processor, while the other is powered by its own Exynos processor. We saw that last year with the
Galaxy S4
and
Note 3
, and the same formula has also trickled down to its latest flagship Galaxy S5 that also has
an octa-core Exynos powered version
. Samsung has introduced the Exynos 5420 octa-core SoC, which is an update to the Exynos 5420 used in the Note 3 and the world's first hexa-core chip, which is already running the show in the
Note 3 Neo
. The Exynos 5422 Octa gets a combination of four Cortex-A15 cores with a clock speed of 2.1GHz and four Cortex-A7 cores clocked at 1.5GHz. Though they utilise ARM's big.LITTLE architecture like their previous iterations allowing the device to use either of the two quad-core clusters at any point of time, Samsung claims that they use HMP (Heterogenous Multi Processing) technology and hence can also run all the eight cores together.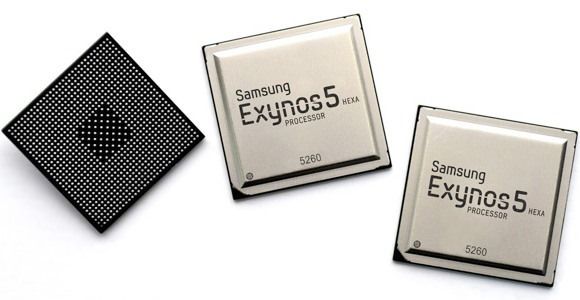 The Exynos 5260 Hexa comes with two Cortex-A17 cores clocked at 1.7GHz and four Cortex-A7 cores at 1.3GHz. Similar to the Exynos 5422, they utilise big.LITTLE architecture but can also use all of them together with the HMP technology. Both of them are capable of powering displays with 2,560 x 1,600 pixel resolution. The Exynos 5422 supports UHD video playback and recording, while the Exynos 5260 is able to record 1080p videos at 60fps. Apart from the aforementioned chipsets, there were many others like AllWinner, Huawei and Marvell, who revealed their octa-core chips and 64-bit SoCs. While we've listed most of the new mobile chipsets unveiled at the event, there was some communications-related silicon as well. Broadcom has announced its BCM4354 chip, which offers a combination of 2G, Wi-Fi and 2×2 MIMO apart from standard features of Bluetooth and FM.